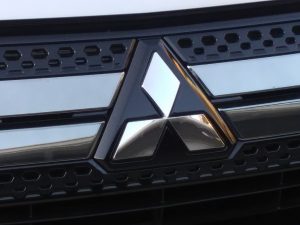 I will admit that it had been some time since I'd sampled any of the current Mitsu product line so it was time to fix that void.  I've always seen Mitsu as a bit of an underdog automaker in the North American market, and in spite of Evos and some of the racier models, viewed its products as somewhat "cheap and cheerful" usually good value with relatively solid engineering that for some reason never fully competitive with the best of the other Japanese brands and now the best of the Koreans.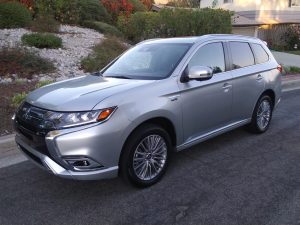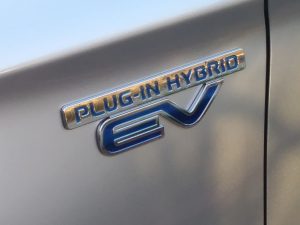 Well, this simply outstanding compact crossover has fully changed my mind about that.  The Outlander has been a staple nameplate in the Mitsu lineup for some years now, and it's been refreshed, redesigned, and re-engineered over and over, making this new PHEV example as fresh and competitive as, and with, anything out there.  The PHEV label of course stands for Plug-in Hybrid Electric Vehicle, which means it gives you a certain all-electric driving range on a full charge, then when that capacity is tanked out, it operates like any other hybrid, using an electric motor assist to add power, primarily low end torque, to the gas engine, to achieve good performance and big game fuel economy.  The EPA rates this little guy at 74 MPGe amortizing in the first 22 miles of "free" electric-only operation you get, and an even 25 mpg average on gas only.  And naturally all of this gives it really good clean EPA Smog ratings too.  The hybrid system will charge on standard 110 volt house current, or 240 volt plugs, plus can handle any DC fast charging system you encounter.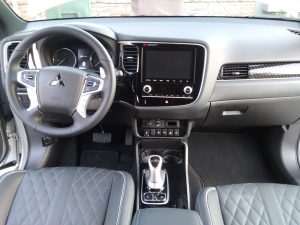 My handsome tester came as loaded as you can find, with a high quality, nicely finished interior, the plastics and metal surfaces clean looking, and pleasing to the touch.  It had a superb infotainment system that sounded great, was easy to pair with devices, and served up a great nav.  I particularly liked the diamond quilt stitched leather seats, handsome and comfy.  This model qualifies as a "compact" but don't interpret that to be "small" as front and rear leg, head, and shoulder room is more than adequate for 4-5 real adults, still with a credibly large rear cargo area, and of course, flop the second row seats flat and you could live back there.  The instruments, buttons and ergonomics inside are logical and easy to operate.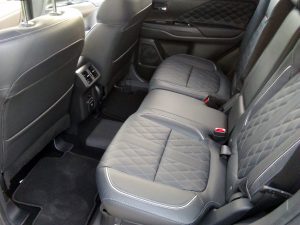 The drive is easy and satisfying.  It's got plenty of punch in the pure electric mode, although if you really hammer the pedal, the gas engine will ignite to give you more power for freeway passing and such.  Once the "pure EV" batteries are depleted, it operates like any other hybrid with smooth integration of the electric assist motor and the gas engine; I'm often not a fan of CVT style transmissions, but this one works fine, and always keeps the powertrain in the happyplace of its powerband.  The Outlander is quiet under nearly all circumstances and road conditions, and handles smartly with good responses, a quiet ride, and well controlled body motions.  Plus great brakes.
I have but one complaint worth discussing, and that's the somewhat minimal "pure EV" range of about 22 miles on a full charge.  Naturally, every manufacturer needs to balance battery life, warranty claims, costs and such and most don't "lean" on the batteries as much as they probably could.  You pay a fair bit of money for all of the hardware, motors, controllers, batteries, and charging gear that converts a conventional, non plug-in hybrid into a PHEV, and for that I say they should give you more than 22 miles.  Yes, it certainly helps with the overall MPG (MPGe) actual mileage and ratings picture, yet I say for the cost of the hardware, that number should be at least 50.  Then it would really amortize out better.  And like most things, this will continue to improve as time and technology move forward, but when you have many pure EVs offering over 250 mile electric range, 22 sounds a bit piddly to me.  And also, oddly, most EVs have little charging warning or status lights that are visible through the windshield so you can look out of your kitchen window and see if your vehicle is fully charged or still needing a "bar or two."  Curiously I didn't see them on this Mitsu at all but will stand corrected if I missed them.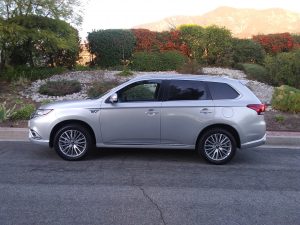 I like this rig a lot, its handsome, delivers market competitive performance, comfort, and infotainment.  The mileage figures are also in range, even if the pure EV range is a squeege less than it really should be.  The fit, finish, and build quality is great.  Plus it's reasonable value for money and return.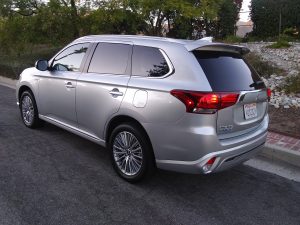 And I'm not the only one who thinks so: Green Car Journal magazine just named the Mitsubishi Outlander PHEV as its 2020 Family Green Car of the Year, a worthy recognition of its overall goodness.  I like it and would proudly own one.