It's hard to believe that as recently as 1999-2000, Volvo wasn't completely sure that it could survive without being sucked up by Renault, nor did it fully believe that it needed a line of SUVs to survive and prosper.
In the modern eras, its really Subaru and Volvo that launched the notion of making its popular station wagon models into "SUV-like" vehicles. Subi crystalized this formula with the creation of its Outback models and trim language, and Volvo did the same for itself with its first Cross-Country (XC), and of course its wan't long before Audi developed allroad, and you likely know the rest.
I was at the Volvo vehicle launch program those 20 or so years ago when Volvo's then chairman told us, at dinner, the night before the next day's drive program, that they wanted to show us and have us test and feedback on something "SUV-like." We though we were there to preview the first of the new C70 retractable hardtop convertible coupes, which was true.
Yet ultimately the bigger news of that event was the XC70 Cross-Country. Volvo and Subaru employed similar formulas to toughen up their regular all wheel drive stationwagons into surprisingly legit SUVs: more rugged looking cladding and bumper trim, bigger wheels and beefier all season tires, roof racks, more robust looking "tweedy" carpeting, and things like that. These were not four wheel drive rockhoppers, but cars meant to haul people and stuff in luxury and style down the occasional dirt trail, or up to the ski cabin. All wheel drive and a powerful turbo motor helped them do that job credibly.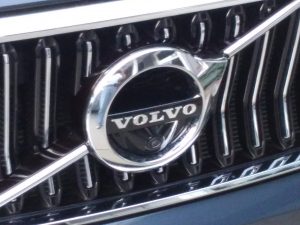 The Cross Country wagon model has proven so popular that Volvo still produces and sells it.  Much time has moved along since that first XC, as Volvo never did join Renault, but was ultimately acquired by Ford, and has since moved on to Chinese ownership.  And of course the brand now markets a very full line of SUV models, in Small, Medium, and Large, they being the XC40 the XC60 and 3-row seat XC90.  The XC40 is today's subject, and my "Denim Blue Metallic" (a positively great color) tester hit my driveway loaded for bear, with the 248 horsepower turbocharged I-4, all wheel drive, and very sporty and upscale Inscription level trim, plus every bell, whistle and goodie the option list had to offer, for an all in price of $47,395.  Skip a few of the top options and you could likely get the sticker down much nearer to  $40K .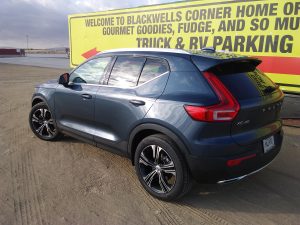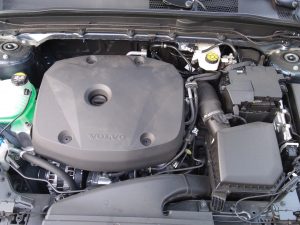 The test of this XC40's mettle as a great road eater came when I needed to make a 400 mile in one day and drive and back from LA to Paso Robles.  The weather was crap, raining on and off, and the roads a mix of dead up boring straight Highway 5, plus some smaller curvier and more interesting country/farm type roads.  The Volvo attacked them all with vigor and confidence.  Its suspension and tires stayed firmly planted no matter how wet or slippery the terrain became, while all was calm and quiet inside.  The ride quality is supple, with superbly controlled body motions, responsive steering, plenty of grip, and great brakes.  This turbocharged I-4 with its power output of 248 ponies is competitive with osimilar powerplants now served up by Alfa Romeo, Jaguar, Lincoln, Hundai, Kia and others.  At modest throttle inputs, it loafs along easily and delivers good fuel economy.  When it's time to go, a heavier right foot yielded easy 100 mph passes without breaking a sweat.  I had no trouble equaling the EPA's 25 mpg all around rating, also easily matching the 30 mpg highway rating.  The 8-speed automatic transmission proved the perfect dance partner for this mighty little motor.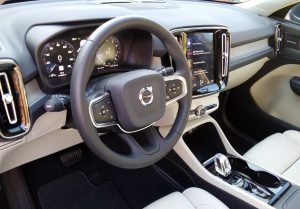 The interior is simply spectacular; clearly Scandinavian in design.  Granted, I was in the top of the range Inscription spec cabin, and it was all but flawless.  Handsome in design with generally logical ergonomics, bright clear instruments, and not too many buttons.  The large, bright infotainment and nav screen was also easy to use and generally intuitive.  Some of the recessed trim panels on the dash and doors are indirectly lighted, and quite soothing while driving at night.  The fit, finish, and materials quality is superb; the leather trimmed seats handsome, supportive and luxurious.
This XC40 is also a great size, with plenty of room inside for five real adults, still with a credible cargo area.  It parks easily, and hauls you and your friends and stuff with aplomb.  If you need something slightly larger, consider its one step up cousin the XC60, which I've not driven lately but expect would be equally good dynamically.
I have but one complaint with this wonderful vehicle: I'm not generally a fan of automatic start/stop features in other than hybrid cars, as they put a lot of use, strain, and miles on a conventional starter motor.  Most carmakers make a point of clarifying that they've designed their starter motors to handle the gaff of constantly engaging to restart the vehicle at nearly every stoplight.  And the system on this Volvo never failed to do the job, but didn't do it smoothly.  Every time the starter engaged to refire the engine while in drive, it did so with a bit of a shudder and felt like it wanted to lurch a bit if your foot wasn't firmly on the brake.  At no time did I feel the system to be unsafe, but is just wasn't smooth, and always struck me as jarring.  Perhaps its just a matter of calibration, and something Volvo may or may not choose to smooth out in future production iterations.  But I didn't feel it appropriate in such a sophisticated vehicle, one with a near $50K sticker.  Other than this one niggle, my time and miles in the XC40 T5 was enjoyable and otherwise outstanding.