I remember when the RAV4 came to market in the mid 90s. It was among the first car platform based crossover SUVs and was an immediate smash hit. I understood all the reasons why, but wasn't in love with it at the time. The design, available in two- and four-door hatchback form, was attractive, cute even (perhaps spawning the nickname "Cute-Ute"). It was nicely built and finished. But, IMHO, it was underpowered and its softish suspension dealt up far too much body roll.
Obviously, what did I know? As the RAV has been a consistent member of the Toyota lineup ever since, and a consistently strong seller — ever since.
Now in its fifth design generation, the 3-door bodystyle has gone by the wayside, as most people who buy SUVs want them for cargo and people capacity. A variety of powertrain offerings have come and gone over time, mostly in the name of making the car better perform. For a while there was also a pure EV model, which while no longer produced, I suspect may return to the lineup some day.
The RAV was thoroughly remodeled for MY 2018, and it's this generation product Toyota produces today. And it's also offered in a non-plug in Hybrid version, something Toyota knows a lot about and does very well. My tester was the full boat XSE trim level Hybrid with all-wheel drive. Packing every option Toyota offers on a RAV, including top level connectivity and infotainment, a leather trimmed cabin, a full compliment of safety gear and airbags, plus a gem dandy of a powertrain, being a 2.5-liter inline four with variable valve timing, and when teamed with the Hybrid Synergy drive system is rated at 219 total horsepower, all backed by a Continuously Variable Transmission (CVT) and on demand all-wheel drive.
Suffice it to say that the RAV4, certainly in this config, is no longer underpowered. The engine and the electric motor are perfect dance mates, and provide strong low end torque, good mid range punch for passing, and quiet easy cruising. The EPA rates the RAV Hybrid at 40 MPG overall, 41 in the city and 38 on the highway, numbers I had no difficulty meeting or beating. And they've finally got the CVT trans operating well — too many early Toyota Hybrid models running these transmissions droaned under power, and "motorboated" too much – the sensation of running up and down the rpm range without putting enough power to ground – not so here and now. This electronically managed CVT feels more organic to those used to conventional automatic transmissions, although it has no "gearshifts" per se, it does seem to put the powertrain always in the right place to maximize performance or mileage, depending on conditions and driver demands.
The rest of the drive is also a pleasure, as this vehicle handles very well on its handsome 18-inch all season rolling stock, a far cry from the rolly polly 15- and 15-inch wheels and tires served up on the earliest RAVs. The electric steering is nicely weighted, offering adequate feel of the road and what the suspension is doing — its not a race car, but its neither totally devoid of feel. Brakes are strong and easy to modulate.  And it's quiet and rides well.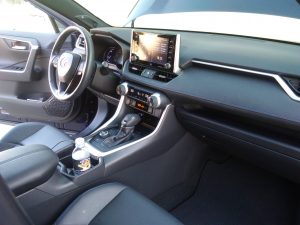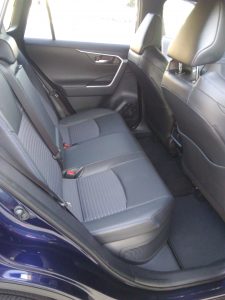 The overall packaging of the RAV is outstanding. It's smartly sized to still be relatively compact yet will happily hold your people and stuff with aplomb. All of the infotainment and connectivity hardware and software works a treat too; the touch screen is large and bright. And the user interfaces are uncomplicated and easy to use.
I found the RAV4 to rank high on my "only car" scale, meaning that if you could have but one car for commuting, travel, nights out, or whatever (exclusing fantasywagons such as Shelby Cobras and Ferraris) this RAV will meet nearly any transportation needs. It'll be happy and keep you happy during your commuter slog, has the go anywhere eagerness of a great weekender, and would also be ideal for that Sea to Shining Sea cross country drive you really should take some day. And at $38,279 all in, I say its good value too. You could pick and choose among the options list, and come up with a very nicely equipped example for around $35,000 if that was your budget window.  And other RAV4 trim levels are less costly than this top of line model.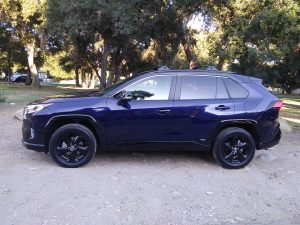 The RAV4 dun growed up nice, and for my money is among the great mid-sized SUVs on the market today. If I were shopping in this market, I'd strongly consider buying one with my own money. Job Well Done.