Just doubleclick on any photo to see it in high rest and full screen
I remember when Lexus brought us the first RX 330 mid luxury crossover/utility in the late 90s.  I was at Motor Trend at the time, and it was so innovative and good, we made it our very first Sport/Utility of the Year (previous to that time, all the SUVs got lumped in with the trucks, not really fair to either product type).  The RX was smartly sized, well built and finished, drove nicely, offered a fair amount of luxury, and some modicum of off road (or more accurately all road capability) with a capable all-wheel drive set up.  It was never intended for rock crawling, yet would handle wet mountain roads and snow with aplomb.  The RX ended up a huge sales smash, and an evolved model still in the lineup.
I'll admit that its been some time (although not since 1999) since I've driven a current Lexus SUV product, but with my annual foray to Monterey Car Week, I looked forward to something that would be comfy for the 800 mile round trip, have good luggage capacity, be a decent drive, get reasonable fuel mileage, and haul all my gear.  This new RS 250h Hybrid Luxury seemed like the right ride.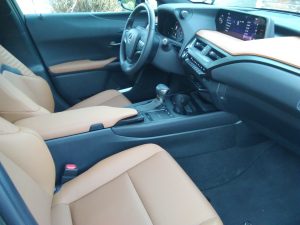 The UX is Lexus' smallest crossover/utility, but still a smartly sized two rower with adequate room for five inside.  Cargo area with the rear seatback up is OK for running around town and shopping, but if you have lots of luggage or big roller bags, you'll want to flop the seatback down.  It's an attractive little buggy, with typically Lexus lines and visage.  Also typical of Lexus is a nicely finished and screwed together cabin with leather faced seats that do everything.  Every power goody you can name is on board, along with moonroof, NAV, heated and cooled power seats, and a bright clear infotainment screen, and a very competitive safety package including 10 airbags, lane departure warning, active safety controls, blind spot warning, and all the other stuff you'd expect.
Power on this one comes from a Hybrid Synergy Drive non-plug in conventional hybrid electric assist set up, much like a Prius and most other Lexus Hybrid models.  The electric motor teams with a 2.0-liter gasoline powered I-4 for a total system horsepower rating of 181 which doesn't sound like much these days, but given the low end hit of torque served up by the electric motor, is actually plenty; I never felt the 250h underpowered in any way, no matter how many people were loaded inside.
This rig had more connectivity than you can shake an iPhone at, and it all works pretty well, but for one bugaboo.  The user interface is a console mounted controller that's supposed to somewhat act like a mouse, called Remote Touch.  I've tried and tested every system of this type you can name, from BMW's original IDrive to all the newest ones, and this one is touchy and a bit of a pain to use.  You get the hang of it after a while, but it's never "by touch" intuitive, and it's too easy to make the wrong selection(s).  Once you get to the right selection, the hardware all works fine; the audio system is nice, the nav system spot on, the park assist and rear cameras bright and clear, plus phones and music easy to pair and play.  This controller isn't the worst ever, nor is it by any stretch the best.  More work needed her.
The 18-inch all season rolling stock looked great, and helped the UX handle crisply too, something older Lexus CUVs didn't always do.  There's adequate road feel, relatively quick steering, good body control, and a smooth quiet ride.  And, don't faint, it was fun to drive.  of course it loafed along the freeway with easy, but I actively sought out curvy roads on which to drive it.  Plus my trip average from LA to Monterey, around Pebble Beach, and back to LA averaged well over 40; in fact some freeway stints approaching 45 mpg, which I say is pretty solid for a fully equipped SUV with an EPA highway rating of 38 and a combined mileage number of 39.
And there's meaningful value here too; this spec vehicle based at $39,200 plus delivery, processing, and handling and all that, and had few options which brought its bottom line MSRP to $42,525, which I consider a good value considering the brand equity and expected high resale value, so the lease deal should pencil out pretty well.  Or buy it and drive it all you want knowing it'll likely hold its resale value pretty well along the way.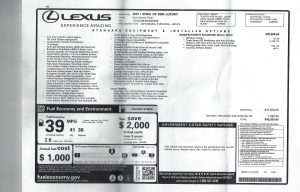 If the Lexus US 250h Lux suited my fleet's needs (and its pretty versatile) I'd buy this with my own money, and feel good about it.   I believe you would too.  Just hopefully they can offer it with a different infotainment interface than this particular controller system.