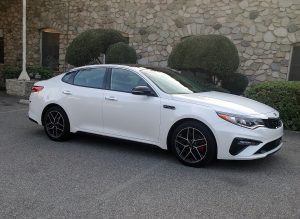 I somewhat knew what to expect from this outstanding mid-sized sedan for several reasons: the first being that we have an Optima in the family fleet, and it's been nothing but excellent, although my tester here is one generational update newer, and also the top of the range SX trim level with a turbocharged 2.0-liter I-4, and ours is a Hybrid model.  Another reason for the advance deja vu is that architecturally and mechanically, this Optima SX Turbo is a very close kissing cousin to the similarly equipped Hyundai Sonata I recently drove and evaluated (https://mattstonecars.com/driven-2018-hyundai-sonata-limited-2-0t/),  With the exception of brand specific design and styling cues, and minor trim and equipment differentiation, they are ostensibly the same car, which didn't mean for a second than I liked it any less.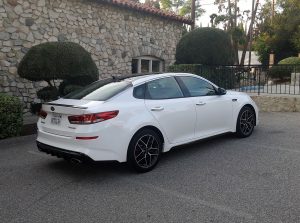 Read that Hyundai post, and all of my questions about why the mid-sized sport/lux sedan segment is struggling (against the onslaught of SUVs and crossovers) are just as mystifying as related to this KIA as it is to the Hyundai.  Both cars are ideally sized, easy, and in fact fun to drive, roomy inside with a worthwhile trunk in back, well equipped, and good value.  Both are handsome, well built, and nicely finished with high quality materials everywhere you look and touch.  The 245-horse direct injected turbo 2.0 is a lionhearted little engine, giving great balance between power, efficiency, emissions, and fuel economy, this one rated at 21/30/24, which I was able to equal easily when I didn't have my foot to the floor like all the time.  Although not advertised or marketed as a Sport or GT model per se, it's pretty darn sporty, with dual exhausts, 18-inch rolling stock, a responsive paddle shifter transmission, and other similar touches.  All of the infotainment and connectivity stuff is up to date, and works perfectly.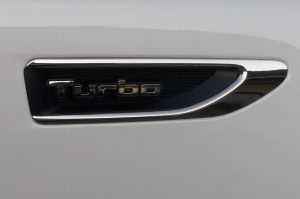 Any reason to choose the Optima over the Sonata or vice versa?  You may prefer one brand over the other, or like the styling of one more than the other, or perhaps one brand's dealership is closer to you than the other.  Both have that same killer 10-year 100,000 mile warranty.  It might come down to something as simple as one store has the colors and equipment combination you want in stock while other doesn't, or maybe one is willing to make you a better deal than the other.  Personal preference.  No matter, I promise you'll be happy either way, as this is a damned excellent automobile that does standard family sedan duty with ease, but with more style, great value, and more fun to drive than so many mid-sized sedans you'll find at the rental car lot.