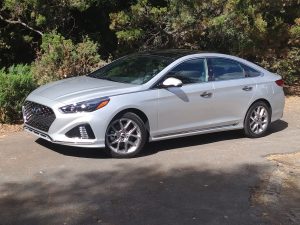 It still somewhat surprises me that sedans about the same size and general packaging as this handsome Hyundai used to be the best selling cars in America: Taurus, Fusion, Optima, Altima, Malibu, and of course the many-years top seller  — Toyota's seemingly unstoppable Camry.  And for good reason; they're sized just right, with room for five, a useful trunk, good quality, and generally good driving habits, plus varying levels of operational and purchase thriftiness and luxury up and down the model ranges and pricing scales.  Yet the automotive industry rates the mid sized sedan market as "flagging" or (at best) "steady"  if not  "declining."  So much so that Ford is bagging the Fusion and Taurus from its lineup.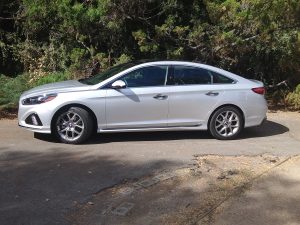 I understand the appeal of various sport/utilities and crossovers; depending upon how they're equipped they'll go more places and hold more stuff than the mid-sized sedans they are replacing in countless driveways across America.  Plus for many, a rugged looking SUV may carry a bit more swagger and come off as more macho, for those (primarily male) drivers that wouldn't be found dead in a beige, four-cylinder engined Camry with an automatic transmission.
None of that is the Sonata's fault, as it's a dandy gem of a car.  The first Sonata was on the boring side, but then Hyundai really found its design mojo and crafted the second gen Sonata into a great looking car.  My tester was a 2.0T Limited model, which means its powered by a 2.0-liter, turbocharged inline four with direct fuel-injection, and back by a 6-speed automatic transmission.  Limited means its pretty much loaded with a great looking leather interior, big four wheel disc brakes, and all the luxury touches and up to date infotainment connectivity you could ask for.  Complaints?  I gotten nuttin really — It goes, it drives, it works, and it satisfies.
You'll be pleasantly surprised at how quick, if not genuinely fast, this car is; the above noted powertrain cranks out 245 horsepower at 6000 rpm, and this engine/trans combo is a jewel.  It's smooth at any rpm, quiet (although not so silenced you can't hear it running), and very responsive.
Hyundai doesn't put this model up as a GT or "Sport" edition (although the brand offers those), but when you look around at all the goodies, it's pretty darn sporty.  First there's the superb powertrain.  The transmission is also very responsive, listening well to your right foot, shift commands on the shift gate, or via the steering wheel mounted shifter paddles.  Sporty looking and sounding dual exhausts.  Great looking and aggressive handling 18-inch rolling stock.  And check out that snazzy black and red leather cabin in my tester.  Full instrumentation.
The car corners confidently with responsive steering and good grip.  The four wheel disc brakes are strong and linear.  This car really moves out, and is good fun to drive, without compromising its mission as comfortable transport for you and four more.  You'll love the cabin, high quality materials, well assembled, with nary a squeak, rattle or wind whistle to be heard.  It rides well and the seats are comfortably supportive.  All the electronics and connectivity stuff works easily on its own or when paired to all of your devices.  The trunk is large and well finished.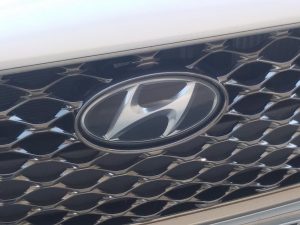 The EPA rates this top of range model at 23/32/26, and in spite of always having the turbo on boost, I was able to match the 26 mpg average rating with relative ease.    My Symphony Silver metallic test unit topped out at $32,910, and I felt it reasonable return on that investment.  Should you wish to spend less, there are less powerful and less lavishly equipped Sonatas to be had for less money.  Plus conventional and plug-in Hybrid models.
I believe the mid-sized sedan market is just "going through a phase" or "correction" or "cycle" and that in not too many years, some significant portion of the marketplace currently scurrying into SUVs and crossovers will just say "you know what, I just want a regular car this time…"  I'm prepared to be wrong or corrected, and I further feel that Ford is going to regret dumping both of its mid-sized sedans, and someday will be caught short of this type of product when the market turns.  Chevrolet, at least, is dumping the slow selling Impala but keeping the Malibu in play so it has something to compete with Camry, Altima, Optima, and yes, this Sonata.