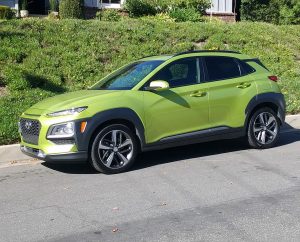 Hyundai calls is catchily named Kona "The Small Crossover with a Big Personality"– And it's true. Explore this funky, handsome, downright fun little vehicle on Hyundai's official website, and you'll see most of the discussion is about its expressive design. Also true.
Far too many "cuteutes" end up being "blandmobiles" in terms of style and design, yet certainly not this one.  Hyundai and Kia have great design studios, here in the U.S and at home in Korea, and continue turning out handsome if not often great looking and innovative design work.  Think about the funky Soul, which really caught on thanks to its great look, smart size, efficient packaging, and of course that outstanding ad campaign featuring the dancing hamsters.  The Genesis line is a handsome bunch of cars, and the Kia Stinger looks as muscled and snarky as any Bimmer or Benz.  KIA's Sedona minivan is one of the best looking miniboxes on the market.  All in all, the HKMG knows how to style its cars.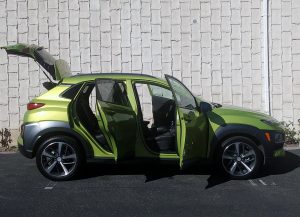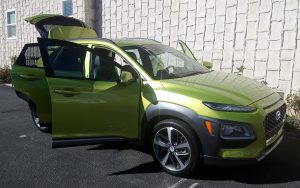 The goal with the Kona was to strike a compact crossover that didn't scream breadloaf or blandmobile, and would catch the eyes and purchase dollars of younger buyers, and I say they've struck the nail dead on the head with Kona.  Look closely all around this clever little car, and you'll see lots of finish and surface details that catch and delight the eye. It's modern and just slightly funky, without being jarring in a Pontiac Aztek kind of way.  It's also a handy, tidy compact size,without being too small.  There's comfy room for 4-5 inside, leaving just enough cargo space in back.  Fold down the second row seat, and it'll haul a lot of stuff.
Normally you'd figure this type of car would get a small, boring, slow four cylinder engine that would be good on gas but underpowered, perhaps backed by a somewhat out of date 4-speed automatic trans.  NOT the case with Kona.  The motor in this Ultimate edition is a jewel, that being a pint sized yet mighty 1.6-liter turbocharged, direct gas injection I-4 rated at 175 horsepower — plenty to move this car smartly and with vigor.  The tranny is a 7-speed dual clutch automanual, that operates as efficiently as any manual gearbox, but has robotically managed twin clutches and shifting, with no clutch pedal (but with manual controls when you want to choose ratios your way).  It's highly efficient, crisp and very responsive.  This little guy really moves out, and is a blast to drive.
Couple that to crisp, direct feeling steering, well controlled body motions, confident grip, strong brakes, great visibility and EPA ratings of 26/29/27, and you've got a great every day or weekend driver.  The cabin is particularly well thought out, designed, and built.  The plastics are of high quality, the instrumentation is crisp and easy to see and read, and comfy.  As you'd expect in a modern product aimed first at Millennials, the infotainment, and connectivity is first rate, and everything pairs easily and works well.  Even an old guy like me could make it all function with no hassle.
There are of course less expensive Kona models than my Ultimate test unit that don't have the lionhearted little motor, and a few less performance and creature features, but they are still very worthwhile and interesting.  As you'd expect for such a cool-funky designed vehicle, the Kona is offered in a variety of "normal" and eye popping colors.  I'm not sure I'd order mine in this acid level Lime Green or not, but it really suits the car's lines, mission, 'tude, and audience, and during my week with this car, a lot of people commented positively about it.  All said and done I had but one minor complaint with this blend of Kona, that being that for my height and seating position, I couldn't easily see and read the innovative little heads up  instrumentation display, and try as I might, I couldn't find a way to adjust it — if it is adjustable and I missed it, then forget what I just said.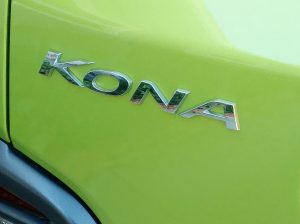 In Konaspeak, Ultimate means just that.  Short of the extra-cost carpeted floor mats, and the mandatory-not-optional transportation charge, my test unit was loaded loaded loaded, and still came in under $30K.  For fun, and styles per mile, it's a compelling entry in the marketplace, and darn hard to beat.  I'd happily own one myself.