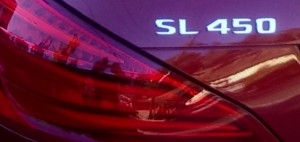 When I booked a new SL450 Roadster with Mercedes-Benz for my trip to Monterey and Pebble Beach this year, I got a little nostalgic over the name of this new model.  You will recall that prior to putting the platform class (S, SL, C, G, whatever) prior to the number it was the other way around.  In other words, what is now the SL450 would have, in the old days be the 450SL.  And that brought my memory back to the introduction of the  original Mercedes "Panzerwagen" R 107 roadster we got in this country as the 450 SL Roadster of 1972, replacing the much loved "pagoda" SL roadsters, the 230, 250 and 280SL.  The first I ever saw of this new model was the June 1971 cover of Motor Trend magazine, then the go to place for new car information, industry buzz, and authoritative performance testing and road tests.  Here's that fabulous looking cover shot that impacted me so much.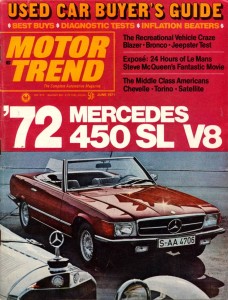 Well now it's 45 years later, and I still love Mercedes SL roadsters, and finally own one myself, a 2002 SL500.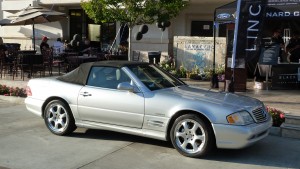 Today's new SL450 is a much evolved beastie over that original SL450, but you can park them side by side, and still connect the dots.  Today's car is now powered by a twin turbocharged V-6 engine as the old had a fuel-injected 4.5-liter V-8, although the new one is of course faster and more efficient by a factor of "Way."  The old 450AL required the racking of a couple levers and manual operation to get the top open and stowed, or opened up and closed, the new one is a full metal one touch automatic retractable hardtop that stows in the trunk by holding a button down for about 15 seconds while waiting and watching an amazing ballet of mechanical engineering as the top folds and unfolds its way up or down.  There's nothing to be learned in actually comparing the two, as cars, but it pleases me that the original formula, although much evolved, is patently intact.
This body style came out in 2003, replacing my old SL's body architecture with the retractable hardtop design.  This current chassis platform has been updated and freshened a couple times since 2003, most recently again for 2017.  And it looks fabulous, with very up to date lighting clusters at each corner, and grillwork, wheels and trim that keeps it current with the rest of the Mercedes model lineup.
Even V-8 mongers like myself won't be in anyway disappointed in this 362 horse bi-turbo 3.0-liter V-6.  It fires with a lusty rumble, and pulls like an atomic freight train.  What you're really feeling, as the car rearranges your kidneys and liver inside your torso, is the 369 pounds-feet of torque available through a wide rev range.  This thing really steams, and the mid-range and passing power pull will make you smile big.  It's not quick, it's genuinely fast.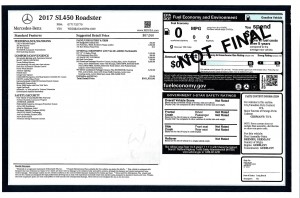 My Cardinal Red tester had about every option you can stuff onto one of these cars.  The SL450 is an outgrowth and update of last year's SL400; this new one gets all the platform updates for 2017, plus a model specific grille design, and generally racier and sportier trim bits.  Not to be missed or undermentioned is the fabulous, and I mean it, fabulous new 9-speed 9G-Tronic automatic transmission, which allows you manually managed shifts via paddles on the steering wheel or via the console shifter control.  This isn't an auto-clutch manual like Ferrari's F1 or Porsche's PDK, but a more conventional torque converter style automatic that is fine tuned to a very high level, and the driver can choose between modes that ask the car to maximize fuel economy, all around smooth driving habits, or performance.  This trans is extremely responsive, and shift up or town right on command.  You'll never call is a slush box, I promise.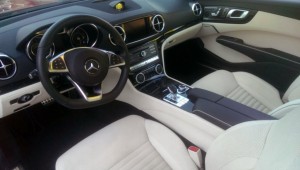 This is one of those cars that isn't inexpensive,  but where you can see every penny of expense and investment in it, and you feel like you get your money's worth.  The "base price" is $87,975 with shipping but before any options, and my tester topped out at $101,935 all in, which included some expensive options.  One that I enjoyed, but could likely live without, is the Magic Sky Control panoramic roof; in this case the middle and main roof panel is build of electrochromeric glass that change from light to dark on a button.  Its great because it gives you a glass roof sensation with the top up, yet keeps the heat and harmful rays out if you leave it set to the dark mode.  Cool and innovative, but one way to knock $2500 off the sticker price if you wanted to.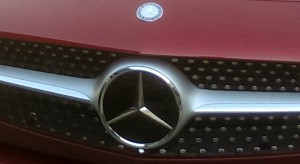 The overall fit, finish, and materials usage on this car is spectacular.  Every surface smacks of quality stuff that's well designed and engineered, beautiful to look at or touch.  The Nappa leather wrapped cabin is elegant and ensconcing, a wonderful place to live and drive or ride.

On the road, when pottering or really hauling the goods, the SL450 is a superlative drive; its fast, smooth, comfortable, has brakes that would stop a raging rhino, and corners like a slot car.  The various dynamic driving modes also impact the shock tuning and other thins that impact the car's ride and handling.  We drove this car on straight fast freeways, curvy mountain roads, over good surfaces and bad, and you cannot upset its apple cart.  And its so comfortable and supportive that you never feel fatigued or stressed after a long fast run.  World class stuff here.
I have two complaints:  the first is that the start/stop function that shuts the engine down, in gear, at stoplights, then restarts it when you take your foot off the brake, is a little jerky in operation.  I don't know how much this function really saves in terms of fuel or emissions, but most German carmaker engineers are in love with it, and it probably earns some points in EPA ratings, but I'm not a fan, and in the case of the SL450, I ended up shutting it off most of the time, to avoid the mild herk and jerk on stops and starts.  The other issue is that the top really impinges on trunk space when lowered.  Of course the metal retractable roof panels need to go somewhere, so not a lot to do about this, but I don't have this problem in my yestertech SL500, where the soft top is still a latchless, self covering, one button affair, but the top folds up into a binnacle behind the seats, and can't be seen or touched  from inside the trunk.  Just a minor downside of this design, and you have to give up something to get something.
As I always say, if you want maximum cargo capacity, buy a minivan or a Suburban.
Otherwise, the new SL450 is a superlative automobile in every way.  It's gorgeous, has roots in the great classic Mercedes-Benz roadsters that preceded it, goes like the devil, rides and handles like a dream, packs every technology aboard you can ask for, is supremely safe and efficient, and is built to last.  And don't sweat the sticker, because you really get what you pay for here.