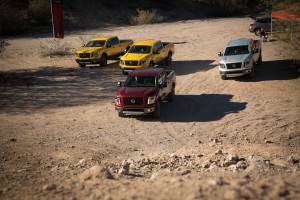 I love big, sturdy pickup trucks.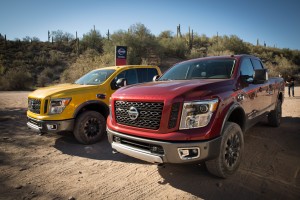 Of course pickups are built in many parts of the world, and serve many global markets.  My favorites are what I'll call, for lack of a better term, American style pickups.  Large, capable, sturdy, long lived, powerful.  And up until not too many generations ago, only American car companies built them.  Then Toyota decided to stick its toe into the American pickup pond with an entry called the T-100.  It wasn't an awful truck, but as little more than a puffed up, stretched out Tacoma, it just wasn't enough.  There was no V-8 engine to be found, and the T-100 was a half-ton only at best in terms of payload and towing capacity.  But it was a start, and before long, Toyota put its considerable engineering might behind something better: it was called Tundra.  With your choice of V-6 or V-8 power, and ultimately a variety of cab and bed styles, it was better, and decidedly more American.  Then Nissan jumped into the pool big time with a built from scratch American style pickup; Big V-8, 4×2 and 4×4 offerings, plus a couple of cab configurations.  High build quality.  Solid engineering.  And of course Toyota came out with its second gen Tundra; big and brawny, built in an all new factory, powerful, lots of options and configurations — just in time for gas prices to spike.
As the original Titan has been around for a decade now, it's due for a refresh.  But be clear that the new XD isn't that.  It's a virtually all-new truck, aimed at a different segment of the pickup market.  An updated Titan is soon to follow the Titan XD's launch happening right now.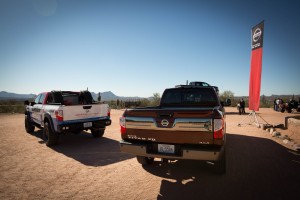 As the company contemplated what to do with and where to take the Titan, with considerable input from its product planning teams, its customers and its dealer body, Nissan identified a patch of "white space" in the marketplace — room for a pickup that's something more than an (Ford) F-150 or (GM/RAM) 1500 series pickup in terms of cargo capability, power, and towing prowess.  Call this underserved market segment "F-200" or a "2000 series" pickup, perhaps.  Or, in the old parlance of half ton and three quarter ton and one-ton truck, maybe its a two-thirds ton.
That's where Nissan's new Titan XD (X-tra Duty, meaning more than base or half-ton but not yet Heavy- or Super- Duty) is carefully and brilliantly aimed.  The XD was newly developed from the tires up.  A virtual clean sheet of paper or blank computer screen.  There's certainly some black boxes, some bits and bobs, and a few bolts shared with the existing Titan, but not many.  Not even the lug nuts are the same.
There will be other engines available as the XD continues to roll out into the marketplace, but the only one that matters at the moment is the only one Nissan had on hand for me to drive, and honestly the only one I cared about.  That being an honest-to-Cummins 5.0-liter turbo dieselV-8.  I was initially concerned that the 300 or so cubic inches of displacement might come up short against the competition; after all, the Ford Super-Duty packs 6.7 liters, the GM Duramax runs out 6.6-liters, and the RAM's also-Cummins TD engine also punches at 6.7-liters.  My concern melted away when I saw the specs; Nissan's XD Cummins gurggles out 310 horsepower, and a mountain moving 555 pounds-feed of Torque — more than enough to compete with the American branded truck diesels.  There's only one transmission offered or needed, and being a electronically managed Aisin 6-speed automatic.
This is a very unique engine, in that its architecture resembles that of an exotic sports or luxury car, with double overhead camshafts and four-valves-per -cylinder., while some other turbodiesels are overhead valve and pushrod designs; not that there's anything wrong with OHV and pushrods, but the ability to more finely tune the camshaft profiles and the use of more valves can mean more efficient combustion, which if done right, means more power, better emissions and increased fuel economy.  The Nissan/Cummins 5.0 wasn't built entirely from scratch for Nissan, yet its not just used "off the shelf" from Cummins.  Nissan's powertrain manager explained to me that the engine's basic architecture was already extant within the Cummins catalog, but it was entirely re-engineered for use in the XD by various teams of Nissan and Cummins engineers.  Nissan's requirements for power, emissions, smoothness, and economy were higher so the engine got a serious re-invention in order to meet the needs of this new pickup.
The Titan XD was designed from scratch to look like a Nissan, but there's no question that the design team had the Ford F-150, Ford SVT Raptor, and Ford Super-Duty playbook nearby just for reference.  The sculpted fenderlines and exhaust vents have Ford Super-Duty written all over them, with Nissan's own spin applied.  Its face is large and bold, as are the lighting clusters.  The doors are "cut down" at the front by the massive rear view mirrors, for extra visibility when parking or off-roading, and to add another measure of "big truck" visual DNA.  Without question a great looking piece.
There are five trim and equipment levels offered; the "base" model S, the SV, SL, Platinum Reserve (analogous to Ford's "Platinum Edition" premium trim level) and the sporty off-road minded PRO-4X.  You can choose any but the PRO 4-By" in two wheel drive or four wheel drive, but at the present time you have only one cab style choice, that being a full four-door crew-cab.  This may initially strike you as odd, but given the truck's mission to appeal for both personal and professions, "job-rated" use the crew cab makes sense.  The four-door, extended cab, and crew cab purchase "take-rates" among all the American branded medium and HD trucks is very high, as most users are bringing along the family or a work crew.  That's not to say that Nissan may not at some point offer an "extended" or standard cab configuration on the XD, but at launch it does not.
There are almost too many clever convenience, luxury, towing, hauling, storage, cargo management, and connectivity options to name, but during my day of driving various XDs, I played with them all.  You can learn about them all, and configure your own Titan XD, at www.nissanusa.com.
I drove a wide variety of 4×2 and 4×4 XDs in all the trim levels, and came away solidly impressed.  Light up the mighty Cummins and it settles to that familar, powerful sounding rattle-purr you expect from a sophisticated modern turbo-diesel.  Trolling around town in this truck couldn't be easier or more comfortable.  The power and particularly the mid-range torque offered by this engine are spectacular; the engine feels sharp and punch at all times, never sounding loud or intrusive in any way.  The chassis is structurally stiff, which means no squeaks or rattles from the underpinnings, and sharp, precise steering as the truck responds to commands from the tiller and brake pedal.  Wind noise is commendably low and the ride is on the firmer side of supple.  Ditto on the freeway; if you feel like driving from LA to Boston just for chowder, and need to haul a few thousand pounds of payload in the process, you'd happily drive this truck across the country in complete confidence and comfort.
Nissan wisely wanted to demonstrate the XD's towing, cargo and off-road prowess, and smartly set up exercises for me to do so.  In order to show off the XD's 10,000 pound pulling capability, we hitched up a heavy metal trailer, loaded with a Bobcat skiploader, weighing in at around 9800 pounds, and the XD towed it as if it were a sack of feathers.  The built-in receiver hitch is integrally tied into the frame, and the lights and and electric brake hookups were a snap.  The XD is designed to work in concert with trailer brakes, and does so beautifully.  In "Tow/Haul" mode, it also has a downhill cruise control which works marvelously, keeping the whole freight train in line even on steep downhill passes.  I also had a chance to drive around with a 750 pound payload box in the bed, which the engine never even knew was there, the only real indication that anything of that weight and substance was in the bed was that the ride smoothed out even more.
The real fun was off-road.  I had the chance to experience a pretty serious desert off road course just north of Scottsdale Arizona, much of which was negotiated in 4W-high mode.  Only over some really hard scrabble rock passages, or in some of the softer, uneven, and steeply inclined dirt sections did I need 4-Low.  The engine's throttle modulation is superb for this type of low speed work, and even when picking up a wheel or two, I never felt in danger of losing any control as the truck walked the rocks.  Several low mounted cameras can be used to keep an eye on the terrain just below and in front of you.  And needless to say, the rear view camera sure makes it easy to back up to and connect a trailer unaided.
The Titan XD S Crew Cab 4×2 bases at $40,290, and at the other end of the scale, an XD Platinum Reserve Crew Cab 4×4 starts at $60,520, each plus the required $1195 destination and handling charge, plus optional equipment.  My guess is that lightly optioned S model trucks, with a few options, will run around $45,000, with fully decked Platinum 4x4s running between $65-70,000, absolutely competitive with any of the American branded medium and heavy-duty machines.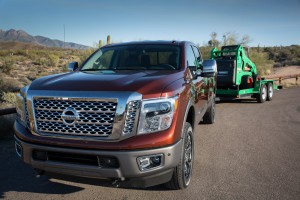 Without question, this truck is a winner.  It rightly gauges the need for something in between a "half ton" and a "three quarter ton" pickup; the design is great, inside and out, with clever and meaningful touches everywhere you look.  The hardware is tough, certainly up to most any job within its towing and payload ratings.  And the "triple nickel" 555 pounds-feet torque monster of an engine is up to damn near any job you can imagine.  From an evening drive with the family, to the work site, to towing your house, and serious rock crawling, the new Titan XD is highly sophisticated, yet tough as a leather covered anvil.  I like what this new category of truck has to offer, and wonder if the American brand standards will follow suit?