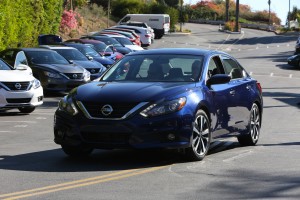 I've liked the Nissan Altima ever since, in 2002, Nissan threw away the old Stanza based Altima, and restyled and really grew the car up to the segment.  In 2002 came new styling, new underpinnings, finally a V-6 engine option, all in a segment appropriate size package.  Nissan has done a good job over time of continuously updating and evolving its mid-sizer sedan to keep it a player in and among a very competitive set, which includes Camry, Accord, Sonata, Fusion and Malibu.  Tough players in the marketplace for sure.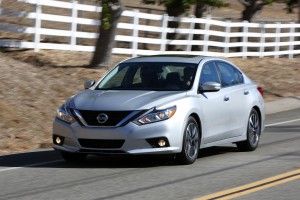 Nissan has given the Altima a thorough refresh for 2016 making it honestly as good as any of those popular nameplates I just mentioned.  Much of the chassis/body is new, although the roof, door, and much of the architecture / passenger cell is carried over from the 2015.  So Nissan carefully avoids called it the "All New" or the "new new new" Altima, but honestly it might as well be.
The front and end rear styling are new and fresh, keeping in line with Nissan's current "Energetic flow" design language.  The grille, bumpers, lower fasicas, and lighting clusters are new, and all said and done it makes a great looking car.
The interior really is new new new.  There are a wide variety of trim levels available, none you'd ever really called "base" or "stripped" plus they've added a Sport package.  You can still choose between four cylinder and V-6 engines, both backed by a CVT, or continuously variable ratio transmission.  Don't let the acronymical mumbo jumbo concern you, as functionally it's just a slight variation on an automatic trans.
Another major goal was to up the Altima's safety quotient, which it has done.  There's lots of passive and active safety content here to first help you avoid an accident, then protect you if it still happens.  Airbags everywhere, an active braking function, ABS, four wheel disc brakes, and such.  Further on the list was state of the are infotainment connectivity, which it certainly has; the Altima will pair and mate with nearly any electronic device you may have in your purse or pocket, and make them sing and dance in tune with the car.  The idea is to go from "hands free" to "eyes free" so you don't have to look at the console or your device to make it all work.
Additionally, improved fuel economy was high on Nissan's To Do list.  The four cylinder Altima rates 27/39/31, class best among non-hybrid four cylinders.  The best of the hybrids will best it by a little, but they also generally cost more.
And, bless 'em, they wanted to make the Altima more fun to drive.  And also ride better, and make it quieter.  Plus the new Sport model.  The latter doesn't come with a dozen turbos or some firebreathing engine, you won't confuse it with an M model BMW or a Mercedes-Benz AMG.  The SR grade Sport model includes 18-inch wheels and tires, sportier/firmer shocks, springs and rear anti-roll bar.  Again their goal is that the car "goes where you point it" which is one of my more favorite things.  You can get the SR Sport model in either four-cylinder or V-6 guise.
This time out, I sampled only four cylinder Altimas, primarily if the 182 horse I-4 had enough beans to make me not want to bother with the V-6.  And even though I've been accused of being the "always order the biggest engine they offer guy" I have to say that this engine moves the Altima really well.  It sounds deep and rich exhaling through standard dual exhaust pipes, and is smooth for a large I-4.  I know this sounds cliche, but the Altima has become a car that does everything well, without being bland about it.  The ride is smooth.  Its quiet.  The steering is sharp and the car responds to your command.  The brakes are strong.  Its comfortable.  I'm trying to remember anything worthy of note that I didn't like about it.
The fit, finish, materials, and build quality are superb.  If I wanted and need this type of car in my own stable, I'd spend my own money to buy one.
So, if your shopping list includes players like Camry, Accord, Fusion, Sonata, Optima or Malibu, you'd be selling yourself short not to add the 2016 Altima as well.  I'd also say to shop carefully among trim levels and options, because like so many cars, the lower trim levels are relative bargains, but by the time you climb up the trim level ladder, and add in leather interior, all the electronic toys, and the V-6, the price climbs quickly.  I'm not suggesting that its blatantly overpriced, but just keep in mind that content costs money, and if you want it all, you'll pay a lot more for it.
Otherwise, I'd say job well done Nissan for keeping the Altima a top level competitor in the mid-sized front drive sedan class.