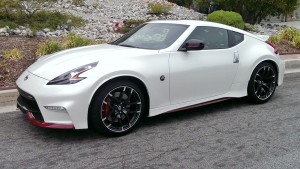 I've never been particularly crazy about the 350/370Z. It's not that they don't perform well, because they do, but these cars to me lack the style, charm, and lithe fleetness of the original 240Z. It may not be fair to compare a modern day car, with all of its weight-adding safety and technology gear, with a relatively unfettered classic from 1970, but if a company is going to build a "retrofuturistic" car attempting to riff off the goodness and popularity of the original, then it should embody more DNA and characteristic of that original. For me, the current Z falls short in that area.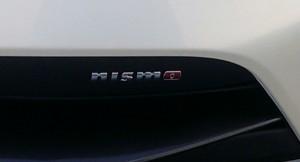 But when I had the chance to get into this hot rod Nismo version, I figured it was worth one more try.
The NISMO treatment is much like Ford's old SVT or Chrysler's SRT treatment; amp up the looks, power, handling, and sportiness, with equal measures of rarity and exclusivity, all for more, but not too much more money. For Nismo duty, Nissan cranks up the 3.7-liter V-6's output to 350 horsepower and 278 pounds-feet of torque.
There's a handsome engine bay brace now, lots of Nismo badges everywhere, a handsome red striping treatment, and a louder, racier sounding exhaust. These engines have always sounded good, and now even more so, with a fruity warble as you drive up the rpm range, and a popping burble on the overrun. You can review the window sticker below to see all the content that comes with the Nismo package, but it's substantial, and strikes me as worth the money.
Most of the car magazines and websites that run performance testing quote the Nismo Z's 0-60 time at 4.9-5.0 seconds, and my reasonably well calibrated butt says those numbers are dead accurate. This thing is absolutely fast by any measure, and the 6-speed stick's gear ratios and final drive are perfect for the engine's healthy powerband. It really stonks.
My biggest, in fact only gripe with this otherwise fabulous motor is that it gets rough and noisy at medium to high rpm. Which it should not. This 60-degree engine design should be in perfect harmonic balance. When Nissan introduced this engine family as a 3.0-liter, it was magic; not a lot of low end torque, but plenty of horsepower, sweet, smooth, happy to rev, and melodious doing so. It was still nearly as sweet and smooth when it grew to 3.5, yet became rough and coarse in the morph to 3.7. Disappointing.  I once, in a road test, called this engine the "Throbmaster" because at around 3500 revs it starts vibrating your fillings. Disappointing.
Fortunately, the engine revs up so quickly when you're really on the pedal that you tend to drive through the worst of this throbbing harmonic pretty quickly. No complaints with the handling, steering or braking. This car is very responsive to steering wheel commands, and has commendable grip and high cornering limits. And you'll love these special Nismo brakes; progressive, strong, and sure. And in spite of the 19-inch rolling stock and the super short sidewall height, the ride isn't too bad either. Of course, as the tires age, they'll get harder and noisier, but for now, and for as sporty as this car's performance messaging is, it rides pretty well.
This car weighs around 3500 pounds, and feels every ounce of it. One of the joys of the original 240Z is that it felt so light on its feet, tossable nearly, with lithe and alert handling. This current Z feels weighty, although again considering the safety, technology, and performance gear it totes, that's somewhat understandable. The landscape between between 1970 and 2016 looks very different.
Otherwise, the new Z is beautifully built and finished, very comfy inside, and packs a ton of infotainment and connectivity. All in and done at well below $50K doesn't strike me as a bad deal at all.
If you are enthused about this car, I'd say try it, you may love it. The throbbing engine, a few slightly overwrought styling touches, and the general weighty feel of the car rub some of the shine off of it for me. But it doesn't what Nissan promises what it'll do, and it performs crazy. I don't hate it, but I just can't love it.