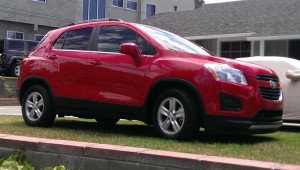 As an automotive writer, road tester, and studier of the business, I've always found cost effective, economical transportation as important a subject as all the fast and dangerous stuff.  As much as I love Porsches, Ferraris, AMG Mercedes, and all that fast and flash hardware, cars like that aren't relevant to a lot of people.  So I drive them all, from the bottom of the market to the tippy top.  And with gas costing what it does, I'm paying particular attention to fuel thrifty machines, hybrids, electrics, and diesels.  I recently spent some time in Chevy's new Trax, which GM calls a "city-smart SUV."  Or to my way of thinking, "city-smart crossover."  Its offered in three different trim levels, LS (base), LT, and LTZ; built on a primarily front-wheel drive platform, with all-wheel drive offered for an extra $1500.  The SL model bases at $20,995 plus the mandatory $875.00 transportation and delivery charge.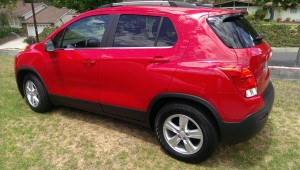 Packaging wise, it reminds me a bit of a compact mini-van with a slightly higher testosterone level, and conventional doors instead of side sliders.  Its a good looking little guy, with a strong Chevy face, muscular wheel arches, and plenty of glass area for good visibility.  It shares much of its black metal lacy underthings with the Chevrolet Sonic sedan, and like the Sonic, is assembled in Korea by GM partner Daewoo — no bad thing.  It's also kissing cousins with the new Buick Encore, which shares the same body/chassis and powertrain.  The Buick of course, wears a bit more chrome, offers a few more creature features, and has a plusher, more luxuriously trimmed cabin.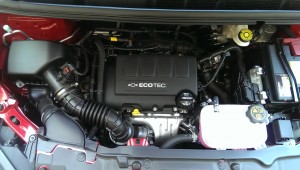 The only Trax powertrain is a turbocharged 1.4-liter Ecotec inline four, which cranks out 138 horsepower, backed by a 6-speed automatic transaxle.  EPA ratings are credible, if not quite in hybrid territory, that being 26 mph City and 34 mpg Highway and 29 combined; match that with the 14 gallon tank, and its range is worthwhile.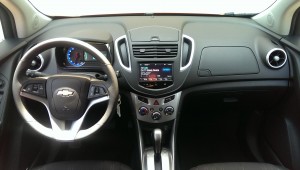 This is a likable, user friendly car, with plenty of room inside for five passengers, and a few suitcases in back; flop down the second row seatback, and its positively cavernous with 48.5 cubic feet of max cargo space inside.  My tester carried all the usual power accessories, and GM's MY LINK audio and connectivity package, which is easy to manage via a large, bright 7-inch touch screen.  The government gives it a top level five star safety rating, and if you love airbags, you'll appreciate that the Trax packs ten of them.  Handsome 16-inch alloy wheels  are wrapped by meaty all season tires.  No stripper econo box is this.  We should also mention plenty of charging and USB ports.
You'd never call the Trax a thrill ride, but it delivers on its mission as a family friendly urban commuter combat vehicle.  It's comfy enough, relatively quiet, handles well, and rides nicely without adding to your stress levels in any way.  The pint-sized turbocharged engine is no firebreather, but moves the car well enough, with generally good manners, although it gets a little buzzy when you really push it.  The transmission is never wrong, with a ratio for every occasions, shifting up and down the gears as it should.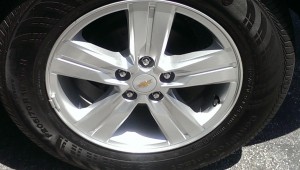 At the end of the day, and at the end of the 250 mile trip I took with it, I like this car.  It's not memorable in a sporty, luxurious, or thrilling kind of way, but it just gets the job done with no muss or fuss, and economically.  Fit, finish, assembly and materials quality are all excellent.
I especially appreciate its value message.  As you can see from the sticker below, my tester bottomlined at $23,815 all in.  Maybe give up its one $670 option, play the rebates and incentive game well, negotiate hard, and you might buy this thing for twenty grand plus tax.  A lot of car and transportation value for the money.  Great for small to medium sized families, and perfect if you are the primary driver in your car pool.