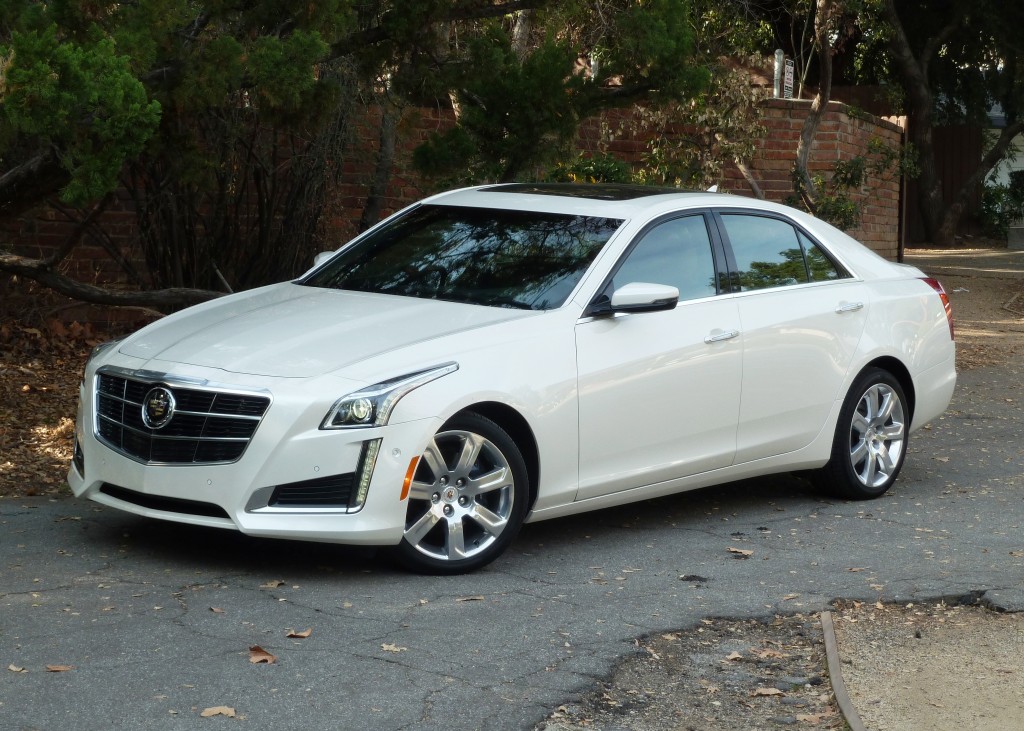 The original Cadillac CTS of two decades ago convinced me that GM hadn't forgotten how to develop a car, and that it wasn't going to make every vehicle in its lineup a badge-engineered clone of a half dozen others. It hasn't always stuck with that mantra, but the CTS proved that it was committed to Cadillac not just being a tepid luxury sedan brand. Up until then, its model roster was hurting; Mercedes had the E-Class, BMW the 5 Series, and Cadillac had the Catera, a modestly remodeled Opel. Plus a bunch of ageing front drive sedans, and not a crossover or SUV to its name.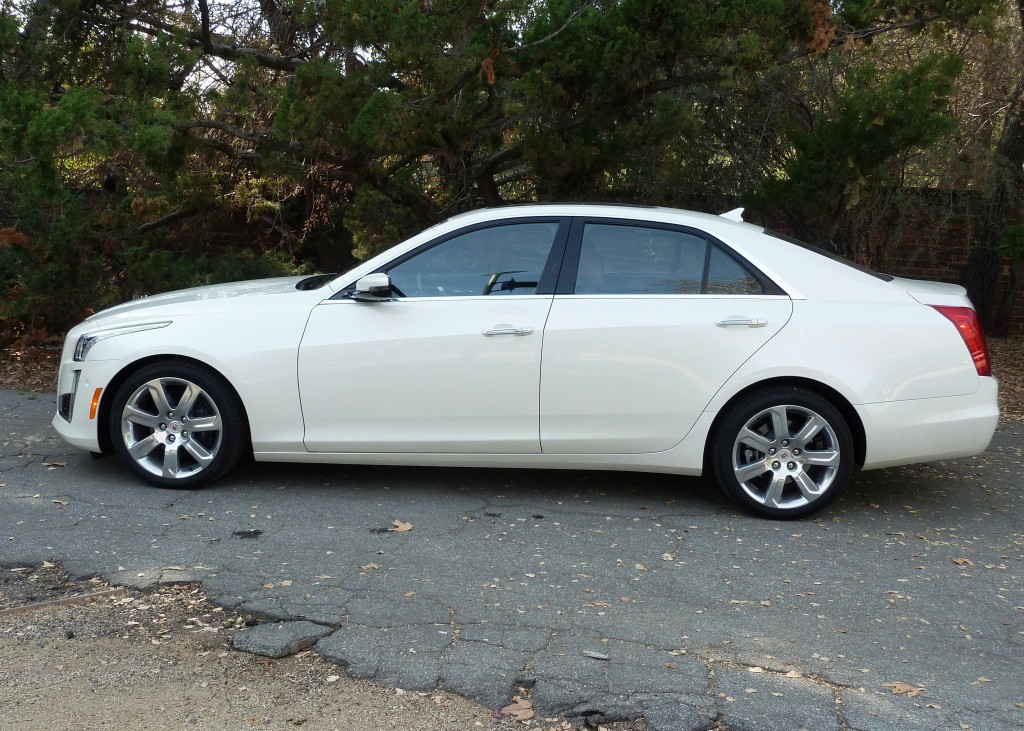 Cadillac General Manager, John Smith (no, really!) fought hard to get a standalone, rear drive chassis architecture for the CTS, one that had good underpinnings that would help it ride and handle on a competitive basis with other upwardly mobile and premium luxury cars. The CTS broke the cover on Cadillac's then new, and very fresh design language. Not perfect, but different and exciting. Many CTSs have come and gone since then, so I was excited when a 2014 example landed in my driveway. This platform and design was updated and refreshed just a year ago, with muscular features, tightly drawn lines and upscale jewelry, chrome, lighting and rolling stock. A great looking car.
My tester had nearly every option you could put on a "non V" CTS; the CTS v-Sport (think "AMG-like" version of the CTS). Aboard is 321 horse all-aluminum V-6 with the latest tech and plenty of punch; an 8-speed multi-mode automatic transmission with manual shift control and steering wheel paddles, and a full window sticker's worth of luxury, performance and infotainment options.  And it was a stunner in (optional) White Diamond Tricoat paint over a Kona Brown and Jet Black leather and wood filled cabin.
This car isn't quick; its genuinely fast.  Absolutely competitive with any of the six cylinder offerings from BMW, Mercedes-Benz, Lexus and Infiniti.  The engine is smooth yet lusty with snarky exhaust and intake snarls that speak performance.  And the ZF 8-speed transmission is the perfect dance partner for it.  A ratio for every condition, seemingly always in the right gear, and very responsive to driver commands with the paddles or shifter.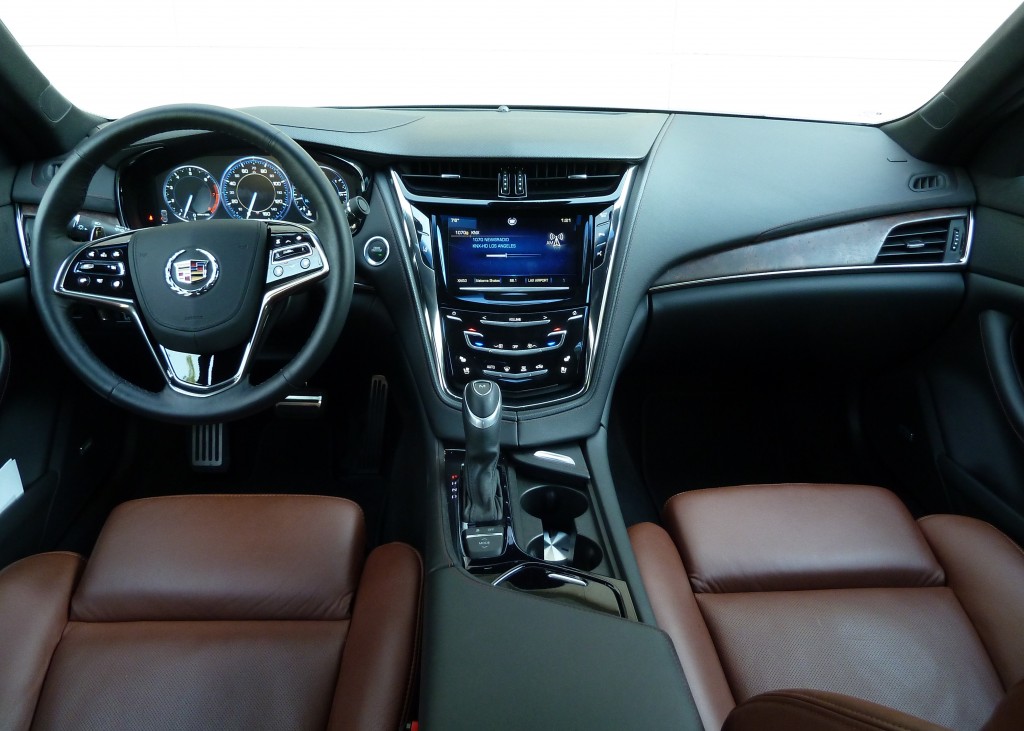 For decades, General Motors' interior quality and design has most often been "almost but not quite" good enough.  Fit and finish, and materials quality has improved a ton since the company's bankruptcy, and this CTS's cabin is a gem.  Really high quality stuff everywhere you look and touch.  The leather upholstery is firm and sturdy yet still supple, and the satin finished genuine wood trim deeply grained and didn't look like highly polished plastic for a change.  Complete instrumentation, a sophisticated entertainment and nav, logically placed controls, nice place this.  Many online and magazine reviews of this car criticize the CUE (Cadillac User Experience) touch screen interface; I don't think it's the most intuitive I've ever seen, but with a little practice and a review of the car's owner's manual, it works pretty well.
No complaints about the driving experience either; with over 300 horse on tap, 18-inch rolling stock and a performance tuned suspension, this CTS eagerly gobbls up most any type of road, maintains a firm yet comfortable ride, and handles aggressive corners with aplomb.  A real driver's car to be sure.
The aspect of this car that put me off the most was the sticker; this car based at $60,100, and all the options ran the tab up to a somewhat eye-watering $68,980 all in.  I doubt you'll find a comparably equipped premium German or Japanese brand competitor for less, but for some reason this struck me as a big number.  When shopping at this level, I suggest you compare prices and options very carefully.  But the content and the quality are present and accounted for.
So, taking the value equation out of it for the moment, I'd say job well done Cadillac, but it's a desirable package you'll pay somewhat dearly for IMO.