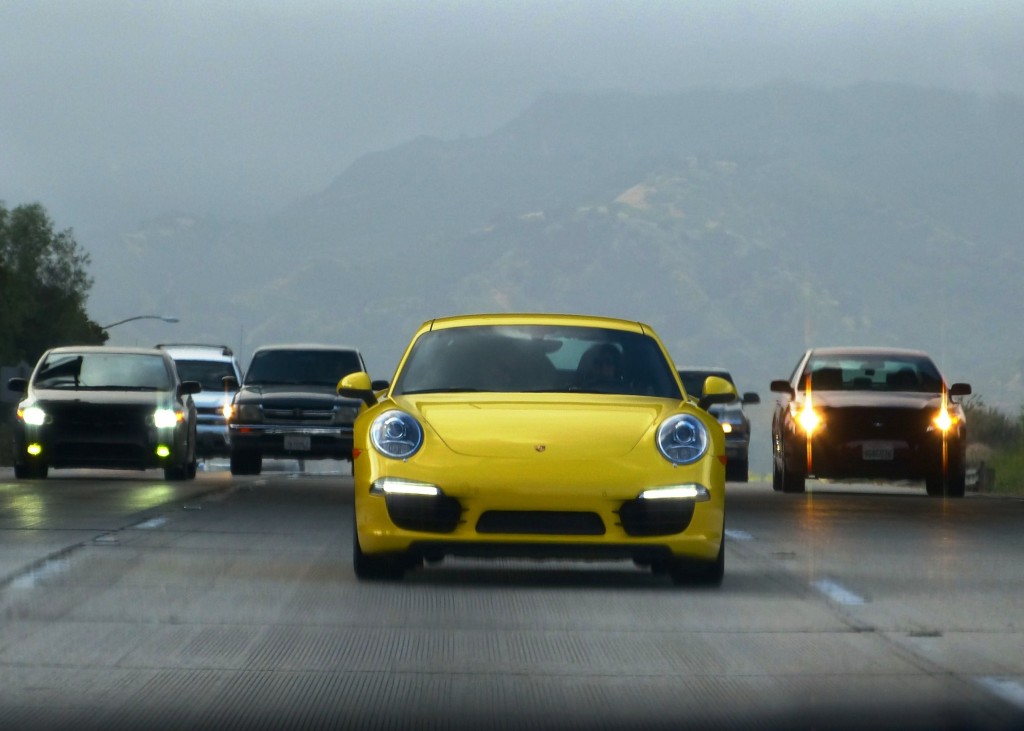 Porsche's seminal 911 is a car that has been in development, and in a state of constant evolution, since first introduced to the world in the early 1960s. Perhaps its most sweeping evolutional (revolutional?) change was when it was completely redesigned and sprouted radiators to become the first water-cooled 911 for the 1999 model year. The purists were shocked: even though that first "996″ generation of water cooled 911 wasn't perfect, it cast the die for all 911s to follow. With it, Porsche did as Porsche does, constantly evolve and improve the car along the way, introducing new and generally faster and more exciting variants as time goes along. A big improvement along the way was the 997 of the 2005 model year. Plus of course, all those Carrera 4s, GT2s and GT3s, Turbos, Cabriolet, Targas and such. For 2012 Porsche has rethought, reinvented, and somewhat redefined the 911 again; the new generation's in-house series designation is 991.  Although, of course, publicly, it's still a 911.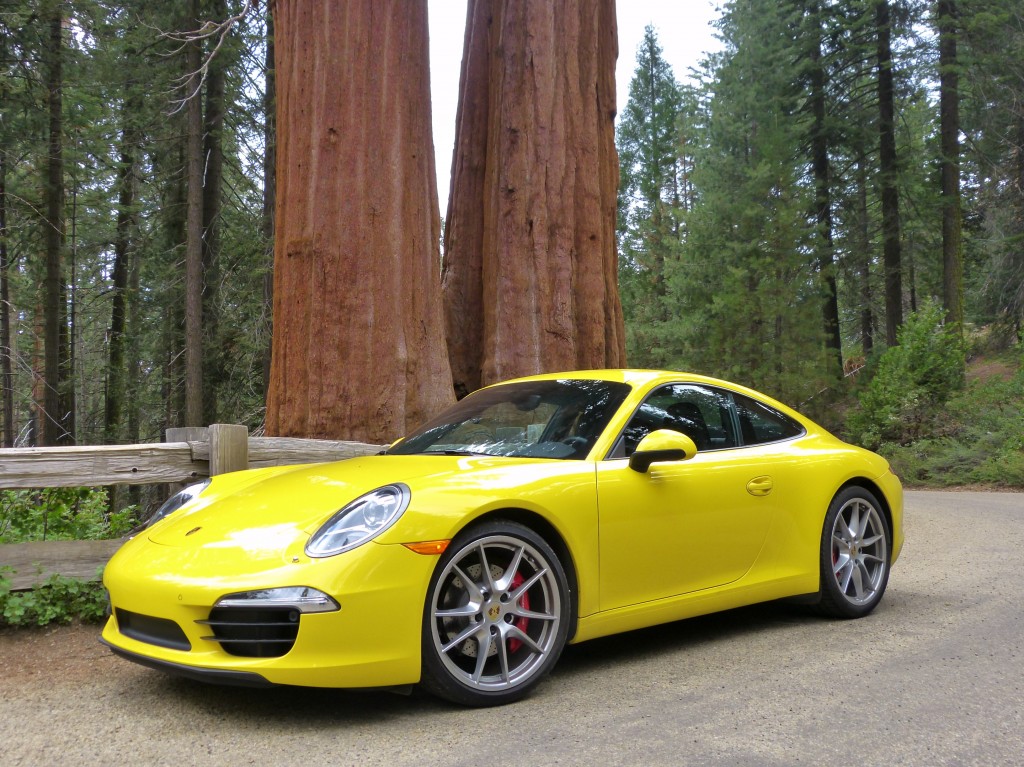 To look at it, you'll never mistake it for anything other than a 911, although it's grown a bit longer overall and in the wheelbase. The roof is a bit flatter, the lighting clusters are a glintier, and the cabin a squeedge roomier too. Several of the body panels are now made of aluminum, so the car's weight didn't go increase commensurate with its size. There remains a "base" Carrera and a larger displacement Carrera S model, plus a Cabriolet. There will be all-wheel drive Carrera 4s, Turbos and a palette of variations on the 911 theme as time goes along.
My Porsche-owning pal Jeff is an itinerate road tripper, and spotted a calendar item for a PCA drive program to Sequoia National Park with a few nights in nearby Three Rivers. The event was being hosted by the Santa Barbara Region of the Porsche Club of America, who said we were more than welcome. So Jeff signed up for the event running his spectacular black Cayman S Sport, friends Kirk and Cathy signed on to take their metallic gray 996 Carrera coupe, and I wanted to go too. I certainly would have been happy taking my '89 Carrera 3.2 coupe, but also figured this was a great chance to road test the new 991-series 911. One phone call to my pals at Porsche Cars North America media relations, and I was set up with my very own 2012 911 S (well — at least for the weekend). This Screaming Yellow Zonker had it all; 400 horse 3.8-liter flat six, PDK 7-speed dual clutch transmission, and nearly every option you can paste onto a 911 Carrera S (short of Carbon Ceramic Brakes and twin turbos). It based at $96,400 and the line at the bottom of the sticker read $122,925. EPA rating? 20/27, not that I cared a lot, but with gas running around $4.75 a gallon over Memorial weekend, I had my trusty Shell and Chevron cards paid off, polished and ready for a busy three day weekend.
My most favorite option on this car is the factory Sport Exhaust system. That means four big pipes out the lower rear fascia, and a little happy button on the console that opens up a set of baffles in the exhaust which deepens the rumble at idle and sharpens the roar at higher rpm. I pressed this button every time I fired the engine, and wouldn't buy a new 911 without this $2950 option. This may sound like a lot, but its factory engineered and warranted, and you'd spend several grand on some aftermarket setup anyway, so why not an OEM deal that works great, and allows you throaty surroundsound or to cruise quietly at the touch of a button.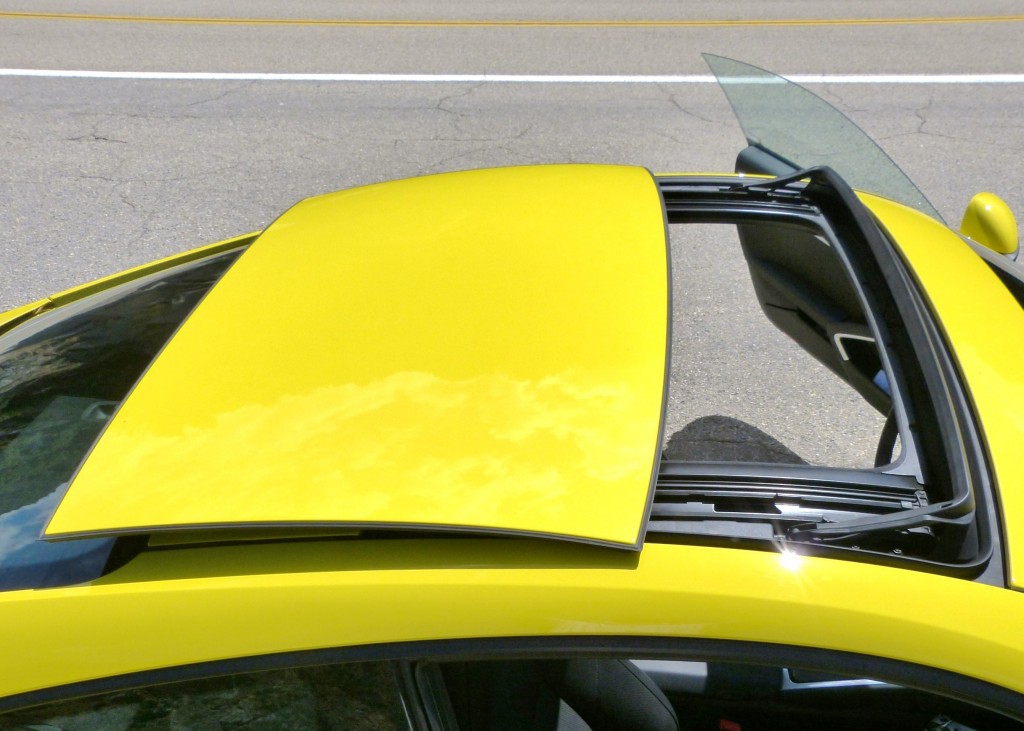 For a long time, Porsche was legitimately criticized over the early 996's interior for being too close to that of the less costly Boxster, and not up to the general quality and mission of the car. It was improved over the years, and took a leap upward in design and quality with the 997 generation. Now Porsche has completed the mission with a handsome, high quality, and super comfy cabin. It borrows a bit from the Panamera sedan, with a nice design and handsome, sturdy, and luxurious materials.
The driving experience is sublime. 400 horsepower may not sound too exotic these days, but this car is fast fast. Its 325 pounds-feet of torque are spread all over the tach and are always at the ready. The 7-speed "paddleshifter" Doppelkupplung (PDK) transmission is an impressive piece of technology. While I myself still prefer and more enjoy an honest-to-clutch conventional manual transmission, this thing really works, and you can't outshift it up or down. It shifts fast and smooth (yet positively, never at all feeling mushy, jerky, or in any way like a conventional automatic trans) and is satisfyingly responsive to commands issued via the shifter on the console or the paddles. Set it for Sport and the shifts get faster and firmer. I will candidly admit that during a few mountain passages of creepy-crawly traffic, I just set it to "Drive" in full automatic and let the computers and clutches do the work. Please don't hate me. This car still rides firmly but with a smooth fluidity that almost says grand tourer. I would drive this car to Boston, tomorrow, in great comfort and safety. It's still a sports car, not a Lexus, and very refined.
I cannot say enough for the fine folks we traveled with: The people who populate and run the Santa Barbara PCA chapter welcomed us warmly and treated us like celebs. Plus their event was superbly planned and organized. This is definitely an upper middle class group, and they have nice cars. Our trip was populated by a selection of 997 Turbos and cabs, even a GT3, plus a few Boxsters and Caymans; a Twin-Turbo Panamera (which came in really handy in helping ferry the owners of a stranded car home one afternoon); mostly late model, watercooled Porsches in great condition. And these folks drive them too. Our weekend was peppered with all sorts of weather, even a little snow and some really dirty mountain roads, but nobody whined, and every afternoon, we all met back at the hotel parking lot and washed our cars. Which was great fun. And whenever anyone had any sort of car issue, the rest of the crowd was there to lend a hand. And they were most interested in "my" 991, they knew what it was and that it was the "new 911." Everyone wanted to know how it rode and drove, and they all looked it over with knowledge and genuine interest. Nice people; Porsche people, and real car people. I'll hang with this gang any time, and hope to do so again soon.
So friend Jeff asked me "does the new 991 really earn a place in the pantheon of great 911s?" Yes it does, but it is a different kind of 911. It's still a sports car, but a larger one, and a bit more GT than the outgoing models. Old school, hard core air-cooled enthusiasts may or may not like it much. It's a little more computerized than I might like personally, but all the technology really works, and this thing has grip to spare and my goodness is it fast and well mannered.  Those who drive their Porsches every day or on long trips will appreciate its user friendliness, fine interior and creature features. My biggest issue with it, honestly, is the price, at least of this fully loaded tester; don't get me wrong, the technology and content are there, but it's costly. Porsche charges huge coin for every single little option, including some things (such as leather interior) that IMHO should be standard on the "S" model, or any car costing nearly a hundred grand to start. But once past that, it's an amazing machine, and every bit a Porsche. You may like it and you may not, but once you drive it, you'll respect it. For this money, I'd personally be on the hunt for a 997-gen GT3, which I  feel that, for me, may be the ultimate naturally aspirated 911 short of  the recent GT3 RS 4.0. Or maybe a showroom fresh 997 series 911 GTS model, also a dandy. Or a 993 Turbo, or a super low miles 993 C2S, or a pair of them.  Or…Or…Or….
And my thanks to pal Kirk Gerbracht for snapping all these great pix.