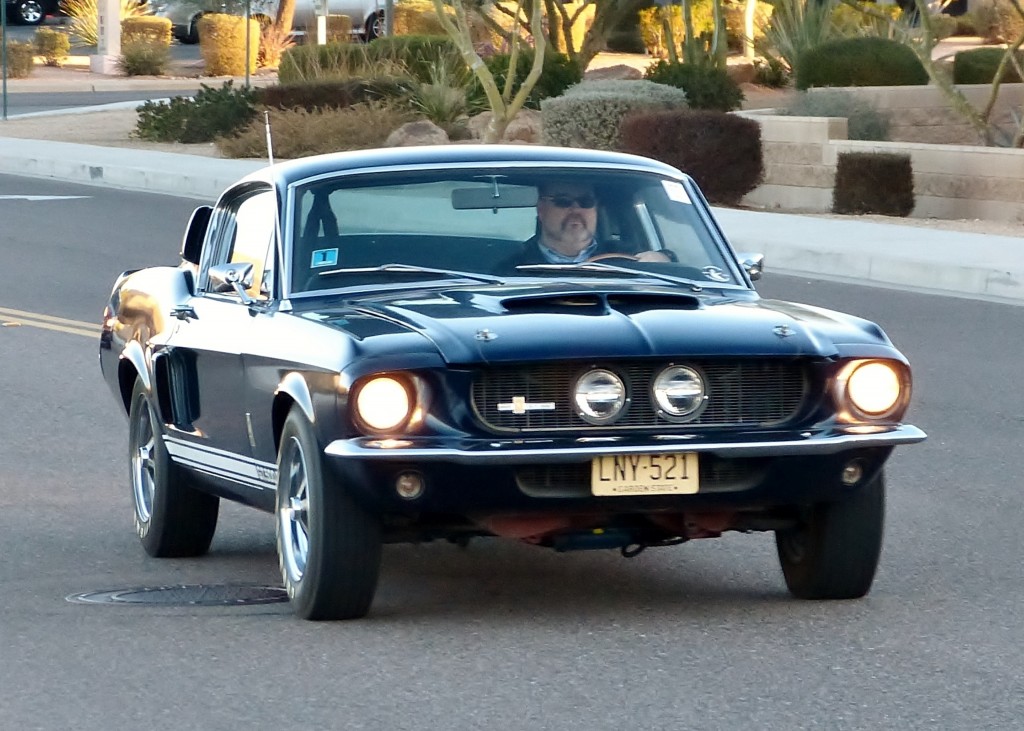 The Lowest Mileage '67 GT500 There Is?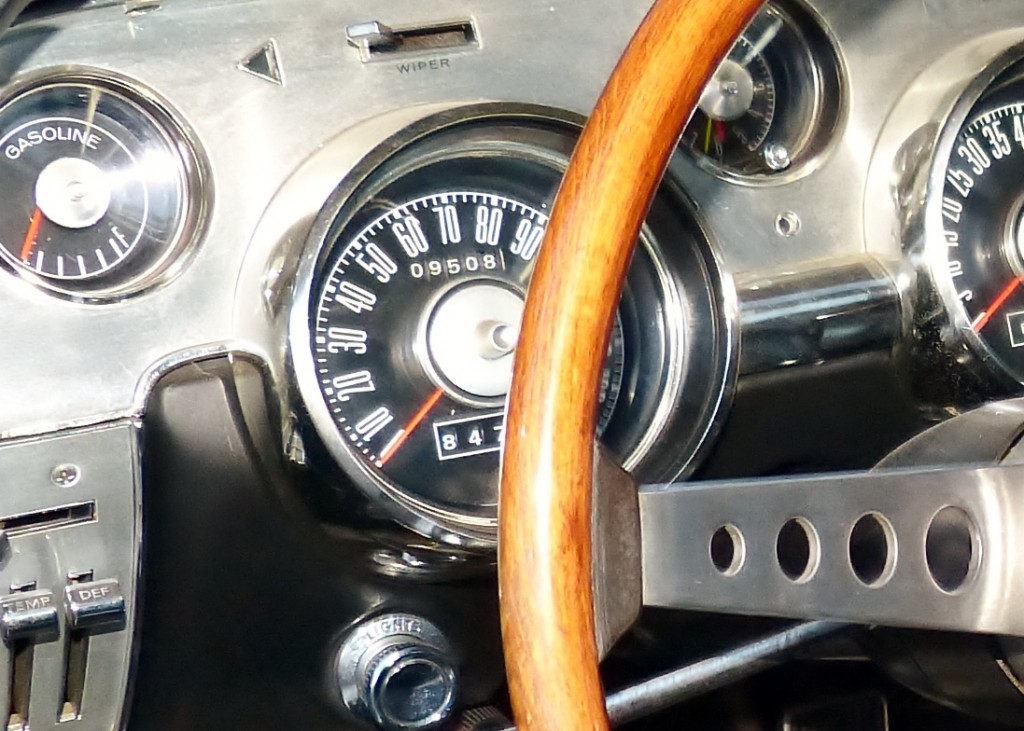 With the odometer not yet reading 9600 miles we crack the dual quads open and grab some gears in this amazing survivor GT500, hours before its date with the Barrett-Jackson Scottsdale auction block
Photography by Kirk, me, and courtesy Barrett-Jackson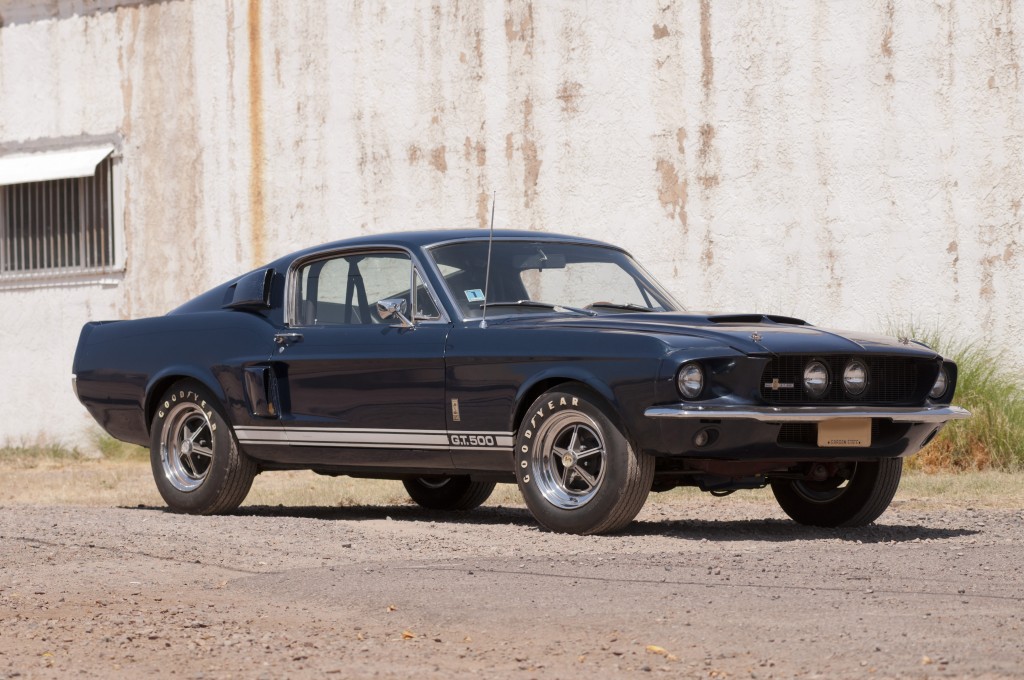 Our story begins with the August, 2007 issue of Mustang Monthly, with this excerpt from a story by Donald Farr: Stephen Becker has been around Shelby Mustangs since he opened a Shelby parts business in 1978 as an entrepreneurial 11-year-old. Today, as a broker for Shelbys and Cobras, he frequently buys and sells special vehicles. None have raised Stephen's interest as much as this '67 GT500 with only 9,443 miles.
In 2004, Stephen received a call from Edward Milkos in New Brunswick, New Jersey. Edward was going to sell the Shelby Mustang he purchased new in February 1967. That's when Stephen first heard the story about 67400F2A00213.
In 1966, Edward was driving a Tri-Power '65 GTO when he decided to order a '67 Shelby for drag racing. On October 26, he put down a $20 deposit at McCafferty Ford in Trenton to order a red GT500, no doubt impressed by the car's 428 Police Interceptor engine with dual four-barrel carburetion. He was surprised when the car arrived in January 1967. Instead of the red he ordered, the car was Nightmist Blue. The dealer attempted to order another one in red, per Edward's request, but it soon became apparent that a red GT500 wasn't available. So he accepted the dark blue Shelby on February 27, 1967. According to the sales invoice, Edward got the car for $4,891 but shelled out only $2,191 after getting $2,767 for his '65 GTO in trade.
For the next two years, Edward drag raced the car. In preparation, tow bars were welded to the front frame and a number of aftermarket modifications were added, including a Stewart-Warner electric fuel pump, a Moroso "cool can" to prevent fuel vaporlock, Thrush shorty glasspack mufflers, and drag slicks in place of the rear Goodyears. Edward told to Stephen that the dragstrip asked him to remove the shoulder harnesses because they were for "show only." In 1968, Edward and his Shelby competed in the first NHRA national event at Madison Township Raceway Park, known today as Englishtown Raceway Park. He received a plaque for his participation, which he proudly affixed to the instrument panel.
The drag racing activities came to a sudden halt in 1969 when Edward, a carpenter, fell through a plate glass window and severely injured his arm. The Shelby had 9,000 miles on the odometer; most of them obtained a quarter-mile at a time. The car was placed in storage in his basement garage. By the time Edward's arm healed, fuel prices had risen, so he left the car in the basement for the next 30 years.
In 2004, Edward spotted a Jaguar on a local used car lot. Deciding he could make better use of a relatively new Jaguar instead of an old Shelby, he called Stephen at his home near Atlanta.
"It was a Thursday at 10 p.m.," Stephen says. "He told me about the car, and I was on my way to New Jersey with a trailer on Friday morning." Per Edward's request, Stephen purchased the Jaguar from the dealer, and then traded Edward title-for-title for the Shelby. The GT500 still had its racing equipment, but to Stephen's amazement, Edward went into his attic and pulled out original parts-an air-cleaner filter element, shoulder harnesses, the exhaust system, and even the barely used original rear tires. Only the original transverse muffler and battery were missing.
Stephen was amazed by the car's originality, including the paint, engine, four-speed transmission, and shocks. The trunk mat was missing; Edward explained the car had been delivered without it. The dealership ordered one, he said, but it never arrived. Stephen took note of the old New Jersey license plates and 1970 inspection sticker in the windshield. Under the fiberglass hood and trunk lid, he discovered the original manufacturing stickers from Plaza Fiberglass in Toronto, something rarely seen on '67 Shelbys today. Mounted between the dual gauges under the radio was another seldom-seen item: an engraved-and misspelled-plaque that reads "Manufactured by Shelby American Inc. especially for Edward Miklos…"Edward handed him the original paperwork, including the dealership and Shelby American invoices. Interestingly, the salesman never got his last name right, listing it as "Milos" or "Miklos" instead of "Milkos."
Fast forward to the Barrett-Jackson Collector Car Auction, Scottsdale, Arizona, January, 2013.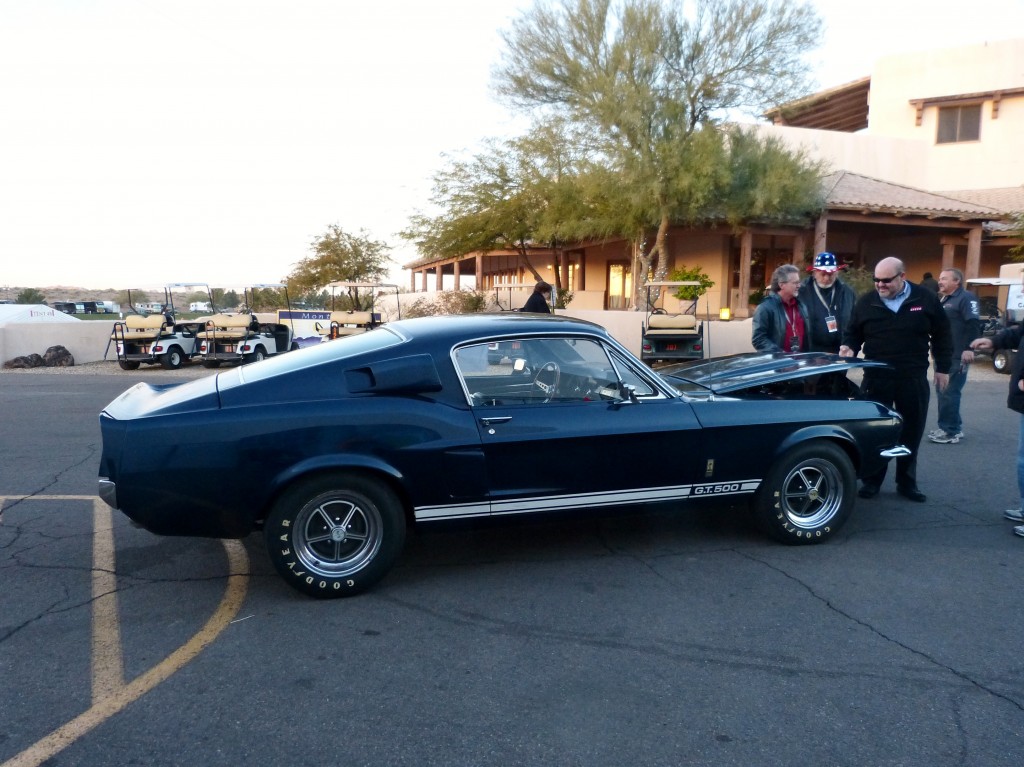 By late 2012, Stephan Becker has done about everything with this GT500 he'd ever hoped to do, except put many miles on it. The morning we connected with it at Barrett-Jackson in Arizona, the odo still read 9504 original miles. It's true that in its early days, many of those miles were earned a quarter mile at a time, given the car's past history as an oft-times drag racing competitor. As of our meet-up, all signs of its former drag racing life are long gone, and the car looks like a slightly faded, but honest and absolutely original 46 year-old Shelby Mustang. It's been an important calling card for Becker's Georgia-based Shelby cars and parts business, Planet Cobra, and while he clearly still enjoys and appreciates the car's authenticity and originality, he says "It's just time to move it along to another enthusiast." In as much as Barrett-Jackson is honoring the life and passing of Carroll Shelby in 2013, and consigned some 40 Shelby Mustangs for its Scottsdale auction docket, this seemed like both time and place to find the right buyer, and garner the right price for it. It's an early car, just the third GT500 built, with the grille-mounted foglights placed close together. And remember this is no station wagon level 428; it's a dual-quadder, as were all GT500s in 1967, rated at 355 horsepower, and backed by a 4-speed top-loader tranny.
There's an old saying that cautions to "be careful when meeting your heroes – you may be disappointed." So it was with a trace of careful trepidation that I approached the opportunity to drive this low mile GT500. Would it feel fast or slow? Would it drive like a tired old car on bias ply tires? Does legend outreach reality?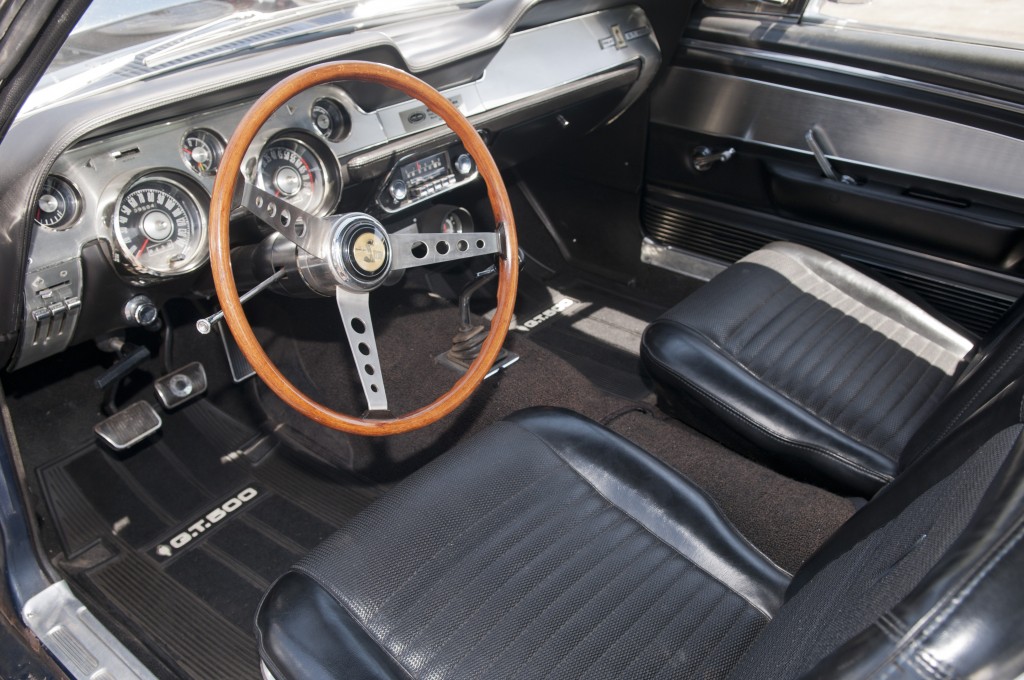 I needn't have worried; although on close inspection, the car is a bit worn in a few places, and a bit faded; the headliner wears some small tears in it…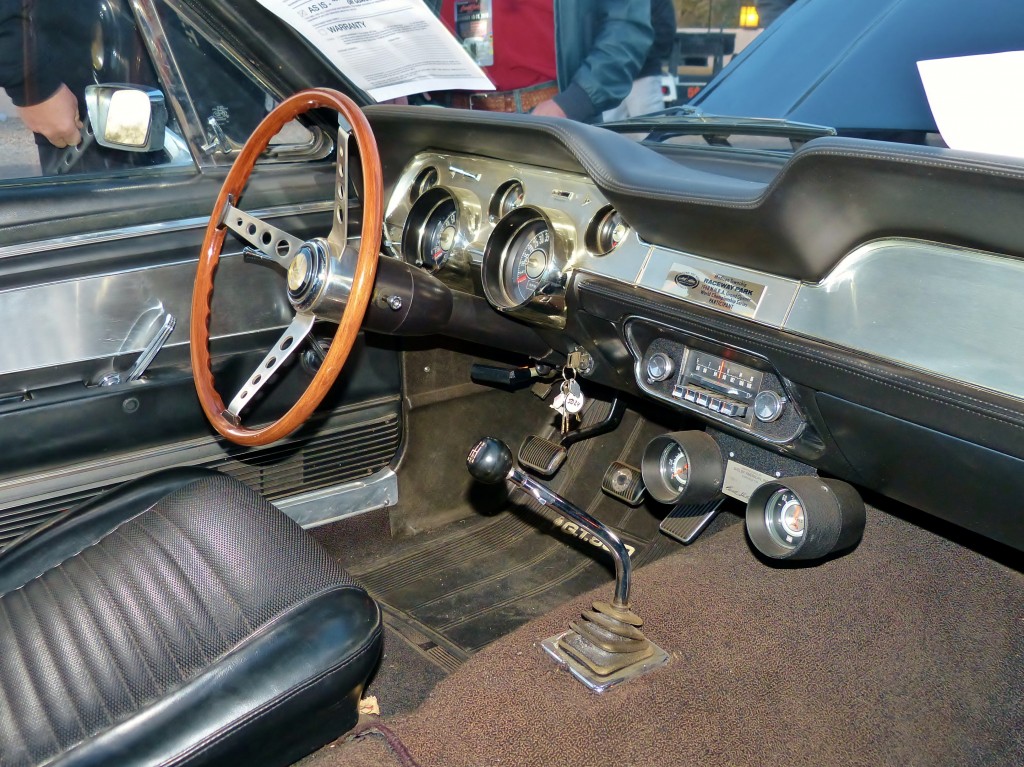 …the dark navy blue paint is blotchy, and the black carpet is faded to a dark brownish gray.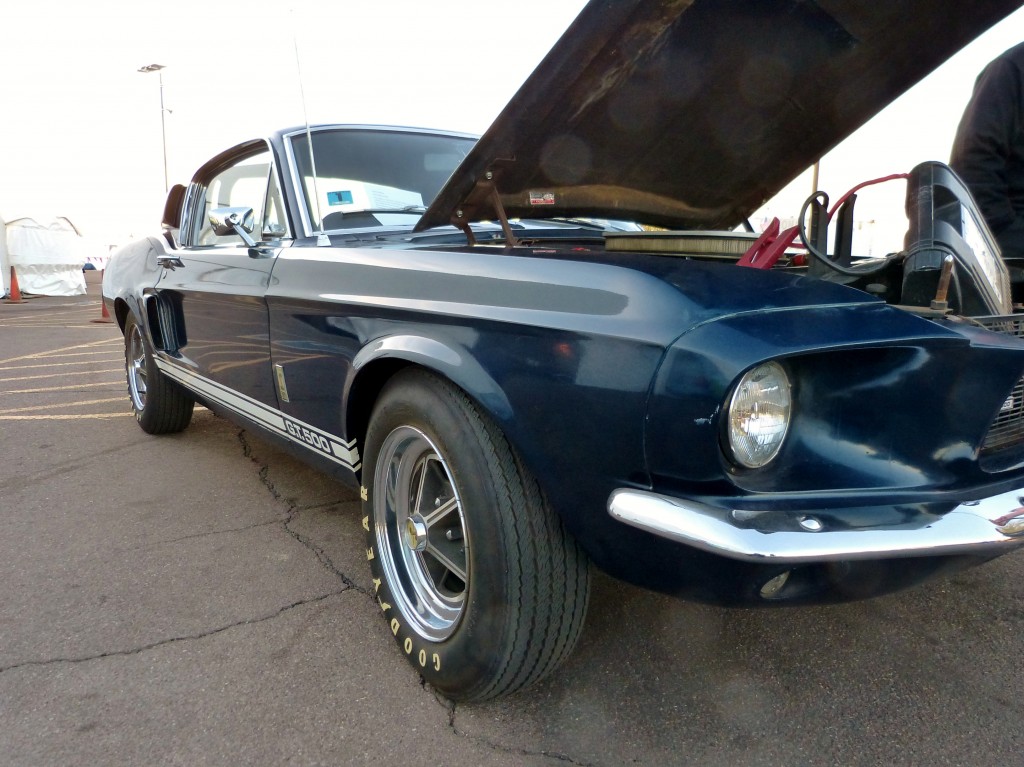 No matter; the chrome has held up well, the body gaps narrow and even, and while the Magstar two-piece wheels could stand a good buff and polish, the car reeks of honesty, use, enjoyment, and the patina that comes with age and experience.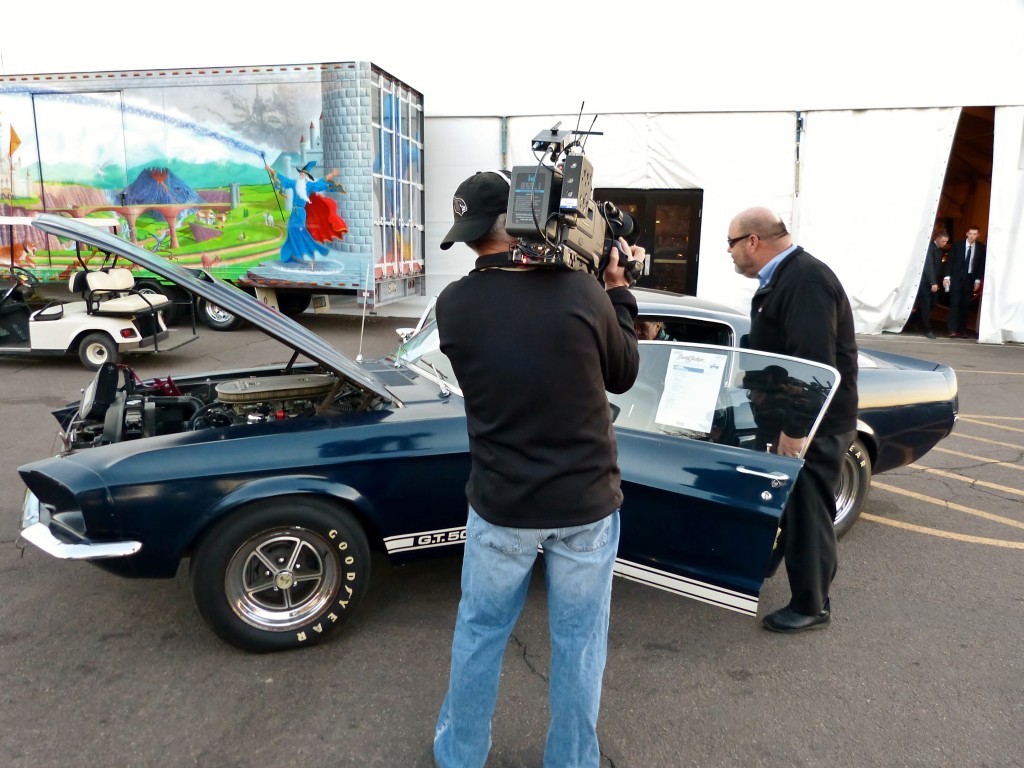 Becker and I hop in and I nervously reach for the key. The solenoid and starter engage, but the original, the now 46 year-old battery doesn't have enough juice to spin the starter. My heart sinks. Someone attaches a battery booster box, and this time, the starter turns heartily and the engine lights with no hassle. I feather the throttle as the car warms up, mat the clutch, and select first gear with the slightly stiff factory shifter. A little throttle and we're away. Whoooooooooohooooooooooo!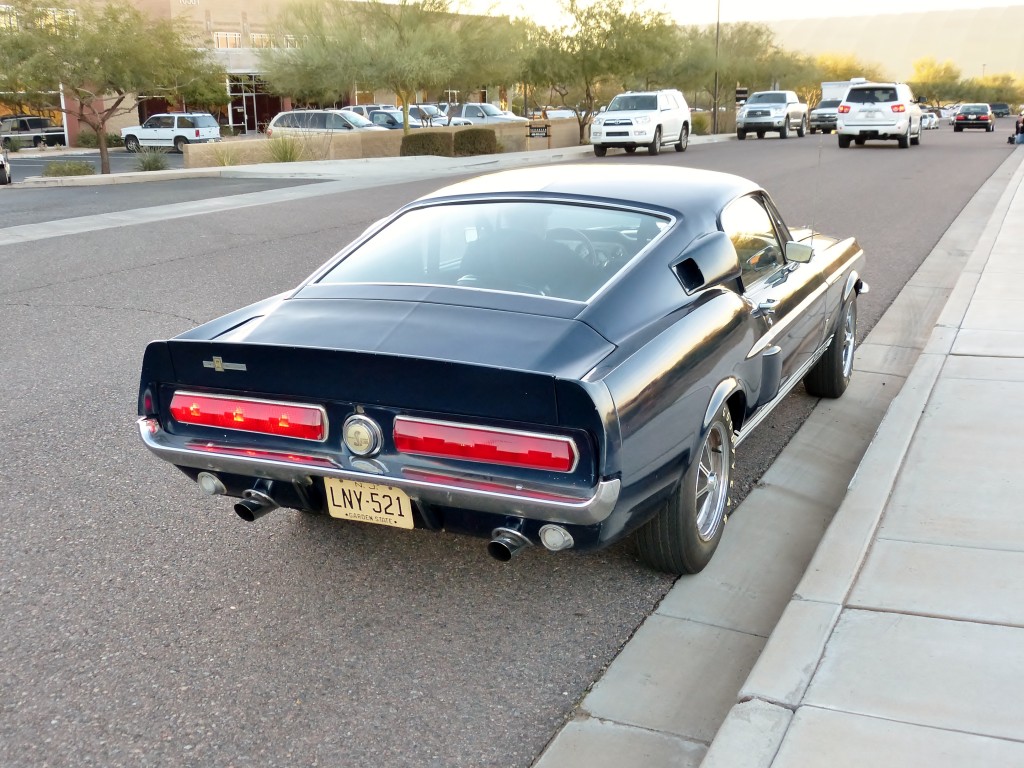 I love super low-mile old cars; they usually telegraph what a car was really like when it was new, and no matter how many times you take a car apart, or how well you restore it, there's nothing quite like a car that's never been wrecked and fixed, or otherwise disassembled and restored. They're only original once, of course.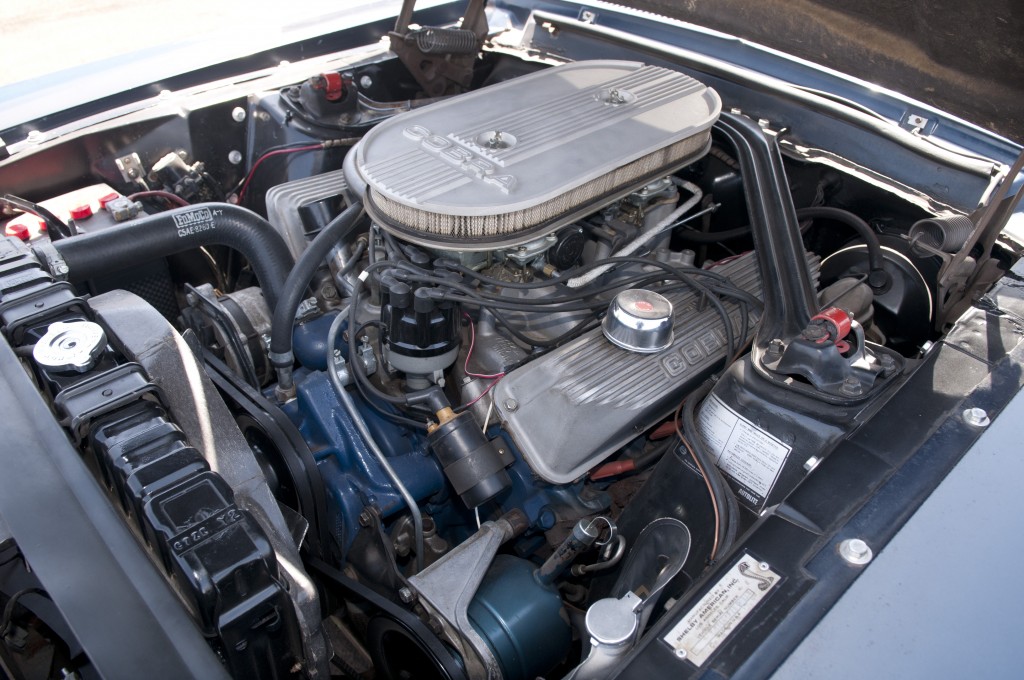 And this Big Guy sounds marvelous. Nothing like a thumping big-block to start out your day. This one exhales through a well-seasoned dual exhaust system, and the sound is everything you expect from a big inch, non catalytic converter equipped American muscle car. It gurgles at low rpm, bellows deeply as the revs climb, and snaps and pops when you downshift and let off the gas (let's hear it for engine braking).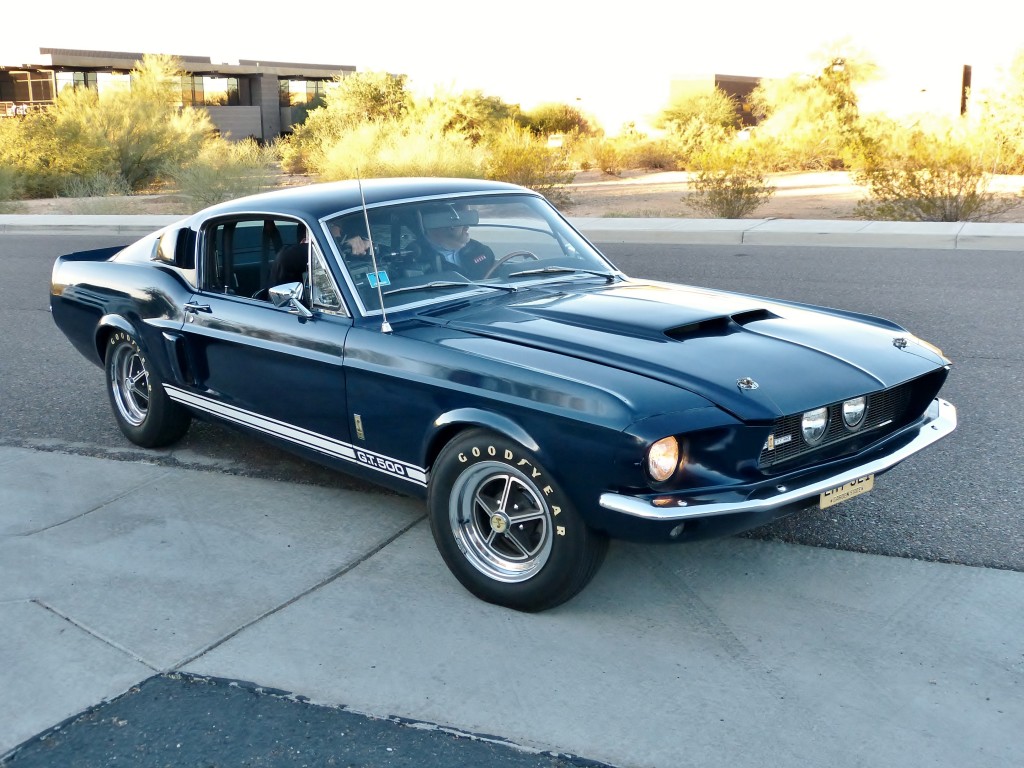 Overall, the car feels tight and rattle free (again the joy of a car that's never been apart). The ride quality is on the sporty side of firm, but not bouncy, showing good body control. Schedule and location restrictions limited us from anything approaching hard cornering, but no wallowing pig is this! Its coil/leaf spring combo and original shocks keep it on the straight and narrow and the brakes feel pretty good too. As mentioned, the shifter is a bit stiff and clunky, but the clutch is smooth and relatively light. With this much power on tap, we could easily haze the Goodyear Polyglas tires, but have no desire to blow or ball this car up, prior to its big date with the Barrett-Jackson auction block.
The biggest disappointment I falsely envisioned never materialized: With a car and a big engine that don't run much, I expected the dual quad carbs to make this car a stumbling, bumbling, black smoke belching handful. That's what I get for making unwarranted assumptions; it was so not the case. Throttle response, even at low rpm, never disappointed, and once I got my big toe even slightly into the second carb, the big FE answered the call with a rush of torque and that wonderful moaning, "vacuum cleaner sucking gas and air sound" that I had in-my-dreams hoped for. And it was there and it was real. And it was good. Under moderate load, the big exhaust pipes puffed out a few blasts of carbon smoke, the 428 clearing its considerable lungs and clearly enjoying some exercise. When we parked it and shut down, the odometer read 9512 miles, and thank you Mr. Becker, for giving us these eight marvelous miles with your big blue car.
Depending on which mid-60s period car magazines you read, 0-60 estimates for this car range from the mid-fives to the low-to-mid-six second range. Even though I had to play it careful with Becker's baby, I've no reason to doubt these numbers. Running on tires with just a hint of traction, I'm sure this car would crack off six second 0-60 runs all damn day without batting an eye. And so could I.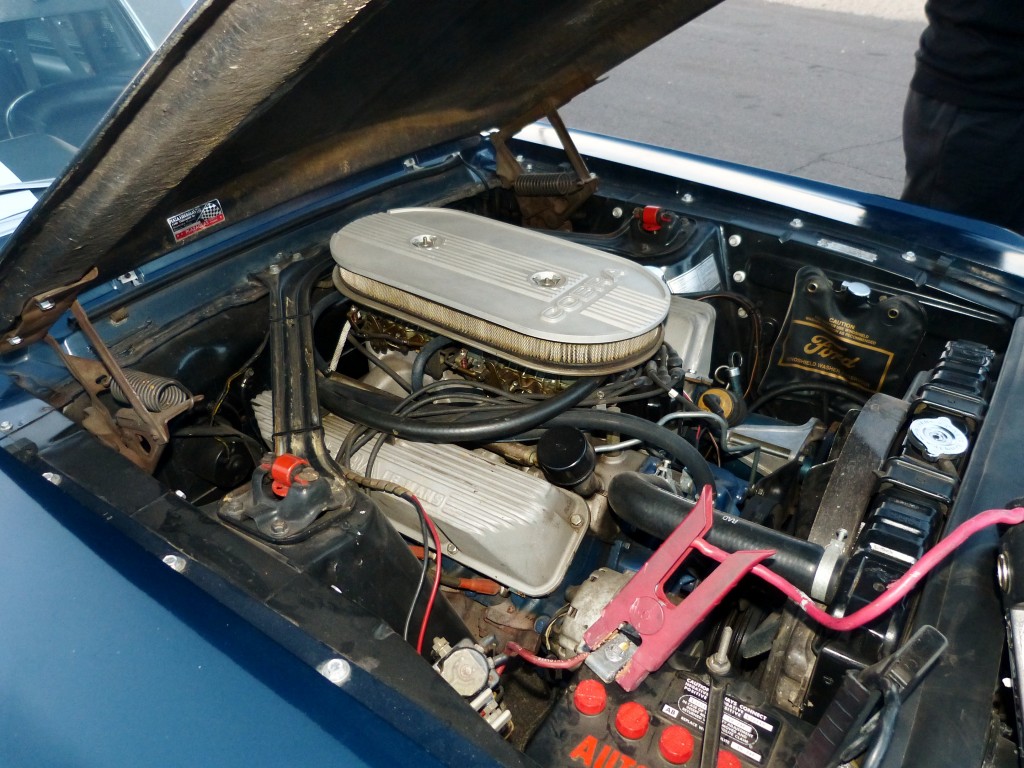 355 horsepower? Yah. Sure.
When the Nightmist Blue Meanie finally took to Barrett-Jackson's big stage, that Saturday afternoon in Scottsdale, as lot 5024, Becker looked nervous up at the podium next to B-J president and noted Shelby and Mustang expert Steve Davis, bidding opened at $100,000 and moved strongly and swiftly past $150,000. It slowed at $170,000, finally settling at $175,000 as the gavel cracked.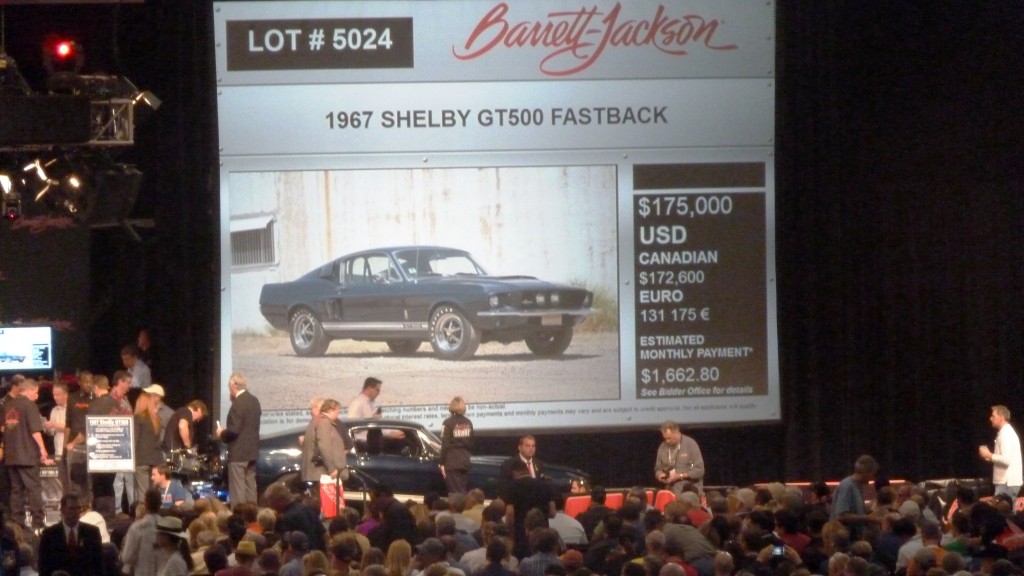 Strong money for any '67 Mustang, no matter how Shelby or fabulous. I'd call it money well spent, and if I had the dough, I'd have been up there waving my bidder's paddle high in the air for the chance to own it. No disappointment whatsoever in meeting this hero.
My thanks: Stephan Becker, Donald Farr, Kirk Gerbracht, Barrett-Jackson, Scott Black, Timepiece PR and Marketing, JMPR.