Parkinson's Disease is a tragic affliction that impacts the lives of millions of people, not only the first person sufferers but also the friends and family around them. Here's information on some great automotive related support movements happening in support of Parkinson's Charity telling how you can help support this organization, its events, AND how to enter to win something very cool for your efforts. I've bought a ticket, and hope you do too. Thanks for listening…MS
Master Automotive Artist 'Pinstripers' Volunteer to Support Parkinson's Charity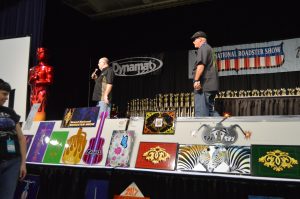 LOS ANGELES, January 3, 2019 – The 70th annual Grand National Roadster Show, (GNRS) January 25-27, 2019 at the Pomona Fairplex, in Pomona, Calif., has chosen non-profit Drive Toward a Cure as its 'charity of choice' for 2019 with all auction fundraising efforts for the weekend directly supporting Parkinson's Disease research and patient care. In past years, GNRS has supported a variety of charities, while a group of 30-to-40 "Pinstripers" volunteer their time and talent creating unique works of art to be auctioned during the weekend for the chosen charitable organization.
According to John Buck, owner of Rod Shows, which has owned and run the GNRS hot rod show since 2005, the artistic Pinstripers have not only created name recognition for the show, but their live painting zone is one of the most engaging display areas throughout the entire weekend event. Buck says that the popularity of pinstriping goes back to the beginning days of hot rodding, beginning in the 1960's when the infamous Kenny Howard, aka 'Von Dutch,' turned his master painting and striping into modern artistry.
"What began as an artistic way to cover scratches and fine marks on automobiles, evolved into cover art, lettering and air brushing for commercial vehicles," said Buck. "It's become a well-known fact in the hot rod community, that the car isn't done until the unique paint trim is on."
This year's 'Pinstripers' will be celebrating 16 years of participation in the GNRS, and volunteer leader Marshall Knapp, of Marshall's Art in Chesterfield, MI, notes each of the volunteer painters come from throughout the nation to 'strut their stuff' on their own dime, giving every penny earned throughout the weekend to charity. "It's become a coveted notch on your belt to earn a table at the Grand National Roadster Show," said Knapp. And without sponsors like PPG, On Shot Paint, Panel Jammers and Westlake Auction Services, the successes found would never be had.
Marshall notes that the interactive pinstripers provide the only charitable involvement to be found annually at the show – and together with a total of six auctions, will be located at the Stage End of Building #4. Multiple auctions of automotive art, pinstriping, lettering and airbrushing will be held throughout the weekend, with two held on Friday, three on Saturday, and one final auction Sunday afternoon just before the awards ceremony.
Additional Charity Focus: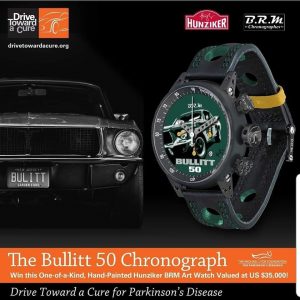 Following Sunday's final auction, Drive Toward a Cure will extend its fundraising effort with a unique piece of automotive history and will reveal the name of its BULLITT50 Chronograph Raffle winner, which will be announced by Sean Kiernan, family custodian of the original Bullitt Mustang from the famed film. The actual car will be on display at the Grand National Roadster Show throughout the weekend.
Capitalizing on the 'Year of the Bullitt' and the movie's 50th anniversary, Drive Toward a Cure joined forces with Frederic Gasser, CEO of the America's for BRM Chronographe, and longtime automotive friend Nicolas Hunziker of Hunziker Designs, who was already aligned with BRM, to create a unique timepiece for charity as a one-time offering. The 1-of-1 chronograph is valued at $35,000 and will include a 1 gram paint fragment from the genuine movie vehicle, its face will be hand-painted under a microscope by Hunziker to depict Bullitt Mustang, and the watch itself will be presented in a specially designed and hand-painted art box.
For more info view: https://www.drivetowardacure.org/bullitt-paint-chip/ and https://youtu.be/Fx7H9K09LJ0 .
The film's hero vehicle, driven by Steve McQueen in the classic Warner Bros movie thriller and known for the most iconic car chase in movie history, has been owned by the Kiernan family for 44 years and has been on a nationwide tour since last January.
According to Deb Pollack, founder of Drive Toward a Cure, the ability to host an on-line raffle for the 1-of-1 timepiece at only $25 per entry, captures the hearts of a broader audience while increasing donations and awareness for the cause. Each $25 donation can be made in person or on line at www.drivetowardacure.org/bullitt. Only 1,968 tickets will be sold, to raise a near $50,000 for Parkinson's.
Check out this video of the Bullitt Mustang's owner Sean Kiernan scraping a small chip of paint off the car to be used in the one of a kind watch being raffled off…
https://www.drivetowardacure.org/bullitt-paint-chip/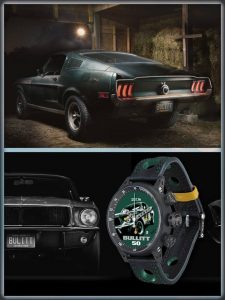 BULLITT50 Watch Details:
Model R1246BULLIT
• Hand painted dial by Nicolas Hunziker
• Limited edition: One off
• Chronograph-automatic
• 46 mm case made of one bloc of Fortal HR (aluminum)
• Crystal sapphire front and back
• Screw down crown
• Water resistant to 100 meters
• Manufactured and Assembled by hand in France
• Full 5-year Warranty
About Grand National Roadster Show:
Now in its 70th year, the Grand National Roadster Show was once known as the Oakland Roadster Show, and is the longest running indoor car show in the world! Produced by Rod Shows at the Fairplex in Pomona, Calif., for the 16th consecutive year, more than 500 show vehicles will compete for awards inside the Fairplex buildings. Another 400-800 vehicles will join the event Saturday & Sunday for the 14th Annual Grand Daddy Drive-In.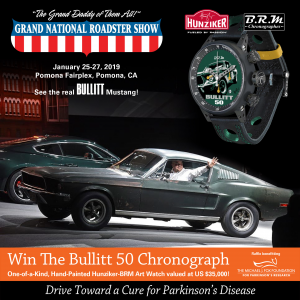 About Drive Toward a Cure:
The Drive Toward a Cure program pursues an alternative to the numerous 'for profit' rally driving programs through the creation of events that team cars and camaraderie to raise funds in support of the challenges of Parkinson's Disease, benefiting research and patient care. Drive Toward a Cure is a 501 (c ) (3) non-profit, with events that are carefully designed to provide a premium experience while raising much-needed funds to continue the search for a Parkinson's cure, through beneficiaries The Michael J. Fox Foundation and The Parkinson's Institute and Clinical Center. For donations, sponsorship and event registration, please visit www.drivetowardacure.org.
About Parkinson's Disease:
Parkinson's Disease (PD) is a chronic and progressive movement disorder, meaning that physical symptoms continue and worsen over time. Nearly one million people in the US are living with Parkinson's disease. The cause is unknown, and although there is presently no cure, there are treatment options such as medication and surgery to manage its symptoms.