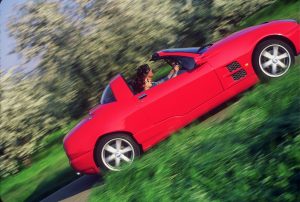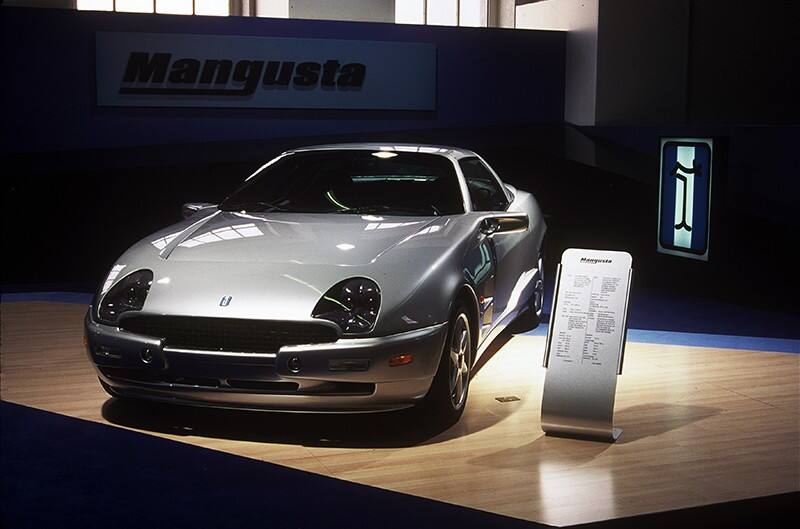 By the late 1990's, Italy's scrappy DeTomaso Modena car company (makers of the Vallelunga, Mangusta, Longchamp, Deauville, Guara and Pantera) was struggling to survive. Allessandro deTomaso was in poor health, the much-loved Pantera had run its production course, and the exotic mid-engined Guara was expensive to produce and not certified for sale in North America. Longtime automotive production manager and product development engineer Giordano Casarini joined the company in the hopes of reinvention, and a future. Mr. deTomaso's oldest son, Santiago, was also an active force in keeping the company viable.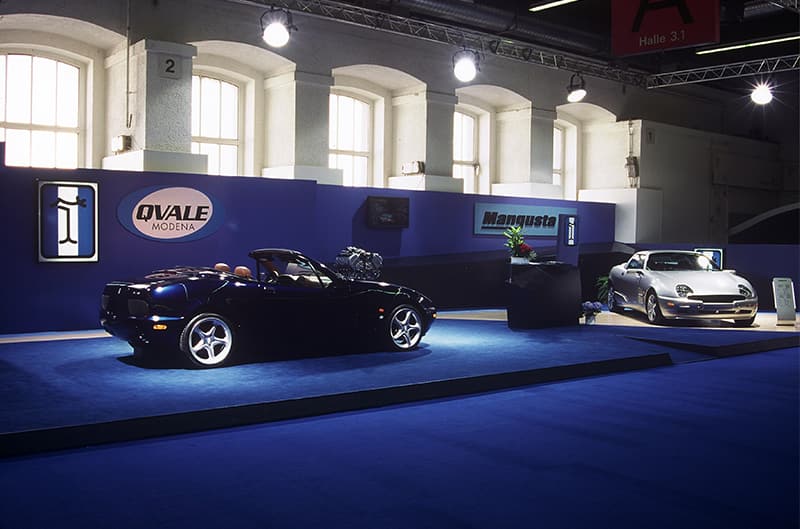 Together they divined an easier-to-produce, less-expensive, front-engined, rear-drive alternative to all the big mid-engined cars. Casarini liked the appeal of the British TVRs; close-coupled coupes and roadsters with relatively short wheelbases, and in most cases powerful V-8 engines. The DeTomasos ultimately agreed to pursue this course of action, and engaged Marcello Gandini, designer of the Lamborghini Countach and Miura, to fashion the new car.
The idea for underpinnings included a bespoke chassis, designed and produced by Italy's Vaccari & Bosi, a well-known local chassis design and production house. Gandini's body design was conceptually similar to several of the TVR models that inspired it, with a stubby tail and short overhangs front and rear. Its most unusual feature was a three-position top affair that allowed the car to be a fully enclosed coupe, a "targa" style open-roofed demi-convertible via a removable central roof section, or a fully convertible roadster with the center roof section removed, and the rear targa bar/window complex electrically retracted down entirely – nicknamed the Rotatop.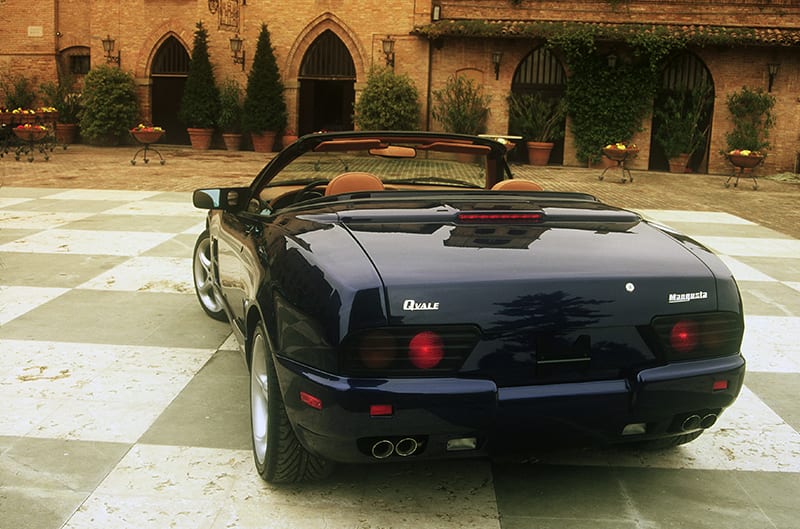 The chassis was a galvanized, fully boxed platform, designed for ease of production and optimized structural rigidity, mounting a fully independent multi-link suspension system comprised of upper and lower control arms, coil springs and anti-roll bars front and rear, striving for a gran turismo (grand touring) balance between ride and proper sports car handling.
In as much as most DeTomaso production models had, over time, relied on Ford engines for power, so would this new car, originally named the Bigua (after an exotic bird from the DeTomasos' Argentine homeland).  DeTomaso went for Ford's most exotic street V-8 offered at the time, that being the 4.6-liter, all-aluminum DOHC 4-valve V-8 employed in the Ford SVT Mustang Cobra. In this Italian installation, it was tuned and rated at 320 horsepower, backed by a Borg-Warner T-45 five-speed manual transmission, or the customer's choice of a Ford four-speed automatic. A set of 17-inch Antera cast alloy wheels, wrapped by Michelin Pilot SX tires, made up the car's rolling stock.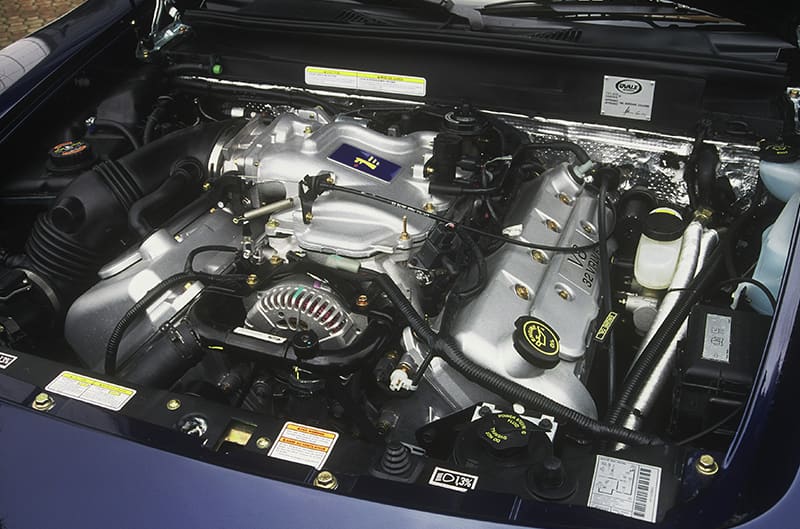 You'll likely recognize lots of SVT and Ford Mustang parts all about the car, including an obviously Mustang-derived instrument binnacle, as well as other ancillary system controls. That's no surprise, as Visteon was Ford's provider of choice at the time, and it designed and engineered the Bigua's cabin fitments, all swaddled in yummy Italian leather in your choice of Black, Tobacco, or Cappuccino.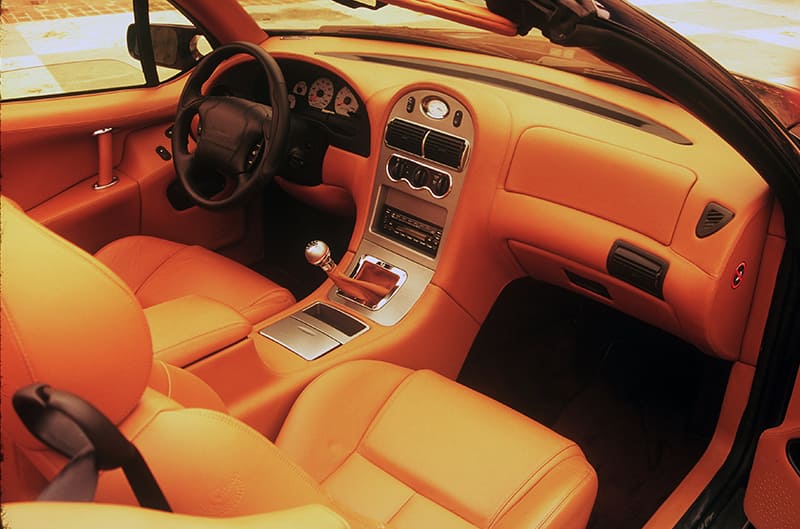 The deTomaso's charming but somewhat technologically out-of-date factory in Modena wasn't geared for the type of semi-automated production and quality assurance that this new project would involve, so DeTomaso found a new partner by reconnecting with an old one, that being the Qvale family of San Francisco, which owned and operated a substantial and influential automotive dealer group in the Bay area, and in the late 1960s imported other DeTomaso cars into North America, plus was a partner in the production of the Jensen-Healey sports car. Both companies and families knew each other, and the Qvale Automotive Group had experience in producing, importing and selling European cars in the USA. Together they judged that North America would be an important market for the new DeTomaso sports car, so it seemed a natural match.
Rather than upfit the existing DeTomaso property to produce the new cars, the Qvales (still headed by family patriarch Kjell but with son, Bruce, as a prime mover in the project) elected to set up a new shop. They purchased a 100,000-square-foot factory building not far from DeTomaso Modena, establishing it as Qvale Modena, specifically to produce the new car in partnership with DeTomaso.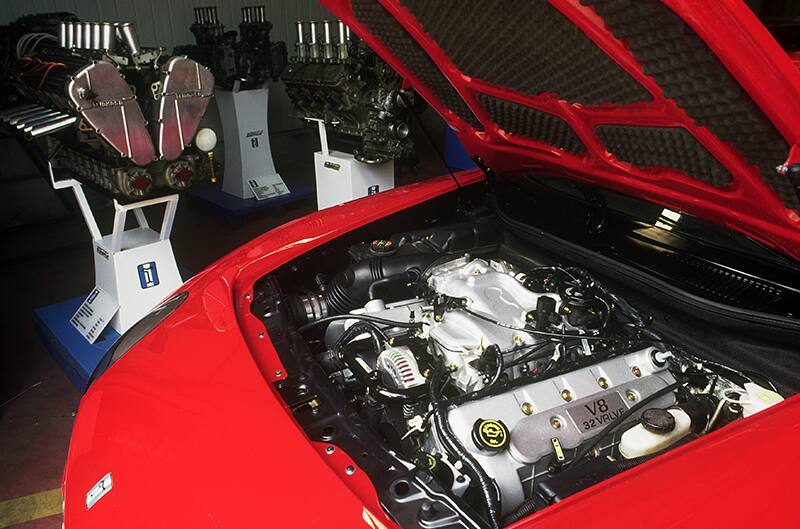 Together the group decided that the name "Bigua" was a bit too obtuse, in that most people didn't know what it meant, or exactly how to pronounce it. So the decision was made, prior to production, to rechristen it the Mangusta, after a beautiful mid-engined exotic model that DeTomaso made from 1967-70, and was imported into North America by the Qvales. The new DeTomaso/Qvale Mangusta and venture made its public auto show debut at Frankfurt in 1999.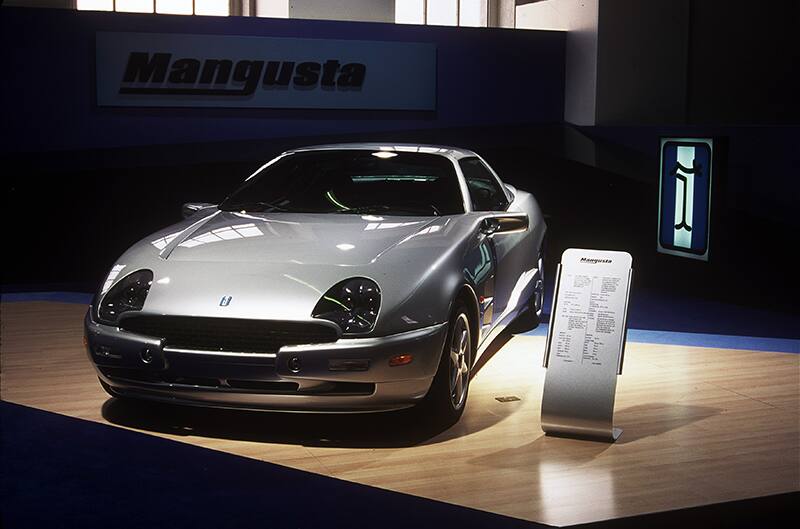 As often happens in such arrangements between strong, successful families, the deTomasos and the Qvales had a fight, and the partnership quickly dissolved. In the divorce, the Qvales ended up with the new car, and the rights to produce it. So what began as the DeTomaso Bigua became the DeTomaso Mangusta and ended up being named the Qvale Mangusta.
Company president and CEO Bruce Qvale toyed briefly with attempting to go back to the well and license the DeTomaso name and badge, and considered other alternatives, prior to just naming the marque after his father (and thus family) and plans to produce the Mangusta proceeded apace at Qvale Modena. The company press release that came out announcing the name change included a branded bottle of "White-Out" allowing media members to self-update all of the car's press materials from DeTomaso to Qvale; the latter pronounced "K-volley."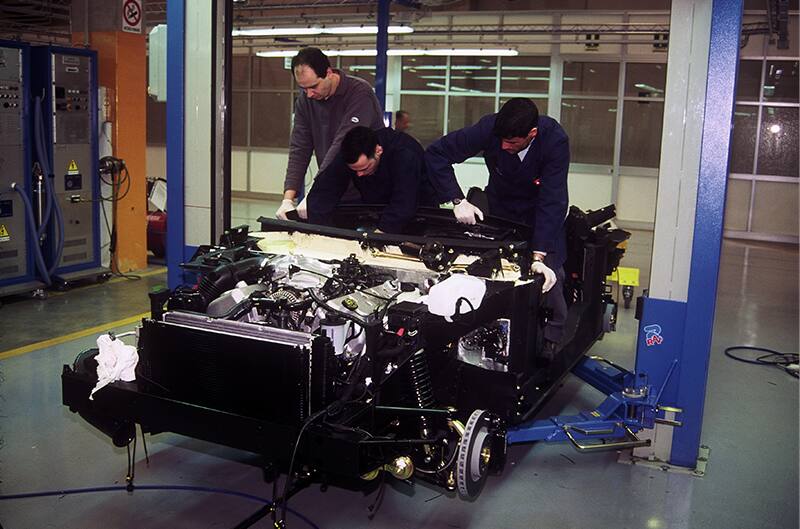 Gandini's design was somewhat controversial, in that some said its front-end shapes had too much of an "underbite." Yet everyone embraced the overall packaging and proportions, handsome cabin, and the innovative top design. The Resin Transfer Molding (RTM) composite body panels were produced by Stratime Cappelo Systems in France, a company with considerable experience in low volume production, and these kinds of materials.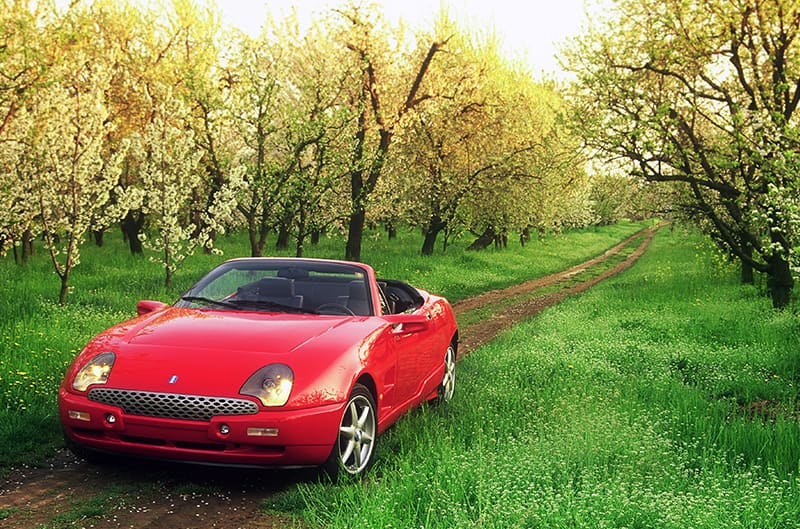 Not to confuse you, but we should point out that the photos you see here are an amalgam of both cars and companies; the red example, badged a DeTomaso Mangusta, is one of the early pre-production prototypes. The dark blue car is a production Qvale Mangusta, and both were photographed by me in Modena, Italy.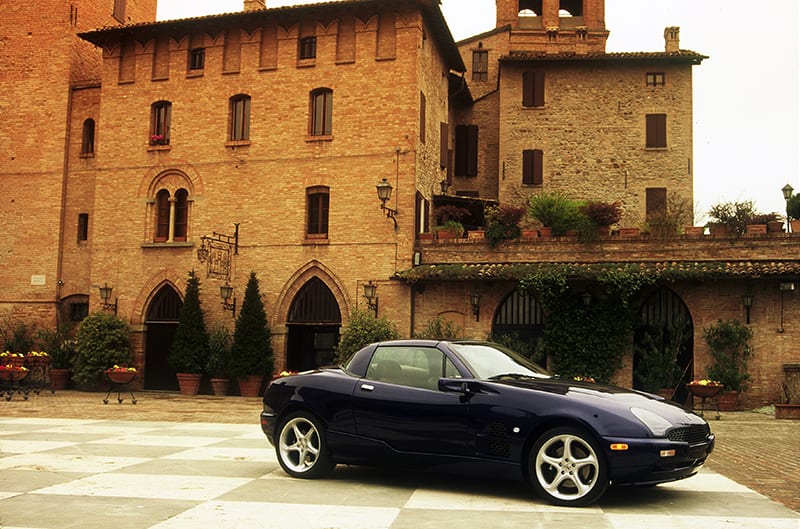 Given all the Ford and Visteon content, naysayers were concerned that the Mangusta might end up being little more than an expensive, Italian Mustang – which proved absolutely not true. Of course the Mangusta's separate chassis and body structure were completely different architecturally than that of the monocoque bodied Mustang, and likely structurally stiffer as well. Although we must admit that sitting in the driver's seat, and staring at a Mustang instrument panel, certainly gave off a bit of a Mustang vibe, as did firing the engine.
The Mangusta's quad-tipped Italian exhaust system is a bit throatier and louder than that of a contemporary SVT Mustang Cobra — you won't mistake the sound for anything other than an American V-8. Up through the gears, you'll also experience a bit more of that Mustang vibe, as the Mangusta's hand-built 4.6L is as friendly, revvy, and torquey as it was in the SVT Mustang. The four-wheel disc brakes proved strong, linear and easy to modulate, although it was our criticism that the steering was a bit lacking in feel, yet very precise. The Mangusta served up a fine ride/handling balance, more along the lines of sporting, refined GT car, as opposed to punishing supercar.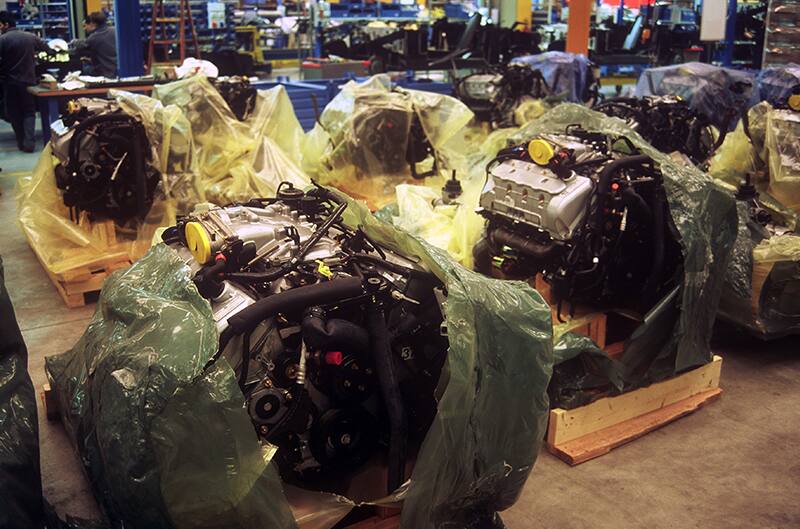 Overall build and fit/finish quality was excellent, the body panels smooth, squeak and rattle free on the move, with tight, uniform panel gaps. The car was commendably quiet and weathertight when fully closed up, with wind buffeting also minimal in either of the open configurations. The center roof section was easily manually removed, and it fit in the car's trunk; the clamshell rear window and targa-bar panel "Rotatop" pivoted out of the way and completely flat with the touch of button.
Bruce Qvale estimated the best way to get the car's name, heritage and performance image out to the North American audience was to race it, so he forged a joint venture with longtime racing stalwart Huffaker Motorsports, the goal being to run the full SCCA Trans-Am 2000 season with a race-developed Mangusta, which was for all intents and purposes a fully tube-framed Trans-Am Mustang chassis and powertrain wearing Mangusta duds. American road-racing ace Brian Simo was the driver of choice for this Qvale factory backed full-season effort. Simo and the Tommy Bahama liveried 'Goose racer won their maiden voyage at Sebring, and went on to win two further events; cumulatively. The effort garnered enough top spots on the podium to capture the Trans-Am championship that year, beating Ford, Jaguar, Pontiac, and Chevrolet to the season prize.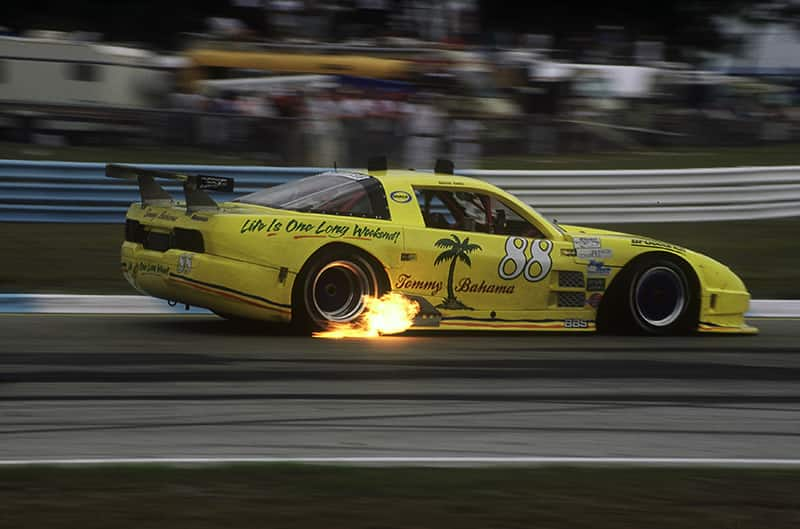 Unfortunately, the Bigua nee Mangusta's potential was never fully realized. Qvale knew that the 5-speed manual trans and 4-speed auto choices were adequate if a bit average in the wake of ever-more-prevalent 6-speed manuals and sequential manual (autoclutch) gearboxes. Wanting a higher-tech solution, an auto-clutch manual (paddle shifter) system was under development, as was a supercharged version of the SVT Cobra V-8.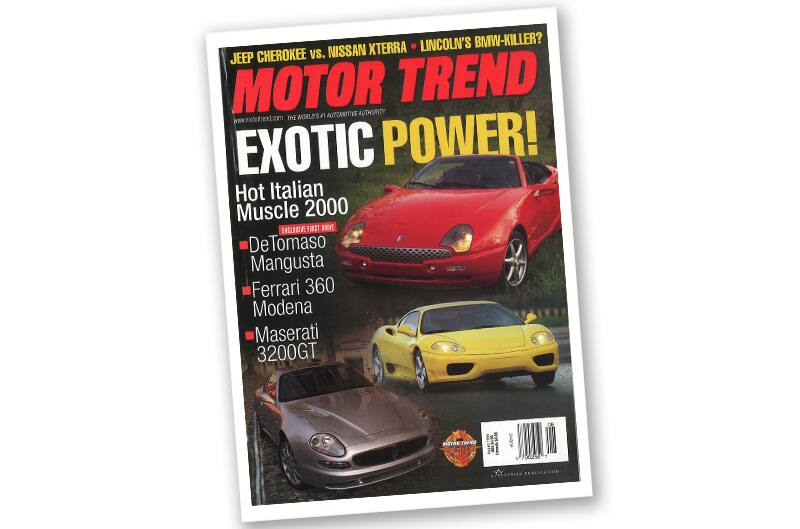 As it was, the car and brand never really caught hold in North America, and something less than 300 Mangustas were produced and sold, with the number most often quoted at 284. The Qvale family sold its Modena, Italy, factory property in 2001 to the MG Rover Group, who continued to produce a restyled and rebadged version of the Mangusta there, still employing Ford V-8 engines, through 2005.