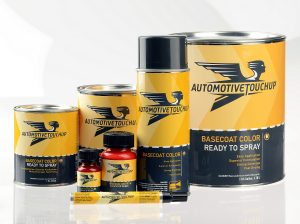 To me touching up nicks and scrapes on one of my cars is akin to going in for a root canal; it's really got to be done, but it's painful and the result is seldom perfect. Which is why I've discovered Automotive TouchUp products. Trust me this isn't a paid or unpaid plug for them; it's just a good solution to a common problem that I felt you might be interested in .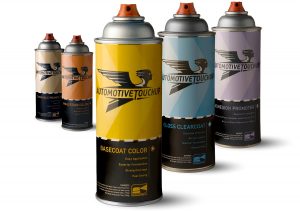 Remember when you used to go to Pep Boys and get those little lipstick sized vials of touch-up paint that seem to be only loosely matched to the manufacturer of your car and some obscure color name? And the screw top contained a brush that always seemed too hard and bristly for the job, and even though you just opened a sealed vial, the paint was already have dried and gooky? And it looked like you applied it with an old crusty toothbrush.  I had the same experience, and hated it so much, I stopped doing it. Color match? Forget it.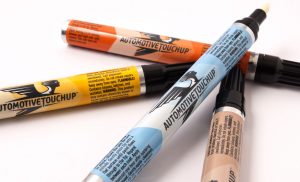 I think it was my friend Kirk, whose photos you often see in this blog, that turned me on to Automotive TouchUp. It's true OEM quality paint that you order, and apply just like true OEM quality paint. It comes in a variety of forms; the little touch up bottles touch up pens, and in bulk cans for use in your spray gun, pens, and the one I was most interested in — handy aerosol cans, large enough to paint a good sized patch if that's what's needed.
And best of all all, you order it based on your car's OEM paint code, matched to your exact make/year/model/color and paint code. On its original suspension, my Vista Blue Metallic '08 Shelby Mustang sat a little low for most parking stones, hence some paint scrape on the lower front fascia, or I ordered up an aersol kit online from Automotive TouchUp.  The year, model, and color codes listed on the site matched my car exactly…and here's the good news…so did the paint!
The kit came with sandable primer, the basecoat color, and a hard, shiny spray on clear. I sanded and primed, then wet sanded some more, color coated, then cleared and the result is amazing; a smooth finish and a perfect color and texture match. It's been a year or two now and it still looks good. I also did the same for another car I had — silver, among the worst colors to match — and ditto; a direct hit colorwise and a smooth job.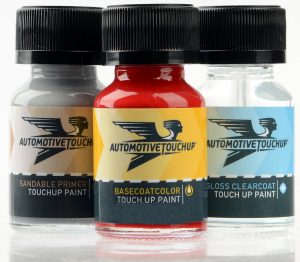 I'll also tell you that I tried it again on Linda's KIA Optima, which is a sort of silver/gold metallic called Satin Metal. Even though I located the car and the paint code on the site, the color match was off. I reached out to the company, and once providing them with even more detailed information about the year/make/model, VIN, paint codes and month/year of build, they remade the entire kit and sent it to me with apology and at no cost.
This time, the color was again a perfect match, and looks great. Job Done.
If you don't want so pay bodyshop prices for small touch ups, and don't mind investing the time in proper prep, (which honestly is really easy)  I suggest you consider Automotive TouchUp Products. I did it on my own cars, and am still liking the results.
http://www.automotivetouchup.com/