I hope you'll enjoy this photo as much as I did setting it up and shooting it…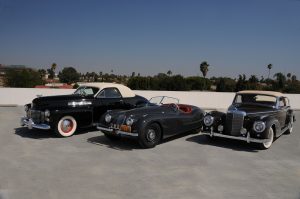 Here's the story:
Clark Cable Greats Gather at Petersen Automotive Museum in Los Angeles
Acting icon and Hollywood macho guy and sex symbol Clark Cable needs little introduction here or anywhere else ("Frankly, Scarlett…." you know the rest) but not everyone is aware that The Great Gable, like McQueen and Newman that followed him, was a serious car guy with fabulous taste in automobiles.  The Petersen Automotive Museum, which owns Gable's 1941 Cadillac Series 62 Coupe Custom (at left), recently assembled a trio of his greatest cars.  The Caddy has been LA local since the day Clark Gable ordered it through longtime boulevard dealership Hillcrest Cadillac, and then sent it to California Cadillac distributor Don Lee for a little personalization.  Its roof was chopped, the rear quarter windows filled in, and a few bits of side chrome trim were shaved away.  The windshield was raked and a padded top covering fitted.  Gable then gave it to wife and screen star Carole Lombard.  Front and center among this trio is Jeff Lotman's 1949 Jaguar XK120 roadster, a car strongly identified with Gable.  It's painted his personally mixed "Gable Gray" color, and has earned a class win at Pebble Beach the week before.  At right is Gable's 1956 Mercedes Benz 300 Sc Cabriolet…one of only 49 of that model built.  Local mega enthusiast/collector, property developer and philanthropist Bruce Meyer bought it in 1981 from Gable's widow Kay Spreckles. The Tobacco brown Benz is largely original — most of the paint and the interior are untouched — and the engine is also unmolested with the car showing only 33,000 miles.
Same cars, with owners….