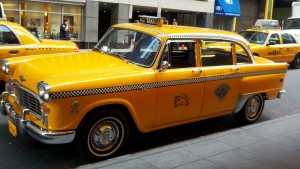 I have always loved Checker automobiles. They are the anvils of the automotive jungle, tough, simple, and pure of purpose. I'd love to have one as an ideal beat around town and leave it at the airport kind of car. Or to take Linda out a for night on the town, kinda New York style. This brand has an amazing history dating back many decades, and most of us identify with Checker as the maker of the giant Marathon sedan, plus there were wagons, and 6-door airport models, and a variety of theme and variations. The original company has been out of business for some years now, but there's a new Checker Motor Cars that has stepped up to somewhat take its place as a low volume, somewhat boutique car maker/restorer that I find very interesting. Did you know that GM engineer and later president Ed Cole, he the head behind the design of the original Small-Block Chevy V-8, was late in his career president of Checker. The new company has a variety of skin in the Checker game; their main gig being to buy up old clapped out Checkers and restore them to near new condition, and resell them. The do a little updating along the way, and can finish them in any color combination you may want it you don't care for bright yellow over a hard black vinyl interior. They can give you a GM V-6 or V-8 engine, fuel injection or a diesel. They also broker cars, sell parts and do repairs.  Check out the company website to learn about its suite of services and products.
A variety of these types of businesses have been launched over the years to "reproduce" old cars into new ones, and most have failed. I have the feeling that this one will be different for several reasons. One is that the car has long legged appeal. Another is that there are tens of thousands of Checkers still extant.  And the prices for the restored cars appear reasonable.
I believe their business model will be a success, and I very much hope it is. Because even though the Check is no longer a mainline taxi, its a cool car with a cool story and I want one. Here's some news from Checker and their latest press release which I thought you might enjoy….MS
"Custom Built Models and Retrofit Kits for Existing Models to be Produced in Unique Environment"
Haverhill, Massachusetts (January 13, 2017) – Checker Motor Cars™ will begin production of two new designs in late 2018. "The Low Volume Motor Vehicle Manufacturers Act of 2015 has made it possible for us to move forward with bringing these incredible vehicles to market here in the USA," said Checker Motor Cars™ CEO Steve Contarino. The Checker Sport Pick-up Crossover will combine the iconic Checker taxi sedan with a sport pick-up body, and a twelve (12) passenger sedan will sport six (6) doors and a design reminiscent of the Aerobus V1. The company will also offer retrofit kits for Checker vehicles currently on the road.
Checker Motor Cars™ Manufacturing Philosophy
All vehicles will be built in the United States. "Our challenge is taking a recognized shape and using off-the-shelf components to assemble a finished automobile," shares Contarino.
"These custom-built models of the iconic Checker Taxi will be assembled in a work cell where parts and components can be assembled progressively, without waiting for a batch or assembly line to move. This will maintain an efficient continuous flow. Cells will be configured for speed and minimal handling of parts and components, allowing for substantial savings of cost, time and parts inventory reduction.
Each work station will have casters to move from vehicle to vehicle. Each move should take a matter of minutes. Our hope is to promote ease of training and teamwork."
Design, engineering, assembly and manufacturing will be tied directly to PLM (Product Life Management) with much of the design being outsourced to suppliers. Relying on re-use, Checker Motor Cars™ will utilize as many currently available parts as possible to keep costs down.
PLM and "re-use" are the backbone of both models, giving the company the ability to offer fair value for the asking price. "Checker Motor Cars™ will not automate any component that can be made by hand," said Contarino.
"We may not have the legacy of the original Checker Motors Corporation, but the DNA we are building on here will form a very strong future. We are very excited to be among automotive icons like DeLorean and Cord who are also bringing models to market in the USA."
Checker Motor Cars™ Vehicle Features
The Sport Pick-up offers owners the conveniences of a car with added benefits of a truck bed for transporting bicycles, camping equipment and more. Four (4) full rows of seating highlight the Aerobus which will stand out in the crowd with four (4) standard length doors and two (2) extended rearward doors. The 3rd row seat will fold down to allow additional leg room when not in use. Both designs offer a retro exterior with modern automotive amenities and technology.
The Checker Motor Cars™ goal is to offer the features below with new models, as well as to offer retrofit kits to compliment Checker automobiles currently on the road.
· Vehicle will accept a V8 Flex-fuel engine
· Fuel injected or Diesel option
· Full steel frame
· Standard rear wheel drive
· Electronic instrument panel
· Power windows and door locks
· Tilt adjustable steering column
· Composite body panels
· Four-wheel disc brakes
· Rack and pinion steering
· Heavy duty climate control
· Four-wheel coil springs
· Composite fuel tank
· LED lights all around
· Right hand drive option
· All-wheel drive option
· Service lantern
· First aid kit
· Built-in 120-volt AC inverter
· On-board jump power pack with air compressor
· Seat belt cutter combination rescue tool
ABOUT CHECKER MOTOR CARS™
Located 25 miles north of Boston in Haverhill, MA, the Checker Motor Cars™ facility provides a service and restoration center with on-site parts warehouse. The company is owned and operated by longtime automotive collector and enthusiast Steven Contarino. Product knowledge, superior customer service and staying current with trends in the collector car industry are the key ingredients behind Checker Motor Cars. The highly-skilled and passionate team excitedly brings technical and mechanical know-how to the Checker market. All vehicles will proudly be manufactured in the United States. To learn more about Checker Motor Cars™ and all that it has to offer, please visit us on the web at www.checkermotorcars.com, on Facebook at www.facebook.com/checkermotorcars or call 978-423-3770.