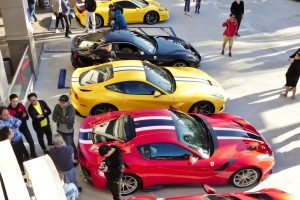 Car people tend to love fine, (particularly) mechanical timepieces. And watch enthusiasts equally seem to appreciate cars. Its just A Thing: Cars and fine watches go hand in hand.  It makes sense; watches, like cars have engines.  And watches, like cars are about design, craftsmanship, and metallurgy.  Not to even mention the emotional connection and enjoyment both may yield.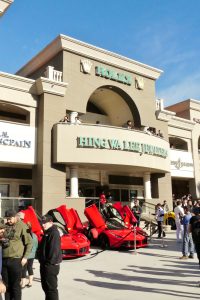 One very keen enthusiast that has blended them together at the very highest levels of realization is David S.K. Lee. Mr. Lee's Hing Wa Lee Jewelers is a premium watch retailer of the highest order (the company is named after David's father). And he is an equally stratospheric exotic car collector and enthusiast.  Mr. Lee the younger owns two of the most outrageously elegant watch salons in the world; he's the largest independent Rolex dealer in North America, and stocks nearly 40 brands; all top end stuff, no Timexes or Casios here thank you: but Rolex of course, IWC, AP, Breitling, Tudor, Chopard, and all the rest.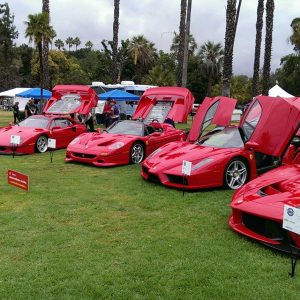 He also has curated a rather fabulous car collection: he's among the rare few that own the cinquefecta of Ferrari HyperCars: a 288GTO, F40, F50, Enzo, and a La Ferrari.  OK now, take a breath.  Plus old and new Lussos, several 275s, a new TdF, and so forth, plus shiny bits from other houses including a Pagani and a Porsche 918 Spyder.  Very much the self made man, let's say he's done well in the watch business.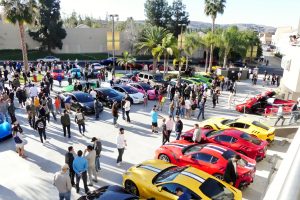 And Mr. Lee is the kind of guy that enjoys sharing his enthusiasm (for cars and watches) with others, so he hosts, on the third Saturday of every month, his own version of an exotic Cars & Coffee, at his Walnut California complex.  Creatively dubbed Cars & Chronos, it's a two hour gathering of every exotic car (and watch) brand you can name; Ferraris of course, McLarens, upper end Porsche and Mercedes-Benz sports cars, the baddest of Corvettes, Paganis, and all the rest of the swoopy fast and dangerous stuff.  The parking area only holds about 100 cars, and the crowd and traffic are well controlled by staffers (but don't expect to pull up there in your Yugo and be welcomed to park inside).  Hours are officially 9:00-11:00 AM, and there's no cost to enter or attend.
Walking the lot with David Lee is somewhat akin to cruising Memphis with Elvis; he's followed, approached, and accosted by a variety of clients, friends, and general attendees.  Handsome, friendly and affable, he always seems happy to say hello, shake your hand, and pose for the inevitable selfie.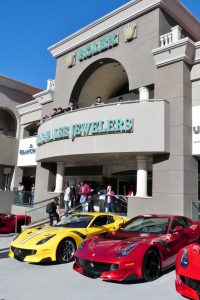 Hing Wa Lee Plaza is located at 1569 S. Fairway Drive, Walnut, CA, and remember it's the third Saturday of each month — pets are not prohibited, nor the best idea and no burnouts allowed.  The watch store is open in case you want to drop in and pick up that new Daytona Cosmograph.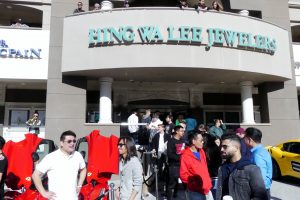 My thanks as always to Kirk Gerbracht for the great photos, and you can click on any of them to see them full size…