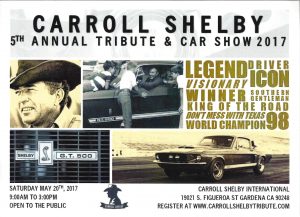 photos Kirk Gerbracht
Carroll Shelby passed away May 10, 2012 – and it's hard to believe it's been five years already. Shelby International, the Shelby Foundation, and Shelby American never forgets its original SnakeCharmer, and celebratea the occasion with a great car show and open house event each spring – you'll notice its called "Tribute" and not "Memorial." There was but one memorial event for Carroll, held at the Petersen Automotive Museum shortly after his passing – everything since is a tribute. As has been the tradition so far, this year's tribute was held at Shelby's Gardena, California warehouse/office complex, given its greater LA proximity and location has been renamed Shelby Los Angeles, which formerly housed his Goodyear Racing Tire Distributorship, and is still home to much of his private (now family and Shelby Foundation owned) car collection, plus Shelby Licensing, the Foundation, parent holding company Shelby International HQ and a Shelby Store gift and goodies shop. It is also the intended site of a future Shelby museum.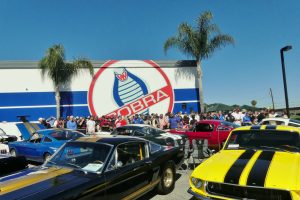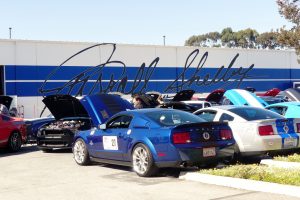 The parking lot holds around 175 cars, the building painted a brilliant white with Shelby logos and Carroll's signature, so the property is the perfect spot for a gathering of Shelby fans and machines. And the hardware was spectacular. Cobras of every sort, Shelby Series 1s, and every Shelby Mustang model you can name – nice that the show car entry fee was modest, and with no charge for public admission. It was interesting to see several 60s era Shelby Mustangs on display brought there, and still belonging to their original owners. Imagine being lucky enough to buy a brand new '67 GT350 or GT500, maintaining it in outstanding original condition, and being smart enough to keep it for 50 years. Bill Denbeste, a Ford and Shelby dealer and now owner of the Shelby Engine Company, brought a trailer sized grille, and smoked up who knows how many pounds of tri-tip lunch. Plus of course there was beer, wine, and chili nearby.
One of the best moves the organizers made a few years ago was opening up the building to the show attendees and public, allowing them a look "behind the curtain" at a variety of great cars and other Shelbiana to be found there.
Shelby American also made the most of the venue by revealing, for the first time to the public, its new production model 2017 Shelby F-150 Super Snake pickup and the "ooh and ahh" garnering 2017 Shelby Super Snake Wide Body Concept Mustang – Shelby American President Gary Patterson, and Operations and Product Development director Vince LaViolette were on hand from Las Vegas to reveal the cars, address the crowd, and answer questions. The truck is available now, with only 150 to be built this year. The Mustang Wide Body is truly at this moment still a design study concept, although if customer feedback and demand are strong enough, Shelby American can tool it and put it into production as well. Check out the monster rolling stock, bespoke suspension, and uber wide fenders on this blue meanie – no Kardashian's hips have anything on this car.
After the big car and truck reveal, automotive TV personality Dave Kunz hosted the "tribute" portion of the Tribute, that being a brief story telling session in Carroll's memory and honor. It was my privilege to be among those speakers, joining "Mr. Cobra" Lyn Park, Shelby Board member Neil Cummings, Shelby American team driver Allen Grant, Carroll's grandson and Shelby Board member Aaron Shelby, and drag racing legend Don "The Snake" Prudhomme – his original Ford SOHC 427-powered Shelby and Ford sponsored dragster named Super Snake. Each of us shared a story or two about our history and friendships with Carroll, plus videos from his 2012 memorial, hosted by Jay Leno, were also shown for the crowd. A lotta laughs, and maybe a few tears too.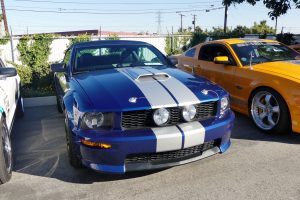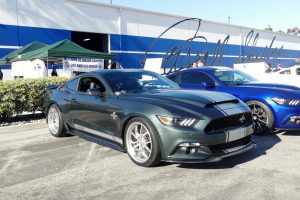 Most of the show field was made up of Mustangs (Shelby and otherwise), plus more than a few Cobras. The proverbial "good time was had by all" and the proceeds benefited the Shelby Foundation, which supports children with major medical needs, including organ transplants, of which Carroll himself had two (heart and kidney).