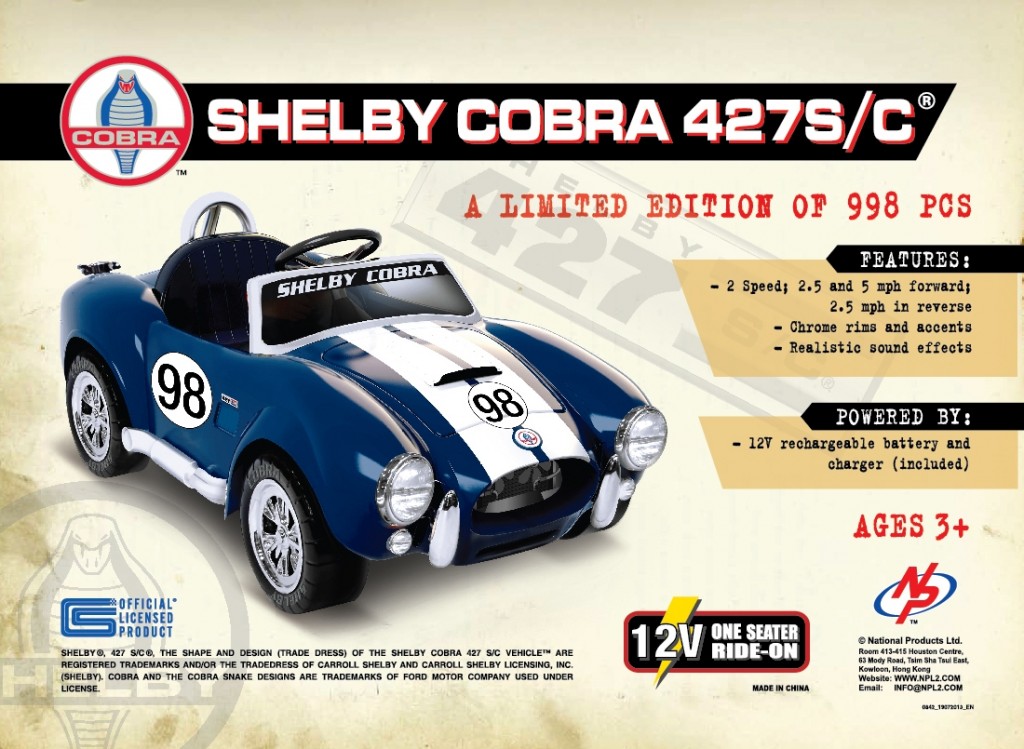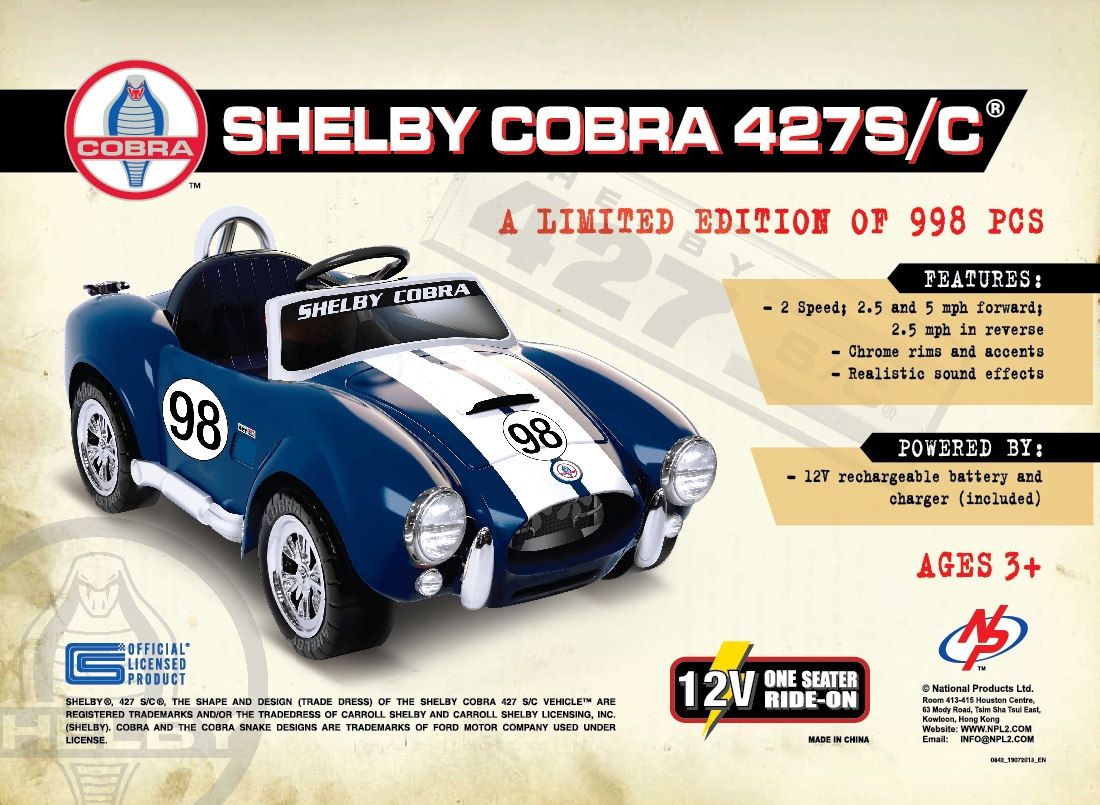 This from my friends at Shelby American – thought you might enjoy,
MS…
GARDENA, Calif. – Aug. 12, 2013 – Carroll Shelby Licensing Inc. (CSL), a wholly owned subsidiary of Carroll Shelby International Inc. (CSBI.PK), and National Products Limited have teamed up to create the first "kid sized" Shelby Cobra 427. With styling and historical insights from CSL, the leading toy manufacturer designed two versions of a limited edition 12 volt powered Shelby Cobra "ride-on" electric car as the ultimate reward for aspiring children; the Cobra prototype will be displayed in the Retro Motorsport booth at the Monterey Historic Races.
"With the growing popularity of the Shelby brand, we wanted the give the youngest fans a 'license to thrill' in their own Cobra," said Tracey Smith, Carroll Shelby Licensing president. "National Product's expertise in manufacturing high-quality toys fits perfectly with our philosophy of building superb products that spark the same passion for automotive excitement that drove Carroll Shelby. Hopefully, 'my first Shelby' will create a lifelong connection to the brand."
The Shelby Cobra ride-on car will be available in a red or blue with the iconic Cobra racing white stripes. The perfectly proportioned 427 Cobra spec chrome wheels, side exhaust pipes, rear fender gas cap, famous roll bar and official badging make this a true miniature version of a real-life Shelby Cobra. With reverse, low and high gears and a top speed of 5 mph, children can zoom around in high style. The little Cobra will hold up to 65 lbs. and will run for 45 minutes on a single battery charge.
"One of the earliest photos of Carroll Shelby is of him as a child in a pedal car," said Jimmy Chau, V.P. of Sales and Marketing for National Products. "This inspired us to give youngster a chance to follow his footsteps but in something far more powerful, a Shelby Cobra."
For serious collectors, a limited edition run of 998 little Cobras will be produced, mirroring the production figures of all Shelby Cobras built from 1962-1967. Each will receive unique serial numbers that will be documented in its own official Shelby Cobra 427 "ride-on" registry. The limited edition will come in a navy blue metallic pearl finish and sport Carroll Shelby's famous 98 racing number and functioning headlights.
While a serious motorist, Carroll had a passion for children that exceeded all his speed pursuits. This inspired him to establish the Carroll Shelby Foundation to provide financial support for children fighting life-threatening illnesses. With the new Shelby Cobra ride-on car, thousands of little gearheads will now join the "Shelby family" and also learn more about the Foundation.
"National Products will be donating the limited edition No. 98 Shelby Cobra 427 ride-on prototype displayed at Monterey as part of a larger initiative to raise more awareness for the Carroll Shelby Foundation," added Smith.
After its official unveiling, the miniature Cobra will go on tour with plans to showcase at Barrett-Jackson Las Vegas and SEMA. It will be available by late October for consumer purchase through select retailers such as Costco or online at www.funcreation.net.
About Carroll Shelby Licensing
Automotive manufacturer and entrepreneur Carroll Shelby was one of the most famous and successful high performance visionaries in the world. He was also a pioneer for modern automotive licensing programs; beginning in the 1960s, he began licensing his name and designs for various products. He founded Carroll Shelby Licensing Inc., which is the exclusive holder of trademarks and vehicle design rights for some of the most famous muscle cars and high-performance vehicles. CSL also holds trademark rights for Shelby-branded apparel, accessories and collectibles. For more information about the company or licensing opportunities, call (310) 914-1843, or fax (310) 538-8189 or write to Carroll Shelby Licensing, Inc., 19021 S Figueroa St., Gardena, CA, 90248, or visit www.carrollshelby.com, www.shelbylicensing.com or www.carrollshelbyinternational.com.
###