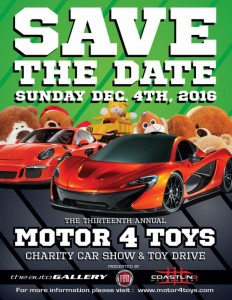 If you've been on this blog for any length of time, you'll know that Motor4Toys is among my very favorite morning cruise in car shows. And not only is it a fabulous display of a couple thousand run-what-you-brungs, it's also all for charity for kids.
Your donation of a toy covers your car admission, and everyone else brings bags more toys too (in the many tens of thousands) and then a volunteer group delivers them to shelters and schools for kids that wouldn't otherwise have any kind of Hannukah or Christmas.
So it's a good thing, so please, show up, enter your car for a few hours, and fill it with toys before you get there.
You'll have a great day, I promise, and will be making a lot of less fortunate families and kids happy.
And for all that I thank you. Here are some of Kirk Gerbracht's photos from previous years.