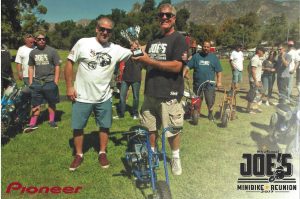 My old pal and former Petersen Publishing teammate Joe Sebergandio has been into vintage minibikes since before anyone cared. And the movement has become quite A Thing. Joe puts on a not so small anymore "car show" for these little bikes, which is a blast.
2017 will be his sixth year at it, and if you can be anywhere near SoCal's Crescenta Valley Park on Saturday, October 14, you must stop in. Admission is free, and entry is cheap if you have a minibike and want to enter.
Remember these things?  We all wanted one before we could afford a real motorcycle.  Cheap little tube frame jobs with a lawnmower engine.  Now they have hot rodded Honda-engined minis that go 90 mph.  Not with me on them, they don't!
Most of what you need to know is in the illustration just above, or visit the site at www.joesminibikereunion.com.
I'll be there.