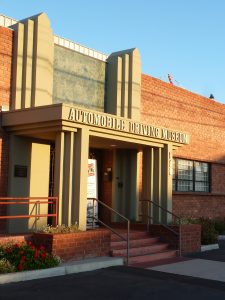 I love this place (and of course the world needs more car museums, yes?).  It's not fancy or going to put the Petersen or the Guggenheim out of business, but it's worth your visit any time you're near Los Angeles International Airport.
Please doubleclick on any photo to see it full screen and in high res – thanks
The ADM was born out of the collection and ideas of one man, Stanley Zimmerman, who not only wanted a cool place to house and maintain his car collection, but a way in which to share it with others.  Which is what he's created with the Automobile Driving Museum, the key word here being Driving.
Mr. Zimmerman knows that cars were meant to be driven, and that they (like all of us) need periodic to frequent exercise in order to stay healthy.  So on most Sundays, the museum staff and docent team select a grouping of cars that they will fire up and take out for drives around El Segundo — sound like fun?  Of course, and the best part is that you can ride along.  They can't, for a variety of reasons, let you drive, but if you've always wanted to ride in a Packard, a mid-30s Ford, a Highway Patrol car, Studebaker Avanti, classic Caddy or one of more than 100 other cars the ADM has on display, you can.  Admission to the museum is handled on a "suggested donation" basis, and the Sunday rides are included in admission — and the cost is a bargain and a half; ranging from $5 for kids and up to $25 for a family.  You can't have more fun with cars for the money, anywhere.
And the collection is highly worthwhile.  I wouldn't call it landmark, in the sense that its not a room filled with million dollar babies, yet instead highly approachable with collector cars that people can relate to (and ride in).  Some are restored to near perfection, others are highly patinated, while others just nicely original.  The offerings run the gamut from the early 20th century, to more modern times and youngtimer collectibles.  Everyone will find something(s) here to enjoy.  The building is nice too; itself nicely worn in with an old workshop/garage/warehouse feel about it.  The property also has a large area perfect for events, presentations, or meetings with and around cars.  There's a nice gift shop on site, and also a diner / snackbar inside.  The docents are friendly and helpful.
I'll let the photos tell you the rest of the story, but the best way to learn it is of course to visit, and I'd plan that stop around a Sunday, so you can hitch a ride in the classics going out for a run that day.  All the information, including hours, directions, and which cars will be out for rides on any given day can be found at automobiledrivingmuseum.org
AUTOMOBILE DRIVING MUSEUM
610 LAIRPORT ST
EL SEGUNDO, CA 90245
310.909.0950