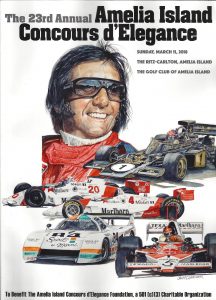 The 23rd Annual Amelia Island Concours d'Elegance is in the books, and it was also one for the books.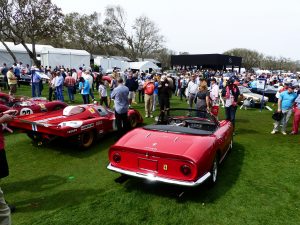 Now in its third decade, the Amelia Island Concours d'elegance has taken its place among the world's greatest automotive events. Amelia is a stratospherically great car show but so much more; it's a social gathering and reunion for a global community that really loves cars; there's the concours of course, plus a "Cars & Coffee" cruise-in, a road tour, motosport panel discussions, a huge automobilia sale, gala dinner, several collector car auctions, and enough activities to keep even the most ardent enthusiasts busy and dizzy for days; anyone will tell you that any- and every-thing memorable about this amazing event spins out of the "good karma generator" that is founder and chairman Bill Warner, plus a hardworking and tireless band of support staff and volunteer helpers. Warner is a longtime racer, big game motorsports photographer, writer, philanthropist, and gatherer of great car people. Let's not forget that the whole event takes place at a Ritz-Carleton resort hotel on the beach in Florida…and that it all goes to raise buckets of money for significant charities.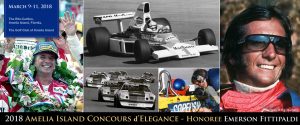 Among the many things that make Amelia Amazing is that, driven by Warner's motorsports passions and background, about half the show is dedicated to sports and racing cars. Plus each year the event honors a legend of motorsport: past honorees include the late Dan Gurney and Carroll Shelby, Sir Stirling Moss (twice!), Bobby and Al Unser, local Florida hero Hurley Haywood, Sir Derek Bell, Jochen Mass, and Hans Stuck, Jr., to name a few. 2018's honoree promised appeal on many fronts as a two-time F1 world champion, and a two-time Indy 500 winner, that being of course Emerson Fittipaldi.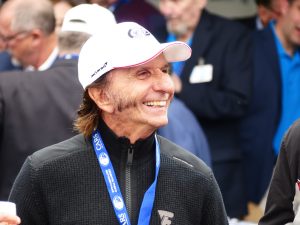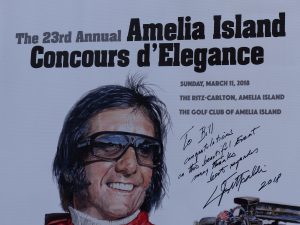 71 year-old Fitti was a superb choice as honoree, because he's not only "been there" and "won that" but he's fit, spry, witty, gentlemanly, and cordial beyond words. Emmo, again sporting his trademark sideburns, appeared to genuinely enjoy himself, and the assembled crowds enjoyed him; he posed and smiled for countless selfies, signed hundreds of autographs, and constantly wore a genuine smile. A champion in every sense of the term.
Another unique twist to Amelia are the "special" vehicle categories that Warner cooks up to celebrate the wonderful, unusual, and occasionally odd vehicles you won't often see at other concours. In the past there have been classes for "promotional cars" such as those built in the shape of Zippo lighters or soda cans, and one for significant racing trophies, as evidenced by 2016s roundup up including the Indy 500's Borg Warner trophy, the Vanderbuilt Cup, and a dozen other pieces of finely drawn silver commemorating a win in the world's biggest races and ralleys. There's always a bespoke class of cars raced by the motorsport honoree, so this year there was likely the largest ever gathering of The Cars of Emerson Fittipaldi" including Indy and F1 winners.
50 years of the Ferrari Daytona was handsomely celebrated with a great class of 365 GTB and GTS/4s. Odd and unusual? How about a worthy lineup of oft whacky customs by pinstriping and show rod building legend Ed "Big Daddy" Roth.
One of the more impressive bits of humble showmanship that takes place each year at Amelia is that the entire judging team – this year consisting of 135 automotive experts, restorers, authors and media, museum curators, artists and racing drivers – line up on the field as Chairman Warner – without the benefit of notes or flash cards, introduces each judge by name, area of specialty, and home town. And he gets them all correctly, every year, including this one. This allows the audience to meet the judges in person, and demonstrates that each is chosen and/or approved by the Chairman.
Amelia presents two Best of Show prizes, one for a more traditional classic, with the second for a sports or racing car; this year's winners were spectacular: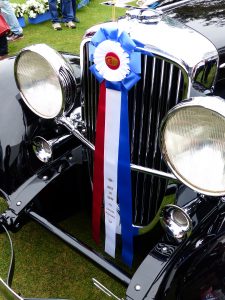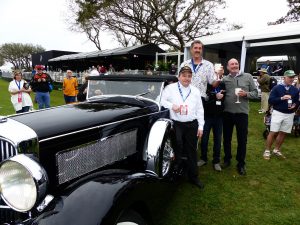 The esteemed Best in Show Concours d'Elegance Trophy was presented to a 1929 Duesenberg J/SJ Convertible owned by Harry Yeaggy of Cincinnati, Ohio. This Duesenberg J/SJ Convertible has Murphy roadster-style coachwork that was restyled in period by Bohman & Schwartz. Styling changes included a lengthened hood, slotted fenders and more modern bumpers.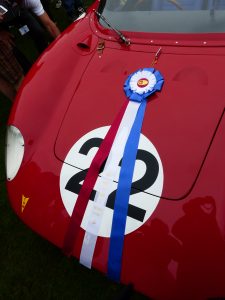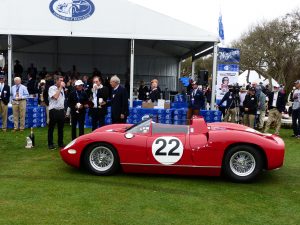 A 1963 Ferrari 250/275P from The JSL Motorsports Collection in Redwood City, California, took home the prestigious Best in Show Concours de Sport Trophy. The Amelia-winning Ferrari won the overall at the 1963 ADAC Nurburgring 1,000Kms with John Surtees and Willy Mairesse and the 1964 Sebring 12 Hours with Mike Parkes and Umberto Maglioli driving. This car finished second at the 1963 Sebring event and won the first race at Mont Tremblant as a NART entry with Pedro Rodriguez driving.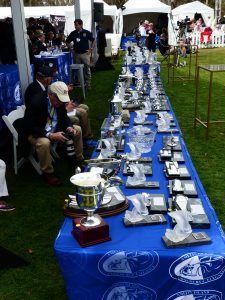 As if putting on an event of this magnitude isn't enough of a challenge, the concours, several times in its history, has risked last minute tropical rainstorms that one year drenched the entire show, forcing its relocation to inside the hotel ballrooms. This year, rain was predicted for show day a few days prior to the concours, so the show management team elected to move it forward by a day, from Sunday to Saturday; imagine the impact on thousands of attendees, the car owners, vendors, security teams, hotels, transport componies, sponsors and all the other stakeholders in making this large a decision on the spur of the moment; but the show leadership and committee, aided no doubt by the power of social media, made it work, and while Saturday was still a bit overcast and occasionally coolish, pulled it off seamlessly. The crowds were thick and happy, and if there was any loss of participation due to the 11th hour change, it wasn't apparent to anyone we spoke to.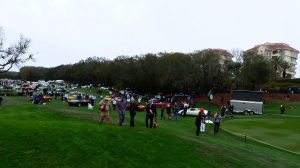 The 24th annual Amelia Island Concours d'elegance will take place in March, 2019, with exact dates TBA. www.ameliaislandconcours.org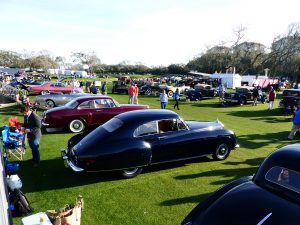 Bentley – This year's post-war Bentley class was small but mighty, yet none mightier than this class winning Continental R-Type, painted the deepest, richest dark metallic blue you can imagine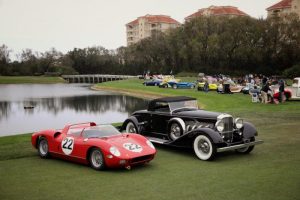 Ferrari and Duesenberg Bests of Show
It would be hard to imagein a more representative and deserving pair of Best of show winners than Harry Yeaggy's perfectly proportioned and executed Duesenberg convert, nor JSL Collection's 1963 Ferrari 250/275 race-winning sports racer [photo courtesy Amelia Island Concours]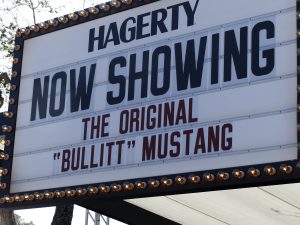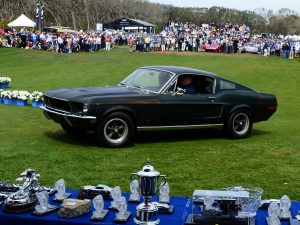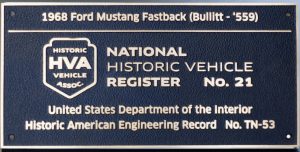 The real Bullitt Mustang
The holy grail of Mustangs have surfaced; one of the original, and the most original, of the two '68 Mustang GTs used in the filming of Bullitt has been locked away for nearly five decades, only recently coming to light. Ford Motor Company employed at the recent Detroit International Auto Show for its unveiling of the new-for-2019 Bullitt Edition Mustang.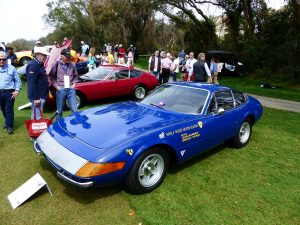 Cannonball Daytona
Helping to celebrate the big Ferrari GT's five decades anniversary was the Kirk White sponsored Daytona that Dan Gurney and Brock Yates drove to victory in the innagural Cannonball Baker Memorial Sea to Shining Sea Memorial Trophy dash.
Contiental Mk II
Known for its elegant restrained styling, perfect proportions, and handbuilt quality, this 1957 Continental Mk II took big honors in the Limited Production American category. And now you know why any car's spare tire hump is often referred to as a Continental Kit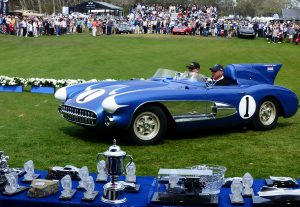 Corvette SR2
This factory designed and sanctioned one-off Corvette racer was styled somewhat similar to that of the successful and stunningly beautiful Jaguar D-Type that so cleaned up at the race tracks in the mid-late 1950s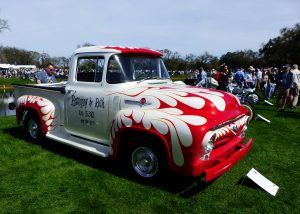 Ed Roth 1956 Ford F-100 truck
Ed Rotch was a painter, designer, custom car builder and artist who came up with countless over the top and fun loving show rods back in the day, and also the charming "Rat Fink" cartoon character. The sign on the door of his actual truck claims that Roth will pinstripe "any car for $4.00"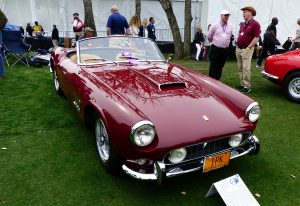 Ferrari Spyder California
New Yorker Peter Kalikow has a stable of fabulous exotic and GT machinery in his underground Manhattan carpark, and his ride of choice for Amelia 2018 was this mouthwatering Ferrari 250 Spyder California SWB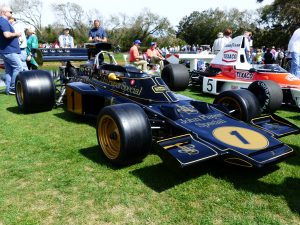 Emmo Lotus
Amelia Honoree Fittipaldi won his first F1 title in 1972 at the wheel of this JPS-sponsored Lotus 72 Cosworth.
He was at the time the youngest driver to win the F1 season prize. He went on to win another F1 title two years later, and the Indy 500 in 1989 and 1993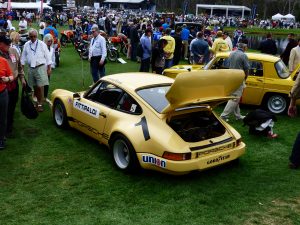 IROC Porsche
Fittipaldi also participated several times in the American International Race of Champions spec series, which was in its first year run with specially built 3.0-liter Carrera RSRs just like this one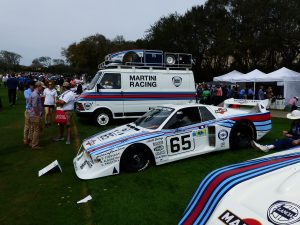 Florida's Campion family rolled out this marvelous display of Lancia Rally monsters, including a Martini team support Fiat Van – this assemblage proved a major crowd favorite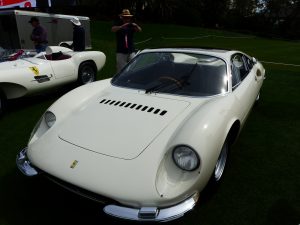 NART Ferrari 3-seater
The McLaren F1 is uber significant for its driver centric three-across seating, but was hardly the first exotic mid-engined GT to be so – as evidenced by this 1966 "Tre posti" Ferrari, which was originally born a racing car, then redesigned and reconfigured by Luigi Chinetti Sr., and Jr's, North American Racing Teams as a dazzling concept car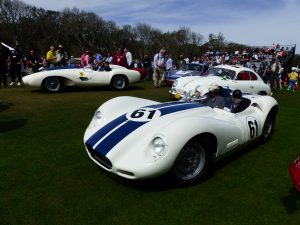 In the odd event you get tired of heavy classics and brass era iron, you'll be dazzled at the assemblage of racing hardware on show at Amalia, as evidenced by this snarling Lister, plus a pair of Porsches and fabulous Ferrari Monza racer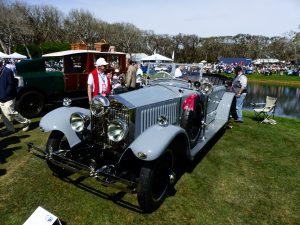 One of the special categories for 2018 was "hunting cars" outfitted by the well do to who needed a fine motor in which to hunt – this 1925 RollsRoyce Ghost hunter was among the most dazzling of this unusual grouping of cars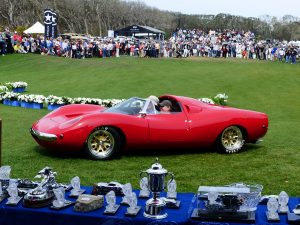 Shelby LoneStar
Just one Shelby LoneStar ever existed, and for the first time since the early 1970s, it resurfaced – fully restored and in pristine condition – at Amelia Island 2018. This original car was created by both Shelby and John Wyer Automotive Engineering (JWAE) in Slough, England and its lines represent a mix of the Cobra and GT40. And interesting combination of 427 Cobra replacement, exotic concept car and race car notion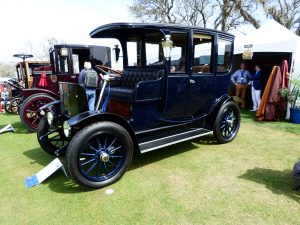 1912 Rauch & Lang Town Car
Early electric cars were quite plebian, not thought of as luxury transport for the well to do; the exception would be this elegant R & L TownCar, which featured not only a luxuriously appointed cabin but was at one time owned by the dean of electricity himself, Thomas Edison