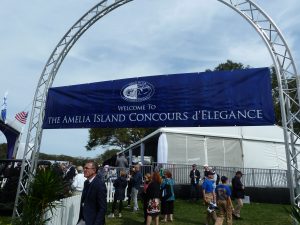 The annual Amelia Island Concours d'Elegance is among my very favorite automotive events in the world.  So many things make it special.  It's held at a Ritz-Carlton Resort on the beach in Florida, so let's talk venue.
Founder and chairman Bill Warner is a vintage racer in his own right, and longtime professional racing photographer (Road & Track, Sports Car Graphic) so Amelia pays much more than passing recognition to sports cars and racer people and cars.  2020 represented Amelia's 25th anniversary, and it was another one for the books.  Besides the big show on Sunday, there's the best you've ever seen CarsNCoffee gathering on the show field Saturday morning.  Plus Amelia always recognizes a motorsport Honoree; many have been famous drivers, including Carroll Shelby, Dan Gurney, Hurley Haywood, Al Unser, Johnny Rutherford, Sir Stirling Moss, and a dozen others; all of them names you know and respect.  This year's honoree began his intergallactic motorsports career as a driver, and has since gone on to become the winningest Indy 500 team owner, and the chieftain of a business empire that spans the globe and employs more than 66,000 people, he of course being the incomparable Roger Penske.
The Captain was there with several of his key staff and drivers over the years, a remarkable number who have worked for him for decades and still do.  Mr. Penske spoke at several gatherings and occassions, and made himself available for countless autograph signings and selfies.  There was an entire non-judged class of cars he'd driven as a driver, and built and raced, including a half dozen previous Indy 500 winners, an IROC Porsche, Can-Am cars, Trans-Am Camaros, and other Penske Racing faves.  This man is 83 years old, "older gentleman" model handsome, sharp as an X-acto knife, and can outlast any Energizer Bunny.
Something else that sets Amelia apart in terms of "classic" concours fields and its racing roots is that Amelia awards a "Concours d'Elgance" best of show for more traditional classic and collector cars, plus a "Concours d'Sport" among particularly sporty and racing cars.  This year's winners proved a particularly worth duo of poster children…
Here's my own personal scrapbook of Amelia 2020…which I hope you enjoy.  And feel free to doubleclick on any image to see it full screen in high res…
For my money, GM's two most signficant ever concept cars, the Buick LaSabre at left, and the (also) Buick Y-Job on the right.  Parked side by side — I needed oxegyn at about this point.