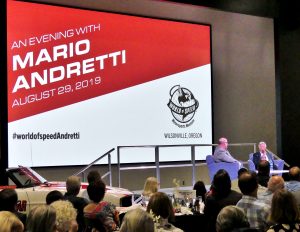 On August 29, 2019, it was my honor and privilege to emcee and host a fireside chat style interview and discussion with the incomparable Mario Andretti at the World of Speed Motorsports Museum in Wilsonville (near Portland) Oregon.  If you know anything about me at all it's that Andretti the Senior is my all time ultimate racing hero, and a big time personal one as well.  It means a great deal to me to count him as my friend.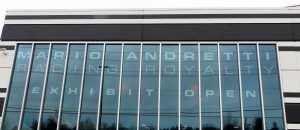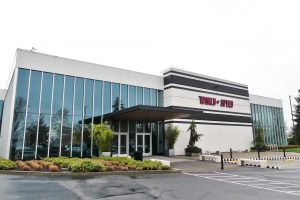 World of Speed is currently hosting a very special exhibit (which closes November 3) called Racing Royalty: Mario Andretti.  Indeed no truer words have ever been spoken.  The exhibit combined 11 famous racing cars from different eras of Mario's fabulous 50 year career, covering everything from dirt trackers to Indy cars and his 1967 Sebring winning Ford GT Mk IV.  If you've never been to or heard of World of Speed, put it on your To Do list.  It's a large (about 100,000 sq. ft) airy modern museum dedicated primarily to racing of all kinds, and also boasts an outstanding OEM supported youth automotive technical training program which goes far beyond the old high school notion of "auto shop."  Besides this near dozen of Mario's cars, there's also lots of old photos and other ephemera on hand.  Plus an outstanding gift and book shop, plus a snack counter too.  WOS is also a superb event space, and can handle anything from a corporate meeting to the ultimate motorsport themed wedding, bar mitzvah or whatever kind of event you'd like to host.
Coinciding with the IndyCar race weekend at Portland Interational Raceway, the Museum hosted its annual fund raiser and marquee event program called An Evening with Mario Andretti.  The property's largest gallery space was temporarily hogged out and elegantly reconfigured for dinner for about 350 museum patrons and honored guests.  Mario was of course the main event, and through a wonderfully serendipitous confluence of circumstances and connections, the museum approached me to emcee the evening and host the interview with Mario.  It was a wonderful thing, as Mario was particularly sharp, on point, self depricating, and humorous as we discussed and told stories from his earliest days in racing on through his unimpeachable five decades career and 111 sanctioned race victories.  Much of the storytelling was epic, Mario holding the crowd comfortably in the palm of his hand
Here is the video link of that discussion:
https://www.dropbox.com/s/9qhf63lv3u41rnx/An%20Evening%20with%20Mario%20Andretti_Full%20Interview.mov?dl=0
This link takes you to a Dropbox window, and most modern, relatively fast computers and wireless internet will play the video straight from the stream.  If yours won't, you can download an .mov file right from this window, which puts the file on your hard drive and you should be able to play it from there.
My very biggest and most humble thanks to everyone at the World of Speed Museum for making me a part of this amazing evening with this amazing man.  Of all of the over the top interactions I've enjoyed with the most significant and impactful members of the AutoSphere, this is among them all as a top highlight.  And my thanks to Kirk Gerbracht and the Museum for the photos you see posted here. — more just below, so please don't leave yet.  And you can doubleclick on any photo to see it high res and full screen.
World of Speed Motorsports Museum
27490 SW 95th Avenue,