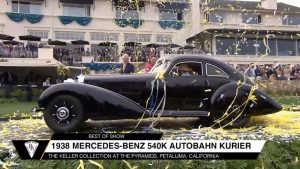 PEBBLE BEACH, Calif. (August 15, 2021) — Long recognized as a superlative showcase of automotive history, the Pebble Beach Concours d'Elegance made history of its own at the culmination of its 70th celebration: a total of 38 former Best of Show cars were on hand to welcome a new winner to their ranks.
This year, 230 collector cars pulled onto the competition field of the Pebble Beach Concours d'Elegance, and the car named Best of Show was the 1938 Mercedes-Benz 540K Autobahn Kurier belonging to The Keller Collection at The Pyramids in Petaluma, California.
"This Best of Show winner embodies so many sensational features—styling, speed, and performance. Unveiled at the Berlin Auto Show and built to rule the new German Autobahn in 1938, this rare automobile is truly an example of beautiful German design," said Concours Chairman Sandra Button.
When introduced, this 540K was applauded not only for its long, sweeping hood and aerodynamic design, echoing the legendary Silver Arrow Grand Prix cars, but also for its advanced engineering and superlative performance. Autobahn Kurier means "Highway Kurier" and references a period of German excellence beginning in the 1920s that culminated in the construction of the famous network of motorways. Mercedes made only two 540K Autobahn Kuriers, and this is the only one still in existence and still sporting its original equipment. This is the Kellers' third win at Pebble Beach, coming after a 1986 win with their 1936 Mercedes-Benz 500K Special Roadster and a 2001 win with their 1930 Mercedes-Benz SS Erdmann & Rossi Roadster.
"It's my triple crown," said Arturo Keller. "This is the only remaining car of its kind, and I am the second owner from new. It's a very special car, and we are very happy." The car was last restored in 2006, and has continued to be shown, rallied, and toured since then. The Kellers also go home with the Elegance in Motion Trophy.
This win is the ninth for Mercedes-Benz, tying the marque with Bugatti for the most Best of Shows at Pebble Beach.
This year's race for Best of Show featured other strong contenders, including Joanie & Scott Kriens' 1937 Bugatti Type 57S Corsica Drophead Coupé; the 1966 Ferrari 365 P Pininfarina Berlinetta Speciale shown by RQ Collections; and Jonathan & Wendy Segal's 1956 Maserati A6G Zagato Coupé.
The Pebble Beach Concours raised more than $1.75 million for charity this year, bringing the event's total charitable donations to over $32 million to date. Through the Pebble Beach Company Foundation, the primary charitable partner of the Concours, these funds will benefit more than 95 local charities, impacting the lives of more than 10,000 children annually in Monterey County.
Gooding & Company, the official auction house of the Pebble Beach Concours d'Elegance, realized more than $107 million in sales at its annual Pebble Beach Auctions this weekend. Friday evening's auction included the world record-breaking sale of a 1995 McLaren F1, which sold for $20,465,000, and a 1959 Ferrari 250 GT LWB California Spider Competizione, which brought in $10,840,000. The auction on Saturday afternoon followed suit with its star cars, including a 1929 Bugatti Type 35B Grand Prix, which sold for $5,615,000, and a 1958 Ferrari 250 GT Series I Cabriolet, which achieved $4,405,000.
The 71st Pebble Beach Concours d'Elegance will take place on Sunday, August 21, 2022, and will celebrate Lincoln and Talbot-Lago Grand Sport, with additional special classes to be announced soon. For more information on the Pebble Beach Concours visit www.pebblebeachconcours.net.
Complete List of 2021 Winners
BEST OF SHOW
1938 Mercedes-Benz 540K Autobahn Kurier
The Keller Collection at The Pyramids, Petaluma, California
BEST OF SHOW NOMINEES
1937 Bugatti Type 57S Corsica Drophead Coupé
Joanie & Scott Kriens, Saratoga, California
1966 Ferrari 365 P Pininfarina Berlinetta Speciale
RQ Collections, The Woodlands, Texas
1956 Maserati A6G Zagato Coupé
Jonathan & Wendy Segal, San Diego, California
ELEGANCE AWARDS
Gwenn Graham Most Elegant Convertible
1936 Lancia Astura Series III Tipo Bocca Pinin Farina Cabriolet
Robert Bishop, Palm Beach, Florida
J. B. & Dorothy Nethercutt Most Elegant Closed Car
1936 Bugatti Type 57SC Atlantic
Merle & Peter Mullin and Melani & Rob Walton, Los Angeles, California
Jules Heumann Most Elegant Open Car
1937 Alfa Romeo 8C 2900B Touring Spider
John & Heather Mozart, Palo Alto, California
Strother MacMinn Most Elegant Sports Car
1956 Maserati A6G Zagato Coupé
Jonathan & Wendy Segal, San Diego, California
SPECIAL AWARDS
Alec Ulmann Trophy
1925 Hispano-Suiza H6B Million-Guiet Torpedo
Jonathan Feiber & Heather Buhr, Atherton, California
Ansel Adams Award
1914 Packard 1-38 Five Passenger Phaeton
Joe & Janice Conzonire, San Marino, California
ArtCenter College of Design Award
1963 Iso Grifo A3/L Prototype Bertone Coupe
Peter Wilde, Brookline, Massachusetts
Briggs Cunningham Trophy
1924 Miller 122/91 Boyle Special
Miles Collier Collections at Revs Institute, Naples, Florida
Chairman's Trophy
1929 Bugatti Type 35B Grand Prix
The Pearl Collection/Fritz Burkard, Switzerland
Charles A. Chayne Trophy
1925 Lancia Lambda Casaro Roadster
Paul & Victoria Tullius, Chico, California
Classic Car Club of America Trophy
1933 Duesenberg SJ "Twenty Grand" Rollston Arlington Torpedo Sedan
The Nethercutt Collection/Helen & Jack Nethercutt, Sylmar, California
Dean Batchelor Trophy
1926 Miller 91 Perfect Circle Special
Tom & Suzie Barbour, Bellvue, Colorado
Elegance in Motion Trophy
1938 Mercedes-Benz 540K Autobahn Kurier
The Keller Collection at The Pyramids, Petaluma, California
Enzo Ferrari Trophy
1956 Ferrari 410 Superamerica Superfast Pinin Farina Coupe Speciale
Anne Brockinton Lee/Robert M. Lee Automobile Collection, Reno, Nevada
FIVA Postwar Trophy
1957 Cadillac Eldorado Brougham
Kirk Wentland & Lawrence Camuso, San Jose, California
FIVA Prewar Trophy
1908 Bailey Electric Victoria Phaeton
Larz Anderson Auto Museum, Brookline, Massachusetts
The French Cup
1937 Delahaye 135 M Chapron Cabriolet
Tom McGough Sr. & Tom McGough Jr., North Oaks, Minnesota
Gran Turismo Trophy
1969 Ferrari 512 S Berlinetta
Pierre Mellinger, Crans Montana, Switzerland
Lincoln Trophy
1923 Lincoln L Brunn Roadster
Mike & Diane Barrett, Nooksack, Washington
Lorin Tryon Trophy
Anne Brockinton Lee
Lucius Beebe Trophy
1934 Rolls-Royce Phantom II Brewster Special Brougham
David & Teresa Disiere, Southlake, Texas
Mercedes-Benz Star of Excellence Award
1937 Mercedes-Benz 540K Special Roadster
Richard & Melanie Lundquist, Palos Verdes Estates, California
Montagu of Beaulieu Trophy
1914 Rolls-Royce Silver Ghost Schapiro-Schebera Skiff
Sam & Emily Mann, Englewood, New Jersey
The Phil Hill Cup
1953 Jaguar C-Type Roadster
Tom & Gwen Price, Larkspur, California
Tony Hulman Trophy
1926 Miller 122 Locomobile Junior 8 Special
The Richard H. Driehaus Collection, Chicago, Illinois
The Vitesse ~ Elegance Trophy
1957 Ferrari 250 GT LWB Scaglietti Berlinetta
Audrey & Martin Gruss, Palm Beach, Florida
CLASS AWARDS
Class A-1: ANTIQUE
1st: 1910 Winton 17 Seven Passenger Touring, Schuster Family, Redding, Connecticut
2nd: 1914 Packard 1-38 Five Passenger Phaeton, Joe & Janice Conzonire, San Marino, California
3rd: 1910 Peerless 27 Rois des Belges Tourer, Robert & Jackie Lederer, South Barrington, Illinois
Class A-2: Early Electric Cars
1st: 1912 Rauch & Lang TC4 Brougham, John W. Rich Jr., Gilberton, Pennsylvania
2nd: 1905 Columbia Mark XXXV Brougham, Mary & Ted Stahl, Chesterfield, Michigan
3rd: 1901 Columbia Mark XXXI Victoria Phaeton, Nick Grewal, Sanbornton, New Hampshire
Class B: Vintage
1st: 1920 Packard 3-35 Twin Six Runabout, Timothy & Dennis Heywood, Frankfort, Illinois
2nd: 1916 Packard 1-25 Twin Six Runabout, Nicholas & Shelley Schorsch, Newport, Rhode Island
3rd: 1924 Pierce-Arrow Model 33 4 Passenger Touring, Tony Wollesen, San Jose, California
Class C: American Classic
1st: 1933 Auburn 12-161A Speedster, Steven Moore, Incline Village, Nevada
2nd: 1937 Cord 812 Phaeton, Laura & Jack Boyd Smith Jr., Elkhart, Indiana
3rd: 1932 Chrysler CL Custom Imperial LeBaron Convertible Sedan, Mr. & Mrs. Lorenzo Nannini, Pine Grove, California
Class D: Packard
1st: 1936 Packard 1407 Twelve Coupe Roadster, Neal & Susan Ryan, Smithtown, New York
2nd: 1937 Packard 1507 Twelve Coupe, Jeffrey Mihaly, San Leandro, California
3rd: 1937 Packard 1508 Twelve Rollston Convertible Victoria, Jean & Don Ghareeb, Birmingham, Alabama
Class G: Duesenberg
1st: 1930 Duesenberg J Murphy Dual Cowl Phaeton, Ross & Beth Myers, Boyertown, Pennsylvania
2nd: 1933 Duesenberg SJ Murphy Convertible Berline, Jeannie & Rob Hilarides, Visalia, California
3rd: 1931 Duesenberg J Weymann Tapertail Speedster, The William Lyon Family, Newport Beach, California
Class H: Rolls-Royce Prewar
1st: 1914 Rolls-Royce Silver Ghost Schapiro-Schebera Skiff, Sam & Emily Mann, Englewood, New Jersey
2nd: 1934 Rolls-Royce Phantom II Continental Carlton Drophead Coupé, Stephen Brauer, St. Louis, Missouri
3rd: 1914 Rolls-Royce Silver Ghost Barker Landaulette, James & Nancy Scharfeld, Avon Lake, Ohio
Class I: Mercedes-Benz Prewar
1st: 1938 Mercedes-Benz 540K Autobahn Kurier, The Keller Collection at The Pyramids, Petaluma, California
2nd: 1937 Mercedes-Benz 540K Special Roadster, Richard & Melanie Lundquist, Palos Verdes Estates, California
3rd: 1927 Mercedes-Benz SS Armbruster Cabriolet, The Keller Collection at The Pyramids, Petaluma, California
Class J-1: European Classic Sports
1st: 1937 Bugatti Type 57S Corsica Drophead Coupé, Joanie & Scott Kriens, Saratoga, California
2nd: 1925 Lancia Lambda Casaro Roadster, Paul & Victoria Tullius, Chico, California
3rd: 1932 Alfa Romeo 6C 1750 Gran Sport Figoni Cabriolet, David Raisbeck, Sanibel, Florida
Class J-2: European Classic Touring
1st: 1940 Alfa Romeo 6C 2500 S Touring Coupé, Don & Max Behrens, Manhattan Beach, California
2nd: 1928 Isotta Fraschini Tipo 8A S Castagna Landaulet, Peter & Jennifer Gleeson, Edmonds, Washington
3rd: 1937 Delahaye 135 M Chapron Cabriolet, Tom McGough Sr. & Tom McGough Jr., North Oaks, Minnesota
Class L-1: Prewar Preservation
1st: 1933 Packard 1006 Twelve Dietrich Convertible Runabout, John & Heather Mozart, Palo Alto, California
2nd: 1931 Alfa Romeo 6C 1750 GT Touring Coupé, Jack Braam Ruben, Maastricht, The Netherlands
3rd: 1930 Packard Deluxe Eight 745 Dietrich Dual Cowl Sport Phaeton, Lynn & Michael Harling, Dallas, Texas
Class L-2: Postwar Preservation
1st: 1969 Porsche 917K Coupe, Miles Collier Collections at Revs Institute, Naples, Florida
2nd: 1956 Porsche 356A Carrera Reutter Coupe, Chuck House, Bermuda Dunes, California
3rd: 1957 Cadillac Eldorado Brougham, Kirk Wentland & Lawrence Camuso, San Jose, California
Class M-1: Ferrari Grand Touring
1st: 1966 Ferrari 275 GTB Scaglietti Berlinetta, John Paul Rowan, Savannah, Georgia
2nd: 1967 Ferrari 275 GTS/4 Scaglietti NART Spyder, Jon & Kim Shirley, Medina, Washington
3rd: 1968 Ferrari 206 GT Dino Scaglietti Coupe, Ron Hein, Montecito, California
Class M-2: Ferrari Competition
1st: 1964 Ferrari 250 GTO Scaglietti Berlinetta, Aaron & Sasha Hsu, New York, New York
2nd: 1951 Ferrari 340 America Touring Barchetta, Mr. Kevin Cogan, Louisville, Kentucky
3rd: 1957 Ferrari 250 GT LWB Scaglietti Berlinetta, Audrey & Martin Gruss, Palm Beach, Florida
Class N: Iso
1st: 1963 Iso Grifo A3/L Prototype Bertone Coupe, Peter Wilde, Brookline, Massachusetts
2nd: 1967 Iso Grifo GL Bertone Coupe, Paul & Natalie Roesler, Ross, California
3rd: 1965 Iso Rivolta GT Bertone Coupe, Buddy Pepp, Beverly Hills, California
Class O-1: Postwar Racing
1st: 1964 Porsche 904 GTS Coupe, The Ingram Collection, Durham, North Carolina
2nd: 1966 Ford GT40 Mark I Coupe, Janus Associates, San Clemente, California
3rd: 1959 Porsche RSK Wendler Spyder, Steven Adler, New Vernon, New Jersey
Class O-2: Postwar Sports
1st: 1956 Maserati A6G Zagato Coupé, Jonathan & Wendy Segal, San Diego, California
2nd: 1964 ATS 2500 GTS Allemano Sports Coupé, Stephen Bell Classic Investments Inc., Englewood, Colorado
3rd: 1958 BMW 507 Series II Roadster, William H. & Cheryl K. Swanson, Arroyo Grande, California
Class O-3: Postwar Touring
1st: 1957 Cadillac Eldorado Brougham Fleetwood Sedan, Jean & Don Ghareeb, Birmingham, Alabama
2nd: 1954 Chrysler GS-1 Ghia Coupe, John H. White, Sacramento, California
3rd: 1965 Aston Martin DB5/C Touring Drophead Coupé, Jim & Nancy Utaski, Princeton, New Jersey
Class P-1: Pinin Farina Prewar
1st: 1938 Lancia Astura Pinin Farina Cabriolet, Filippo Sole, Milan, Italy
2nd: 1935 Lancia Astura Pinin Farina Cabriolet, Piet Janssen, Lottum, The Netherlands
3rd: 1937 Alfa Romeo 8C 2900B Pinin Farina Cabriolet, Lawrence Auriana, Greenwich, Connecticut
Class P-2: Pininfarina Postwar
1st: 1953 Lancia Aurelia Pinin Farina PF200 C Spider, Anne Brockinton Lee/Robert M. Lee Automobile Collection, Reno, Nevada
2nd: 1948 Lancia Aprilia Pinin Farina Spider, Joe Capasso, Glastonbury, Connecticut
3rd: 1948 Bentley Mark VI Facel-Métallon Cresta Coupé, Fred & Donna Kriz, Monaco
Class P-3: Pinin Farina Ferrari Early
1st: 1953 Ferrari 375 America Pinin Farina Coupe, Jamie & Cecilia Muldoon, Guadalajara, Mexico
2nd: 1952 Ferrari 212 Inter Pinin Farina Cabriolet, Kim & Stephen Bruno, Boca Raton, Florida
3rd: 1955 Ferrari 250 Europa GT Pinin Farina Coupe Speciale, Rare Wheels Collection, Windermore, Florida
Class P-4: Pininfarina Ferrari Late
1st: 1966 Ferrari 365 P Pininfarina Berlinetta Speciale, RQ Collections, The Woodlands, Texas
2nd: 1965 Ferrari 275 GTB Pininfarina Berlinetta Speciale, Lee & Joan Herrington/The Herrington Collection, Bow, New Hampshire
3rd: 1961 Ferrari 400 Superamerica Pininfarina Cabriolet, Peter Kalikow, New York, New York
Class Q: Porsche 917
1st: 1969 Porsche 917K Coupe, Chris MacAllister, Indianapolis, Indiana
2nd: 1972 Porsche 917/10 Can-Am Spyder, Mouse Motors, Chicago, Illinois
3rd: 1973 Porsche 917/30 Can-Am Spyder, Rob Kauffman/RK Collection, Charlotte, North Carolina
Class R: La Carrera Panamericana 1950-54
1st: 1952 Ferrari 340 Mexico Vignale Berlinetta, Les Wexner, New Albany, Ohio
2nd: 1953 Ferrari 340/375 MM Vignale Spyder, Bruce R. McCaw, Redmond, Washington
3rd: 1954 OSCA MT4 1500 Morelli Spyder, Michael & Katharina Leventhal, Beverly Hills, California
Class S: Lamborghini Countach 50th Anniversary
1st: 1981 Lamborghini Countach LP400S Series III Bertone Berlinetta, Robert Bishop, Palm Beach, Florida
2nd: 1976 Lamborghini Countach LP400 "Periscopica" Bertone Berlinetta, Mouse Motors, Chicago, Illinois
3rd: 1985 Lamborghini Countach 5000 Quattrovalvole Bertone Berlinetta, Jeffrey Ajluni, Washington, DC
Class V: Miller
1st: 1926 Miller 91 Perfect Circle Special, Tom & Suzie Barbour, Bellvue, Colorado
2nd: 1926 Miller 122 Locomobile Junior 8 Special, The Richard H. Driehaus Collection, Chicago, Illinois
3rd: 1924 Miller 122/91  Boyle Special, Miles Collier Collections at Revs Institute, Naples, Florida 
# # #