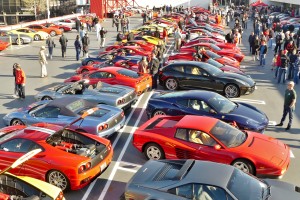 Los Angeles' reborn, remodeled, and reimagined Petersen Automotive Museum celebrates Enzo Ferrari's birthday with rooftop all-Ferrari cruise in.
Enzo's 118th
This event was now several months ago, but I thought you still might enjoy these great Kirk Gerbracht photos – MS
Were he alive today, Enzo Ferrari would have celebrated his 118th birthday on February 18, 2016. The Petersen Automotive Museum, fresh off a yearlong major redesign and renovation, felt that February 21, 2016 was a close enough date on which to mark the occasion by opening its doors and its magnificent rooftop parking lots to any and as many Ferraris as would show up. Besides, holding the party on Mr. Ferrari's actual 118th birthday, February 18, 2016, would have been a Thursday, surely limiting participation.
No matter, Sunday Feb 21 turned out to be the ideal choice. It was a textbook Chamber of Commerce clear warm day, with not a sign of El Nino in sight. The museum's dramatic new, red painted metal and brushed metal architectural visage was absolutely chiseled against a brilliant blue sky, and no rain, smog, locusts or other natural hamperer would spoil this perfect day for a car show. It's also great that the museum hosts this event gratis for everyone on the day; there is no fee to enter a car or to attend as a spectator – not even to park.  The gathering was somewhat weighted to modern day and recent era Ferraris, although there were a few older classic Enzo era machines on show (plus one defiant Maserati 3500 GT owner that insisted on parking on the roof among the Ferraris).
Perhaps the most significant among them is the ex-Henry Ford II 1952 212 Barchetta (0253EU) which is owned by the Museum itself. The car was given as a gift from Enzo Ferrari to Henry Ford II back in the day, although some say Hank the Deuce actually purchased it, but that details matters not at this point. Ultimately acquired by the museum's namesake patron, publishing magnate Robert E. Petersen, and was studied in the Ford Design Studio when the company was developing the original 1955 Ford Thunderbird. The custom Touring bodied Barchetta is resplendent in its mostly original black paint, sits on its original tires, and wears its original white leather interior. Other stars of the show included a pair of 246 Dinos, three Daytonas, and a dazzling duo of 330GT coupes.
"I didn't know you could get a 599 with a conventional manual transmission" observed enthusiast Jeff, a JPL executive still grappling with the potential service costs of Ferrari ownership before taking the plunge and buying a car. "That's one of the great things about an event like this is a large variety of cars on hand so I can compare interior, wheel, and trim details from one car to another." Stuntwoman/actress Diane commented that "the current 430 and 458 Spyder models are just gorgeous to look at on the outside," but she finds the "video game nature" of their interiors and instrumentation a little too busy for her tastes, preferring the straightforward more analog makeup of her own F355 GTS.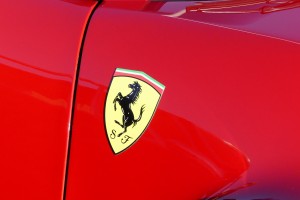 The only thing missing? There was not a single example of the "birthday boy's" namesake model; strange but true, not a single Enzo to be found.
Oh please don't leave, more photos below…