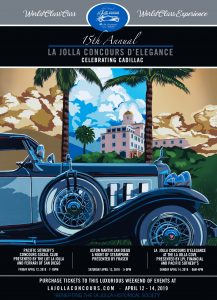 And please double-click on any image to see it full screen and high res
It was my privilege to serve as Master of Ceremonies for the 15th Annual La Jolla Concours d'Elegance, in La Jolla, California a few weeks ago.  This event started out as a kind of glorified carsncoffee meet in the La Jolla village all those years ago, and has now become A Thing.  There have been a couple reorganizations and leadership changes since that humble  beginning, with a concerted effort focused on highlighting the elegance and charm of La Jolla, raising a ton of money for a variety of charities, and toward giving North San Diego county a world class concours experience.  Which they have now done — in spades and flying colors.
Of course you know the old saw "Location, Location, Location!" and this event has it in gold.  La Jolla is an artfully charming town, right on the Pacific Coast, and the show itself is held at a large rambling park on a bluff overlooking the glittering blue Pacific.  It is truly among the very best locations in the world for a top notch experience style automotive event.  Talk about a Vroom with a View.  With plenty of hotels, and lots of shopping and great food nearby too.
The entrant field was a dazzling combination of things you'd expect, and things you might not.  Of course there were plenty of "heavy" full classics, and a fair smattering of exotics.  Plus a special class for Japanese classics and special interest cars.  A special class celebrating Bentley's 100th birthday.  As the Mercedes-Benz Classic Center is a major sponsor, there were plenty of three-pointed stars glittering up the field.  And of course, all the other ancillary events that make a car show into a "lifestyle" event.  Parties, dinners, a road tour a few days before the show, lots of champagne about, and such.  I didn't miss a one of them, hosted a couple of them, and enjoyed them all.
First class international judging is what brings out the big game car and motorcycle collectors, and their big game toys, and its here that La Jolla really hit the mark.  Also, the trophies and awards were spectacular, designed and hand made by world class restorer and bespoke luggage crafter Alan Taylor.  And instead of the usual "concours mix CD" playing in the background, La Jolla hosted BTO, as in the Big Time Operators swing band; this totally on it swing ensemble really rocked the house, playing and singing the very best of the Great American Songbook, some rock n roll, swing tunes and a little R & B here and there.  Great guys, and superb enthusiast musicians.
I encourage you to keep an eye on this event, and I will absolutely attend again.  I guess all that's left is to show you more of the hardware, photos courtesy of Kirk Gerbracht.  Please keep scrolling, lots of great stuff below…and keep tabs on next year's event at www.lajollaconcours.com