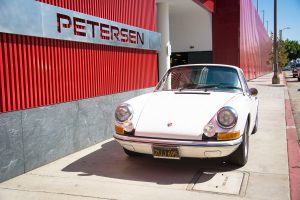 Porsche AG, Porsche Cars North America, and the Petersen Automotive Museum celebrate the marque's 70th Anniversary in fine style with an elegant, historic exhibit on show for all of 2018

Words and photos by me
Enzo Ferrari and Ferdinand Porsche were in countless ways very different men. Yet they ended up on somewhat similar paths, both founding the now epic car companies that bear their names shortly after the end of World War II. Ferrari counts 1947 as its founding year, and as such celebrated in grand and global style last year. Porsche's birth certificate on the other hand bears 1948 as its magic date, although of course the seedlings of it were planted years prior.
Among the many fertile and creative minds contemplating this event were Petersen Automotive Museum doyens Peter S. Mullin, current board chairman of this renowned Los Angeles institution, and mega enthusiast/collector Bruce Meyer (now Chairman of the Board Emeritus and serious Porsche gatherer). In early 2017 they and museum Executive Director Terry Karges discussed the idea of doing "something major" at the Petersen to celebrate Porsche 70 and then got Porsche Cars North America engaged in the idea. The stars aligned and the result is called The Porsche Effect exhibit, which opened to the public February 3, and will remain on display through the anniversary year.
"Over a year in the making, 'The Porsche Effect' captures the innovative and iconic spirit of Porsche, showcasing the marque's many contributions to automotive engineering and the motorsports world," Peter Mullin, "We are thrilled to share this incredible history with the public in an experience that both passionate enthusiasts and casual fans will surely appreciate and enjoy."
"Encompassing 50 cars, The Porsche Effect isn't a pure chronological recounting of this historic marque," commented Brittanie Kinch of The Scenic Route. Working with the Petersen's own exhibits and curatorial staff, the Scenic Route is the major set design and constructor that gave the Petersen's recent $100M remodel its high level of modern museumcraft; also designing and executing the Porsche Effect "We wanted certainly, to highlight much of the company's path from one handbuilt car in a small shop to today's position as one of the world's most famous carmakers and most powerful brands but it's not a literal timeline," added Ms. Kinch.
Among the many things The Porsche Effect is not is a cold dark warehouse full of 50 random cars. Another thing this marvelous exhibit installation is not is a tacit emptying of the Porsche Museum in Stuttgart. In fact only one of the cars currently on display was provided by the factory museum; all the rest are in private hands of one form or another. Also on hand to be enjoyed are a fascinating variety of archival artifacts and ephemera dedicated to Porsche as a design driven company, including drawings, models, furniture, Porsche Design watches and such. One item we found particularly compelling is a handwritten, notebook style journal from Dr. Porsche's shop detailing any given day's activities, and accomplishments. One entry reads "New project to be called Volkswagen." And the world changed in an instant.
The Petersen's multi story parking garage contains a few small alcoves big enough to display a car in plan view, so as you're walking in the building, you'll see a few Porsches just to whet the appetite. The main lobby houses another ten cars and really gets the blood to boil. Several of these, including street and racing GT1s, can be seen through the windows from the street. The main and largest gallery exhibit is also on the ground floor, and most intriguingly, another dozen or so cars are displayed in the Petersen's somewhat mythical "Vault" basement most often used to house collection cars not currently on display. Most of the vault's Porsche displays are racing cars, uber rare high performance street models, and customs, such as those served up by Singer Vehicle Design, and Rod Emory Motorsports.
Employing four separate, and very different looking, spaces to encompass one exhibit theme is a creative and highly effective bit of museum craft on the parts of the museum staff and The Scenic Route. The result is that The Porsche Effect looks both highly and designed, not merely gathered. And what's on show: Lots, including the 1938 Berlin-Rome Type 64 race car, a racing 906, the Le Mans team 919 Hybrid endurance racer, the Petersen Collection's early 901 and 356 Continental Cabriolet, a rare "X83" Turbo S Flachbau 964, a Dakar rally-spec Type 953, Gulf 917K (along with a 917 engine on a stand right next to it), the Jägermeister 962, the legendary Porsche 935 K3 Le Mans winner belonging to the abovenoted Bruce Meyer and a smattering of 550 Spyders. On exclusive loan from The Porsche Museum is the 928 H50 study, a rare four-door prototype of the 928. There are a couple of different 356 Speedsters on show, including the black ex-Steve, now Chad McQueen 1958 1600 Super example, which wears chromed Rudge knockoff wheels and once in its life was also owned by Bruce Meyer. Downstairs among all the track cars sits an ex-Prost McLaren Porsche F1 machine, plus one of the March/Porsche V-8 IndyCar racers.
Prior to the public opening, a limited number of guests attended the preview reception, which featured live music, gourmet food, and a curated panel discussion with iconic Porsche drivers including Hurley Haywood, Patrick Dempsey and Tommy Kendall.
The Porsche Effect runs through 2018, and over time, various aspects of the exhibit will be rotated in and out, so while the core of the event will remain relatively constant, it will take on an evolutionary aspect as time goes by. The Petersen Automotive Museum is open seven days and sits in the heart of Los Angeles' Museum District at 6060 Wilshire Boulevard, Los Angeles, 90036. Learn the rest at Petersen.org.
Oh please don't leave, lots more photos below, and double click on any shot to see it high res on full screen.
www.petersen.org