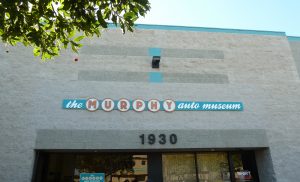 Last weekend, I visited the Murphy Auto Museum in Oxnard, California.  Never new about it, never heard about it before — and I'm in the business, remember…So what a pleasant surprise.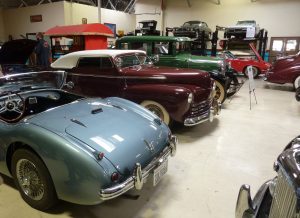 This little outfit exists just for fun and the love of cars.  It's a legit 501C3 non-profit org, and it populates its space in a most interesting manner.  The Murphy has no paid employees, as everyone is a volunteer.  The space is spare, and a little tight, but makes room for a small gifty/goody shop area, art gallery, and a train room currently under construction/remodel.  Plus lots of cool petroliana, camping gear, vintage outboard motors, and period effects from days gone by.
The Museum owns a handful of cars that have been donated, forming the basis of its own small collection.  Nearly all the rest of everything on display belongs to private owners/collectors.  The space can semi comfortably hold around 40 cars, and again most that you'll see belong to private owners who populate the museum gallery as an inexpensive storage solution.
Secure Collector car storage space is always at a premium if you don't have more than a 2-car garage, massive driveway, or acreage of some sort.  The Murphy proves to be one answer, as it charges a modest price for car storage, and the side benefit is that visitors get to enjoy a wide variety of cars that the museum doesn't have the wherewithal to buy or afford.  Everybody wins.  The building is secured and fire sprinklered so the cars are a lot safer than parking them outside at a U-Store kind of place.
The real benefit to the visitor is that the vehicles on display will evolve and change in between visits.  Hey — Jay Leno goes there, so if good enough for him, then good enough by me.
Anyway, should you find yourself anywhere near the Ventura/Oxnard area just off Highway 101 in SoCal, make an hour and pay a visit.  You'll see some pretty great hardware — something for everyone.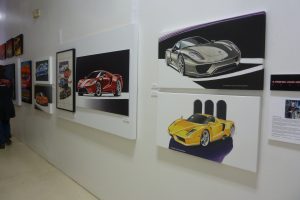 This is a great little place, and no its not the Petersen or the Guggenheim, but a warehouse full of interesting cars and things that you'll enjoy.
The Murphy Auto Museum
1930 Eastman Avenue
Oxnard, CA  93030
805/487-4333