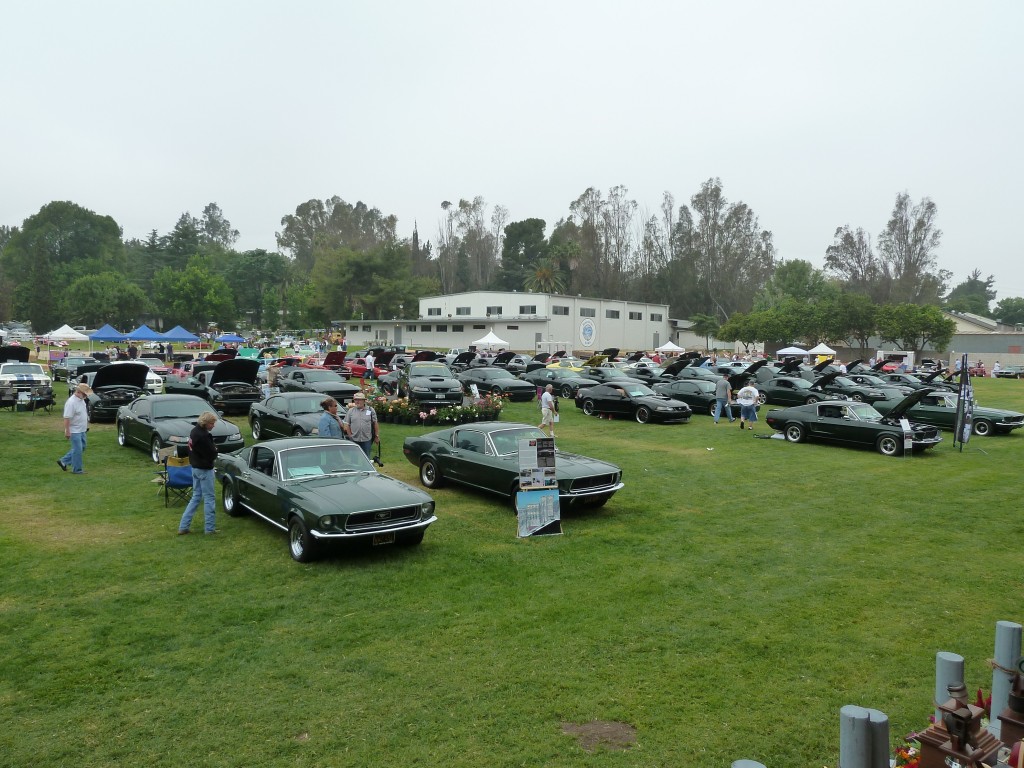 A fabulous, money-raising car show dedicated to the great McQueen and the movie Bullitt
Photography by me, and Kirk Gerbracht
In the eyes of many film fans (and countless Steve McQueen and Ford Mustang fanatics), the chase scene from the 1968 movie "Bullitt" was, is, and remains the best of its type ever filmed.
There have been some valiant challengers: the late John Frankenheimer's heart-pounding work through the streets of Paris in "Ronin"; making Minis fly in "The Italian Job" (both original and remake); and the "Seven-Ups," which involved some of the same folks who worked on "Bullitt." Let's not forget some great action driving sequences several of the Jason Bourne movies.
But when the lists are made and the bets are laid down, "Bullitt" comes out on top. Every time. In spite of a few charming continuity goofs and cameras occasionally visible in the back seat of Lieutenant Frank Bullitt's tire-smoking Mustang fastback, the scene was lauded for its authenticity and realism at the time. So much so that it garnered an Oscar win, for Film Editing. See it on a big screen today, and the views out the windshield as the Mustang and bad guys' Dodge Charger careen down San Francisco's Taylor Street will still make your stomach roll.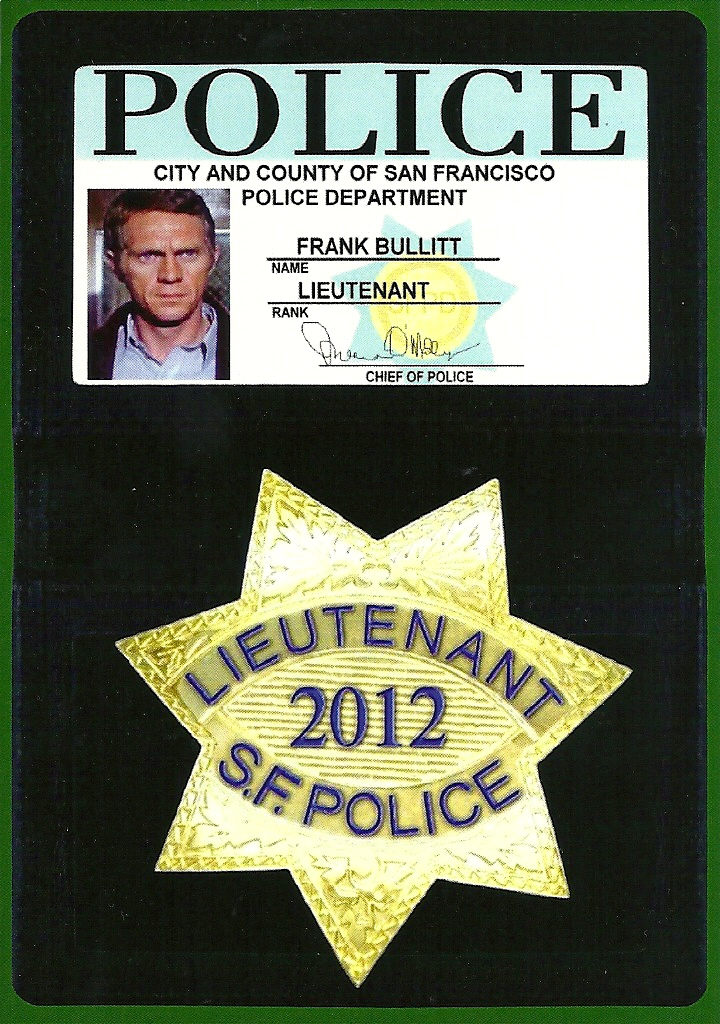 McQueen plays Frank Bullitt, a grizzled veteran investigator with the San Francisco P.D. His girlfriend is a young, nubile Jacqueline Bisset, and the reptilian politico villain is played by Robert Vaughn at his handsome and snarky best.From its earliest iterations, the script called for an "automotive action scene"; this was likely one of the reasons McQueen and his Solar Productions were involved in the first place. This actor/producer insisted on absolute realism, with no camera speedups, and of course this was long before the notion of computer-generated animation. The rest of the plot is inconsequential to this exercise.
Ford was the official car provider for the movie, the main four-wheeled characters being two 1968 Mustang GT 390s, painted that now famous shade of Highland Green Metallic. And you likely know much of the rest of the story, including two factory developed and produced Bullitt Editions that came along some years later, the first in 2001, and the most recent being 2008 and 2009 models.
Why a car show dedicated to McQueen? It's all to benefit the Boys Republic School in Chino, California. Boys Republic is a resident school founded in 1907 to help wayward boys who may have had some trouble with the law, learn good values and grow up to lead respectable lives. When Steve McQueen was a young teen, his mother basically left him on the school's doorstep, saying, "maybe you can do something with him, because I sure can't." Young Steve had bounced back and forth between his mother and an uncle's farm in the mid-west, and liberally credited Boys Republic for saving his life. After his graduation from the school, and for the rest of his life, McQueen was a big supporter of the Boys Republic, and visited often in order to meet and council the kids on the value of hard work and living a worthwhile life. McQueen's first wife Neile, and their son Chad, remain BR board members, and active supporters. Five years ago, the Porsche 356 club was looking for a place to hold its annual car show, and did so on the sprawling, ranch like grounds of the Boys Republic, setting the show up as a fundraiser for the school, and dedicating it to McQueen, he himself an avid Porsche racer and 356 Speedster 1600 Super owner.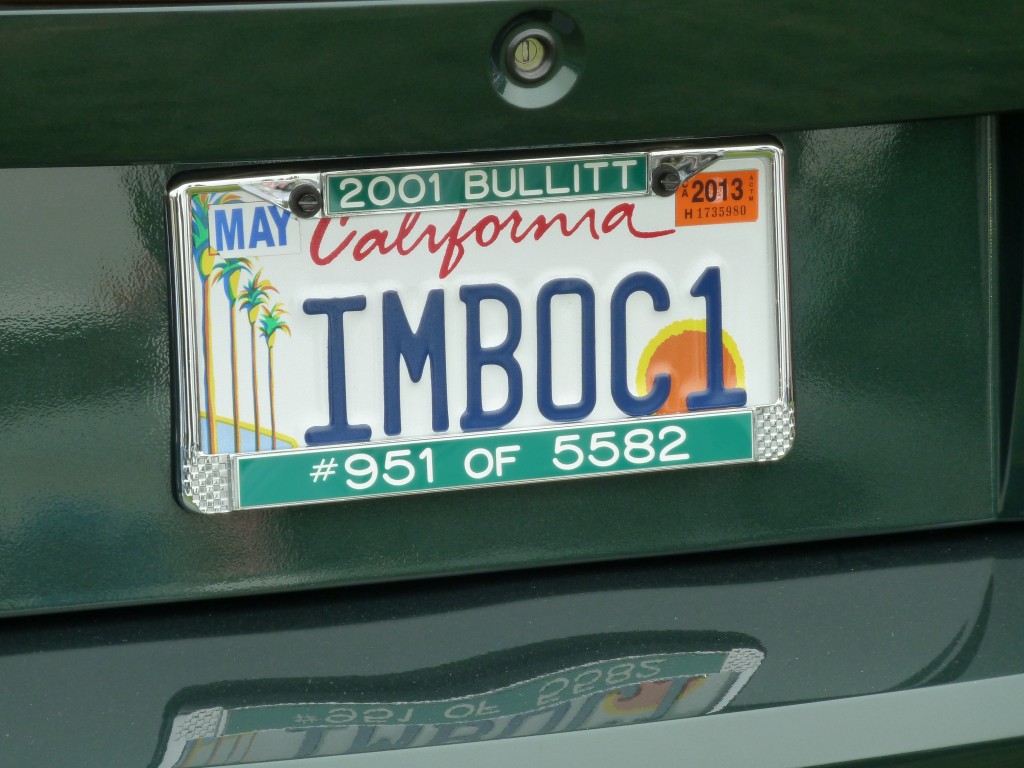 The show has grown in scope and stature over the last several years, and for 2012, the show connected with members of IMBOC – the International Mustang Bullitt Owner's Club – dedicated to those '01, '08 and '09 factory models, plus clones and tributes to that original '68 GT390 fastback from the film. Needless to say, the field was awash in Highland Green Metallic; with hundreds of Bullitt model Mustangs coming from all around North America to populate the show. It wasn't just Bullitt Mustangs, however, as the field included an impressive array of other Mustang and Ford models, racecars, Porsches, black '68 Dodge Chargers, and you name it. Several of McQueen's own machines where there, including a couple pickups he owned back in the day, plus a fabulous 1953 Hudson Hornet sedan he bought in the mid-70s and still owned at the time of his passing in 1980.
IMBOCer Steve Brant drove his '08 Bullitt Mustang all the way out from Chicago; Brant is selling his car (a nice example with 32,000 miles on the clock) for $20,000, donating $10,000 of the proceeds to the school. And BTW, the car sold on eBay immediately following the show and Brand made good on his request to donate twenty grand to the school.  Brant has a new 2013 420-horse 5.0-liter GT on order from Ford, and plans to repaint it and otherwise fit it up Bullitt style.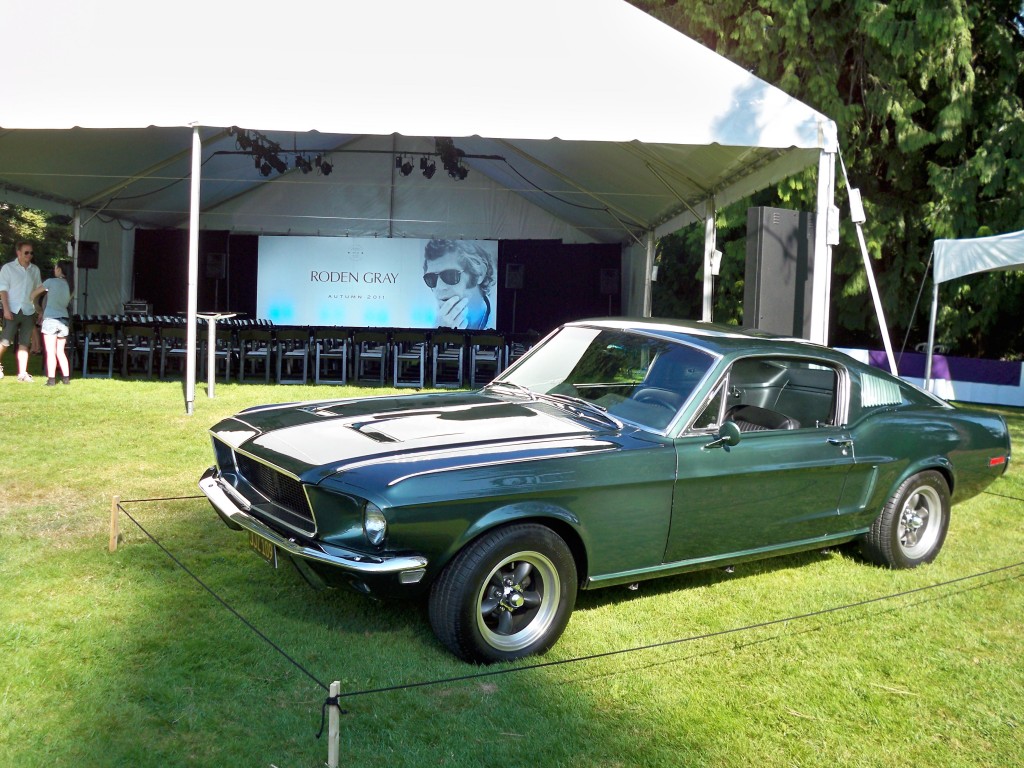 Glen Kalmack drove his fabulous and accurate '68 Bullitt movie clone down from British Columbia, hooking up with another group of IMBOC members in Northern California.
Few trailer queens here; these folks drove 'em out and drove 'em home. Chad MqQueen also owns a fine, Dynacorn-bodied '68 Bullitt tribute car, and one of the very first production 2008 Bullitt-Edition models. The '68 was mounted on a metal plinth next to the show field stage. One of Chad's main pursuits in life is to honor, protect, and preserve his father's legend and legacy, and McQueen the Younger, himself a committed automotive, racing, and motorcycling enthusiast, strolled the field most of the day, posing for photos, autographing Mustangs, and generally hanging out with the participants who came out to support the school.
Chad's oldest son Steven R. McQueen is a working actor (starring in cable television's The Vampire Diaries series) cruised around the field in a dark green, prototype Steve McQueen edition Triumph motorcycle currently undergoing product development with an eye toward limited production.
Next year's Friends of Steve McQueen Car Show will be dedicated to the McQueen classic film, "The Great Escape." The date is June 1, 2013, and you can stay on top of its progress at www.SteveMcQueenCarShow.com, and learn more about the school at www.boysrepublic.org. All credit and thanks to the Ford enthusiasts and IMBOC members who helped make this year's show such a success, raising well over $100,000 to benefit Boys Republic. For many who attended it was living the dream: A long road trip in a Mustang; a warm weekend in sunny So Cal, and hanging out with their friends with the McQueen family. This would be the time to mark your calendar for June 1, 2013, as all committed McQueen fans should again be planning their early summer vacation in Chino Hills, California.
Lots more photos below – please don't leave yet.