[double click on any image to see it full screen]
One of my very favorite automotive happening is, (sorry) happening this coming weekend.  The Friends of Steve McQueen Car and Motorcycle Show is a great show with something(s) for everyone, recognizing and honoring an iconic guy and his films, and in charity benefit of a more than worthy cause.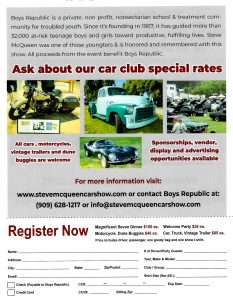 Lots going on for everyone in the family, and and for car people of all tastes, raising a ton of money so wayward kids grow up right, learn skills, and get a decent shot at a good life.  Ticket prices are cheap, and I promise you'll see things you enjoy.  Plus the Boys Republic facility in Chino Hills, California, is fascinating in and of itself, with free student led tours of the property.
Links below…
Steve McQueen Car Show (ford.com)