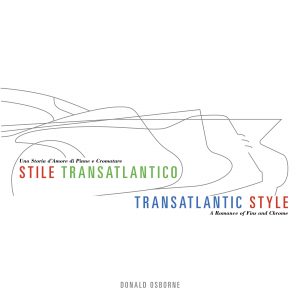 I'm an automotive design junkie.  Of course there's more to cars than just looks, but styling and design are what sets forth a car's persona.  I'ts what makes them fabulous, beautiful, elegant, sexy, proportioned, pretty, muscular — or disproportionate, unattractive, and in the odd case, downright ugly.  It's been said that any of us automotive writer/journalist/TV types like me are only frustrated automotive designers (or product planners) that can't draw, or couldn't pass the most basic engineering class.
In my case, both are likely true.  I can't draw, sketch, draft, or color my way out of a paper bag.  But I love the art, craft, skill, and discipline of great automotive (and in fact most types of) design.  And I really admire those who can do it well.  Which is why so many of my friends are designers, and I've always loved writing about design, concept cars, and great design houses and coachbuilders.  My 1000-plus book library contains more than a few automotive design books, but I've recently read a newish one that will forever have a spot on my bookshelf.
It rightly earns a name in two languages, one being Transatlantic Style, the other Stile Transatlantico, the latter being the Italian of the former.  You know Donald Osborne, hopefully from his gifted writings in a number of books and magazines, but also as a superb automotive appraiser and evaluation specialist, if not from his TV stints on "What's My Car Worth?" to his more current gig "Assess and Caress" with Donald Osborne on Jay Leno's Garage.  If you aren't familiar with Mr. Furman, suffice it to say he's one of the most talented guys to ever point a camera at a car; his automotive photography is absolute art, and has been the foundation of many books, museum exhibit programs, magazine articles, and galleries.  Two extremely thoughtful, talented guys who have in this fabulous tome focused their efforts on the relationships and cross pollination that has taken place over time between the design philosophies and languages developed and invoked by American automotive designers and carmakers, and their counterparts in Europe, particularly Italy, particularly since WWII,
Think tailfins are the exclusive invention of 1950s Cadillac?  Not even; Google up some images of the Fiat Turbina or the Cisitalia Aerodynamica (above).  Take a look at the eggcrate grille designs of so many Ferraris and Alfas, and compare them to the noses of early 50s Chrysler Imperials and 300s — think these guys weren't looking at each others sketchbooks?  Everyone tends to associate "portholes" in front fenders as a strictly Buick design touch, but scan photos of so many Maseratis, and you'll see that not to be the case.
The thoughtful and eloquent Osborne dives deep into all of these issues, who influenced whom, who may have outright copied, who was inspired by the work and products from the other side of the Atlantic (that's where Transatlantico comes in).
The production qualities, paper stock and presentation of this book, alone make it worth its price.  It's nearly 300 pages, each a foot square, of hardbound magic weighing several pounds.  Besides Osborne's superlative narrative, the illustrations are a compelling combination of archival photos, drawings, and illustrations, plus of course many dozens of current images by Furman.
Corrado Lopresto and Lawrence Auriana, two of the world's leading collectors of Italian cars, combined with Osborne's New York Times-style storytelling, fascinating case studies and the stunning photography by Furman,
This is a book to get seriously lost in, and is worth its investment if you're as passionate about this topic as I am.
A beautiful, large-format hardcover book, Stile Transatlantico / Transatlantic Style: A Romance of Fins and Chrome, is available for purchase through its publisher at CoachbuiltPress.com, on Amazon.com and leading automotive booksellers around the world. It is written in both English and Italian. The standard book price is $100 and, for $450, one of 50 numbered special editions may be purchased, offering a unique hardbound cover, plastic slipcase and tip-in page with the signatures of author Donald Osborne and photographer Michael Furman.
This magnificent book also spawned a current exhibit at the world famous Blackhawk Museum in Danville, California, called Transatlantic Style: a Romance of Fins and Chrome July 8 – September 30, and offers a Rare Opportunity to Witness the Jet-age Cars that Forever Changed Modern Automotive Design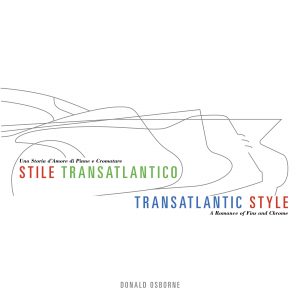 Visit  http://www.coachbuiltpress.com/transatlantic-details.html to look inside and purchase online.
My thanks to Donald Osborne, Michael Furman, Corrado Lopresto, Lawrence Auriana and the Blackhawk Museum for the use of the photos contained in this post. — MS