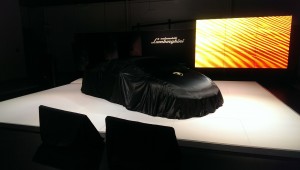 Lamborghini is working hard to become a real grown up car company.  That doesn't mean that it'll begin producing little econobox cars by the tens of thousands, and I don't expect the company will lose its sense of humor, whimsy, or slightly radical approach to exotic Italian car manufacture.  But Lamborghini is actively remodeling and improving its physical plant, and fleshing out its model line up.  No matter, I'm convinced that Lamborghini will always remain the bad boys among Italian exotic carmakers.
The newest edition is a rear wheel drive only version of the ten cylinder Huracan.  Recall that the Huracan models currently in production (coupe and roadster) feature all wheel drive, which in a crazy fast mid-engined car is usually a good thing.  Lamborghini's engineers are masterful at tuning the awd to help the car turn in crisply and stay stuck to the road, offering high cornering limits and a neutral handling attitude.  But some drivers just prefer the chance to kick the tail out a bit, and enjoy some oversteer, so now they'll be able to do that with the Huracan LP580-2, which in not so many words means 580CV (which to you and I translates to 572 horsepower) and rear drive only.  There are some modest styling retouches, still yielding a magnificently aggressive and well realized design.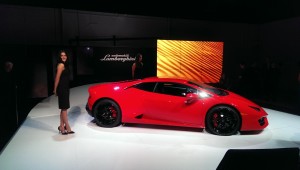 Lamborghini rolled out its latest rocket at a private off site launch party in Culver City, California a few nights ago.  I was there, and it was a special night for sure.  As is fashionable for such things, the company rented a large, warehouse style warehouse style photo studio and fitted it up night club style which made for a dramatic reveal for sure.  Lamborghini president and CEO Stephan Winkelmann and several members of his executive team flew in from Italy just for this event.  I've had the privilege of long and interesting conversation with this smart, elegant, well spoken, and entirely professional executive, and as always his presentation was brief, and absolutely on point, but filled with fact and information, never fluff.
The company will set a personal best sales record for 2015 with about 3000 units sold…a long and far cry from the days when, in between bankruptcies, takeovers and reorganizations, the company, for many years, limped along producing a few hundred cars a year, and never profitable in doing so.  Now as a member of the Volkswagen worldwide group of automotive brands, Lamborghini has engineering and purchasing power that founder Ferruccio Lamborghini could have never dreamed of.   No matter, early this year the company announced that it will come to market with a super luxury, super performance sport utility vehicle to be named Urus; some concept renderings have been shown but we haven't yet seen a prototype or concept vehicle.  This means a doubling in size of the company HQ and factory property in Italy.  Dr. Winkelmann and I spoke briefly about this subject, and he said that he expects total company output to climb to around 5000 units annually with the addition of this third model line (along with the current 12- cylinder Aventador models and the now expanded Huracan range); I think this output level makes sense for this brand and cautioned Mr. Winkelmann not to get carried away with too aggressive a production target, to which he replied that he has no such plan, and that exclusivity is a critical element of the Lamborghini brand.  Like I said, this guy is smart.
The LP580-2 is structurally and architecturally similar to the other Huracan models, sans the weight and complication of an awd system.  The hybrid aluminum and composite frame structure is retained, and the bodywork is also of aluminum and various composites.  The V-10 is 5.2 liters, at 90 degrees, with four valves per cylinder and a compression ratio of 12.7:1.  Output, again is 572 horsepower and 397 pounds-feet of torque.   There's only one transmission offered or needed, that being a 7-speed dual clutch sequential manual gearbox.  It's a fairly large car at 175.55 inches long on a 103.15 inch wheelbase, checking in at about 3062 pounds, according to Lamborghini.
All this numbo jumbo translates to one crazy fast machine, running 0-60 in 3.3 seconds, hitting 125 in about ten seconds, and a projected top speed of 199 mph.  Yeoh……….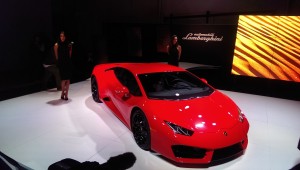 No mention of price just yet, but it won't be cheap.  And nobody outside of Lamborghini has driven it yet, and I'm anxiously awaiting my turn at the wheel of this newest raging bull.  I'll report back to you once I've been there.