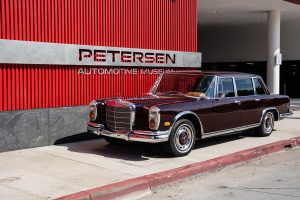 Some great news about my Happy Place,,,
The announcement was made during a ticketed virtual ceremony on Oct. 22, 2020. This achievement marks the second time the Petersen has earned this top honor from The Historic Motoring Awards, which first began in 2011.
LOS ANGELES (Oct. 23, 2020) – The Petersen Automotive Museum has been named the 2020 Museum of the Year by The Historic Motoring Awards in a virtual ceremony. The museum earned the title by virtue of its world-class exhibits, dedication to preserving automotive history, global education initiatives, and successful pivot to digital engagement during the worldwide pandemic.

The Historic Motoring Awards honor people, cars, and institutions that best exemplify the classic car hobby. The awards are given based on nominations from the automotive industry and enthusiast public. An esteemed panel of 25 automotive luminaries selected the winners.

Although closed for the majority of 2020, the Petersen has created new and innovative programs to engage and educate a global audience of all ages, from the comfort and safety of home. Under these difficult circumstances, the museum organized the world's first digital cars and coffee events, a virtual Monterey Car Week, a digital fundraising gala, and several exclusive collection tours with preeminent enthusiasts. The museum also continues to shepherd its collection of vehicles and curate new exhibits in preparation for its reopening. New exhibits will include "Supercars: A Century of Spectacle and Speed," "Extreme Conditions," and "Redefining Performance."

"Being named Museum of the Year is a tremendous honor. Considering the challenges we have faced as an institution this year, this recognition feels even more special," said Petersen Automotive Museum Executive Director Terry L. Karges. "This award validates the creativity, hard work, and dedication of our team and the support and leadership of our board of directors. Thanks to them, our sponsors, and the passion of our community, we are excited to live up to this title year after year and to continue our work as one of the world's greatest automotive museums."

The Petersen was selected from a shortlist of several notable museums and collections: Autoworld Brussels, Brooklands Museum, The Mercedes-Benz Museum, Sammy Miller Motorcycle Museum, and Auto & Technik Museum Sinsheim. The museum was previously named Museum of the Year by The Historic Motoring Awards in 2016.

For more information about the Petersen Automotive Museum, please visit www.Petersen.org.
About Petersen Automotive Museum
The Petersen Automotive Museum Foundation is a non-profit 501(c)(3) charity. The Museum is located at 6060 Wilshire Blvd. (at Fairfax) in Los Angeles, California, 90036. For general information, call 323-930-CARS or visit 
Petersen.org
.