I apologize this site has suffered from such a lack of attention lately, but many WordPress blogs were recently hacked and messed up, mine included, which is why you haven't seen any fresh material lately, and why some of my recent posts are missing photos. But it's all fixed up, re-secured, and working once again, so sorry about that. I'll do my best to pick up the pace and back fill with lots of new materials I have on boil.  Thanks – MS
Christmas is now Christmas past (because of course 2017 is so last year) but one Christmas related story comes to mind, yes involving cars and a stratospheric car guy. And his name is Jay Leno.
Jay lives in Beverly Hills, and in 1991 he and his wife Mavis went shopping at a nearby lot for their annual Christmas tree. As you might imagine, tree lots in the 90210 zip code area carry some damn fine trees, and tend to ask some impressive prices for them. This one advertised free local delivery.  I'll paraphrase this story a bit, but trying to remember it just as Jay told it to me.
No matter, the Lenos went to this tree lot and selected their tree of choice. Upon completing payment, Jay asked about arranging delivery.  Once these tree people looked up his address, they said "oh sorry, sir, but you're outside the "local delivery" zone, so that'll be $25 more to have your tree delivered.  Whatever Jay was driving that night wouldn't accomodate the tree, so he (in so many words said) "to Hell with you, and decided to visit a nearby GMC truck dealer and buy a new truck so he wouldn't have to pay these tree lot thieves the twenty five bucks.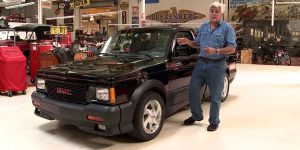 OK Jay, I get it.  Rich uber enthusiast car guys can think and do like that.
So what does he buy?  A GMC Syclone.  If you are not familiar with this all wheel drive super sport truck, you should study up on it, as it was among GM's better moments in the early 1990s.  It was based on the smaller S-10/Sonoma pickup, and only with one powertrain, but there's nothing else you'd want — The engine a turbocharged, and intercooled V-8 conservatively rated at 300 horsepower, and 350 pounds-ft of torque…easy V-8 material here.  It was only served with a 4-speed automatic trans, and only with full time all-wheel drive — absolutely necessary to have any hopes of getting that power to ground.  It got a ground effects type body kit, blender blade aluminum wheels, racy tires, and a typically cheap, gray, somewhat plasticky interior.  But who cared — it would run with an Acura NSX supercar of the day, and flip its taillights at a Ferrari 348.  0-60 in like 4.5 seconds.  Stanard cab only, and your choice of black (as most were) or red, as I recall.
Some confusingly assume this little monster pickup was running the turbo V-6 out of a Buick Grand National -but not so.  The two engines were similar in basic architecture both being turbo charged overhead valve V-6s, but they were different animals entirely.  The Buick V-6 was 3.8 liters, and the GMC's V-6 was a 4.3-liter Vortec, which shares a fair amount of its layout and some hardware with a small-block Chevy V-8, so lots of tough internals were close at hand in the GM parts bin.  The turbo was a Mitsubishi unit, and the intercooler sourced from Garrett — both outfits that know turbocharging.
Jay bought the truck, and drove it off the GMC lot and back to get his Christmas tree, and you can bet that once the tree was in the bed, it made it back to the Leno's home in record time.  Only around 3,000 Syclones were built, they were fast then, remain fast now, and Jay still has his — maybe he's saving it for tree shopping next December?
Take That!  Christmas tree gougers.