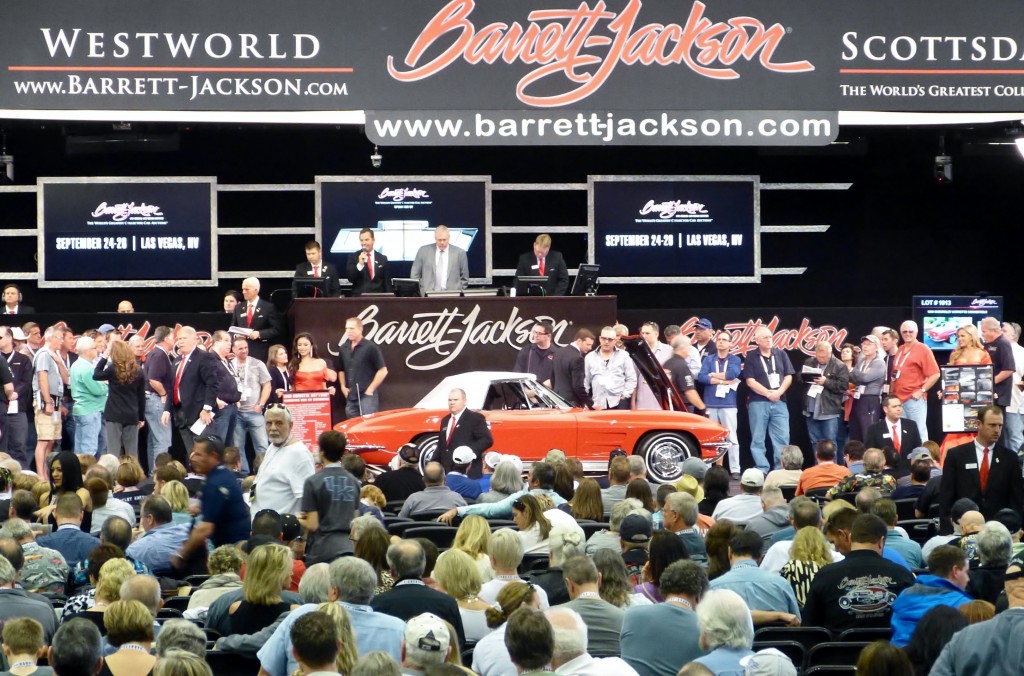 These results are tabulated by the good folks at Hagerty Collector Car Insurance, and while you may really enjoy people paying tons and tons of money for collector cars, or alternately, you may hate it, the information is always interesting to say the least.  So here's the numbers according to www.hagerty.com
I didn't make it to every sale, but most of them, so a few photos here by Kirk Gerbracht and yours true.  If you've never done auction week in Arizona, I'd suggest it for your bucket List.
Thanks…MS
Scottsdale Auction Week
January 18, 2015 (Results through January 17, 2015)
Listed below are the raw results witnessed by Hagerty during the live auctions and may not factor in any post-sale deals that have occurred.  These numbers include the appropriate buyer's premiums.
Overall through Saturday from all auction companies
Cumulative Total: $276.4M
2,304/2,687 lots sold: 86% sell-through rate
Average Sale Price: $119,946
Overall Top 10 Sales from all auctions through Saturday:
1. 1964 Ferrari 250 LM Coupe Sold For $9,625,000 (RM)
2. 1966 Ferrari 275 GTB Competizione Coupe Sold For $9,405,000 (Bonhams)
3. 1959 Ferrari 250 GT LWB California Spyder Sold For $7,700,000 (Gooding & Company)
4. 1962 Ferrari 400 Superamerica Cabriolet Sold For $4,070,000 (Gooding)
5. 1950 General Motors Futurliner Bus Sold For $4,000,000 (Barrett-Jackson)*
6. 1967 Ferrari 275 GTB/4 Coupe Sold For $3,657,500 (RM)
7. 1973 Ferrari 365 GTS/4 Spyder Sold For $3,300,000
7. 1954 Pontiac Bonneville Special Motorama Concept Car Sold For $3,300,000 (Barrett-Jackson)
9. 1966 Ferrari 275 GTB/2 Coupe Sold For $2,750,000 (RM)
9. 1984 Ferrari 288 GTO Coupe Sold For $2,750,000 (RM)
*Car sold for charity
2014 Cumulative Results through Saturday
Cumulative Total: $239.3M
2,076/2,510 lots sold: 83% sell-through rate
Average Sale Price: $115,248
Results broken down by Auction Company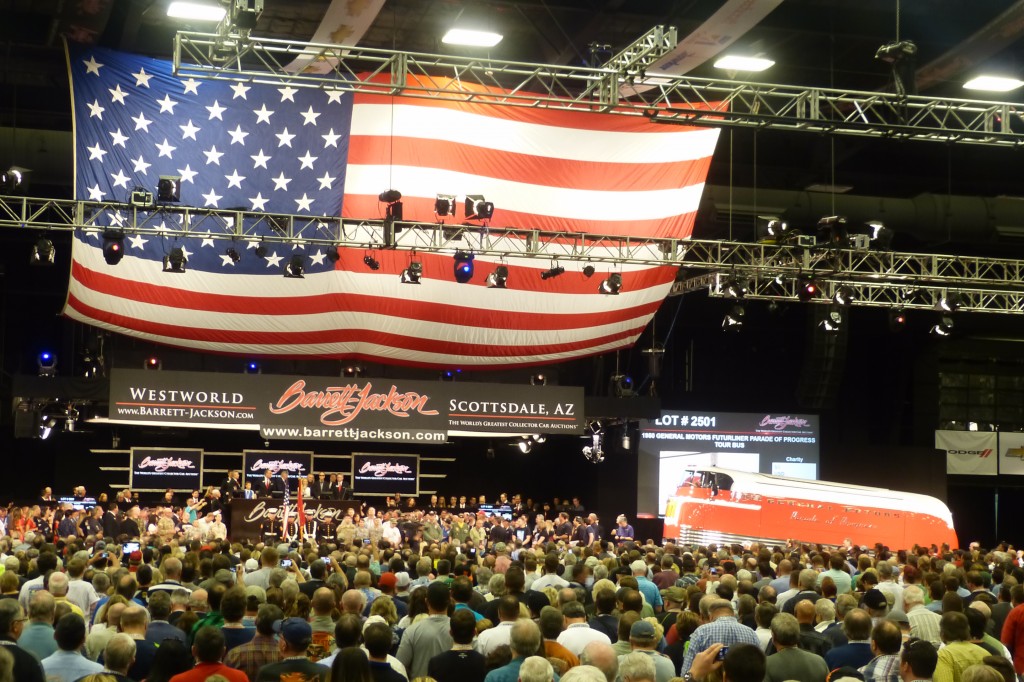 BARRETT-JACKSON
Cumulative Total through Saturday: $120.7M
1,458/1,480 lots sold: 99% sell-through rate
Average Sale Price: $82,749
Overall Top 10 Sales:
1. 1950 General Motors Futurliner Parade Of Progress Tour Bus Sold For $4,000,000*
2. 1954 Pontiac Bonneville Special Motorama Concept Car Sold For $3,300,000
3. 1949 Talbot-Lago T-26 Grand Sport Coupe Sold For $1,650,000
4. 1965 Shelby Cobra 427 Roadster Sold For $1,595,000
5. 1955 Mercedes-Benz 300SL Gullwing Coupe Sold For $1,100,000
6. 1937 Mercedes-Benz 320B Cabriolet Sold For $1,045,000
7. 2016 Shelby Mustang GT350 Coupe Sold For $1,000,000*
8. 2015 Chevrolet Corvette Z06 Convertible Sold For $800,000
9. 2015 BMW M5 Sedan Sold For $700,000
10. 1936 Delahaye "Whatthehaye" Street-Rod Sold For $671,000
*Car sold for charity
Saturday total: $51.6M
258/280 lots sold: 92% sell-through rate
Average Sale Price: $200,164
Top 10 Saturday Sales:
1. 1950 General Motors Futurliner Parade Of Progress Tour Bus Sold For $4,000,000*
2. 1954 Pontiac Bonneville Special Motorama Concept Car Sold For $3,300,000
3. 1949 Talbot-Lago T-26 Grand Sport Coupe Sold For $1,650,000
4. 1965 Shelby Cobra 427 Roadster Sold For $1,595,000
5. 1955 Mercedes-Benz 300SL Gullwing Coupe Sold For $1,100,000
6. 1937 Mercedes-Benz 320B Cabriolet Sold For $1,045,000
7. 2016 Shelby Mustang GT350 Coupe Sold For $1,000,000*
8. 1936 Delahaye "Whatthehaye" Street-Rod Sold For $671,000
9. 1991 Ferrari F40 Coupe Sold For $638,000
10. 2005 Ford GT Coupe Sold For $605,000
*Car sold for charity
2014 Results through Saturday
Cumulative Total: $100.9M
1,246/1,255 lots sold: 99% sell-through rate
Average Sale Price: $80,942
BONHAMS
Overall total: $24.8M
73/84 lots sold: 87%
Average Sale Price: $340,058
Overall Top 10 Sales:
1. 1966 Ferrari 275 GTB Competizione Coupe Sold For $9,405,000
2. 1955 Mercedes-Benz 300SL Gullwing Coupe Sold For $1,375,000
3. 1958 Mercedes-Benz 300SL Roadster Sold For $1,237,500
4. 1964 Shelby Cobra 289 R&P Roadster Sold For $1,017,500
5. 1957 Mercedes-Benz 300SL Roadster Sold For $902,000
6. 1969 Ferrari 365 GTB/4 Coupe Sold For $748,000
7. 1938 Bugatti Type 57 Roadster Sold For $671,000
8. 1914 American Underslung 646 5-Passenger Touring Sold For $528,000
9. 1953 Mercedes-Benz 300S Coupe Sold For $511,500
10. 1948 Automobile Shippers Special Indy Roadster Sold For $473,000
Overall 2014 Results for comparrison
Total: $23.5M
86/101 lots sold: 85% sell-through rate
Average Sale Price: $272,890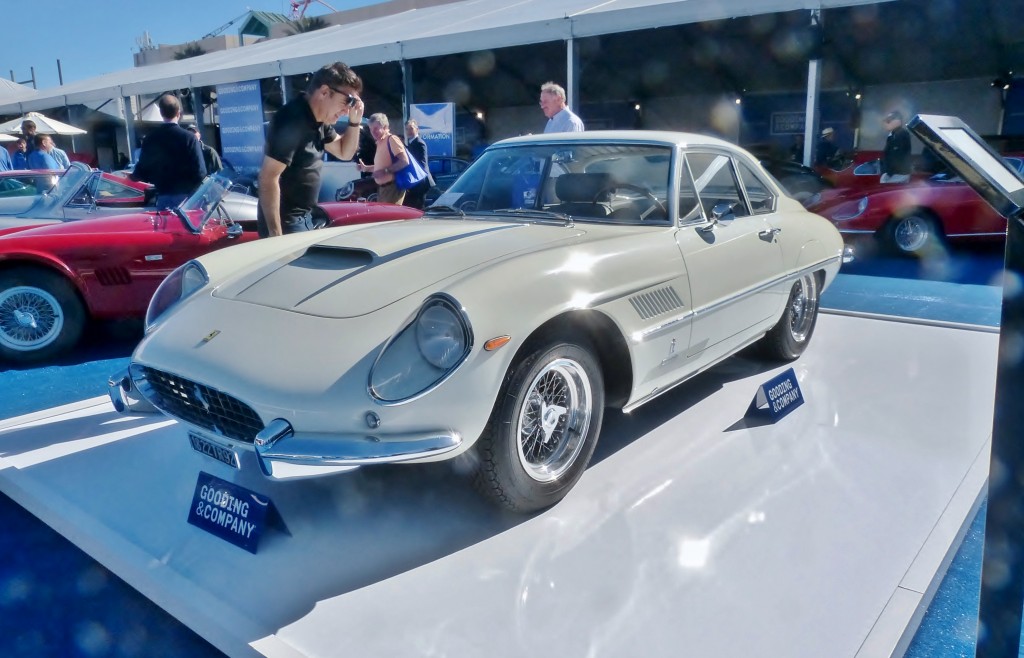 GOODING & CO
Overall Total: $51.5M
114/126 lots sold: 91% sell-through rate
Average Sale Price: $451,900
Overall Top 10 Sales:
1. 1959 Ferrari 250 GT LWB California Spyder Sold For $7,700,000
2. 1962 Ferrari 400 Superamerica Cabriolet (closed headlight) Sold For $4,070,000
3. 1968 Ferrari 330 GTS Spyder Sold For $2,420,000
4. 1966 Porsche 906 Carrera 6 Coupe Sold For $1,980,000
5. 1963 Ferrari 250 GT Lusso Coupe Sold For $1,925,000
6. 1959 BMW 507 Roadster Sold For $1,815,000
7. 1988 Porsche 959 Sport Coupe Sold For $1,705,000
8. 1965 Ferrari 275 GTS Spyder Sold For $1,595,000
9. 1960 Mercedes-Benz 300SL Roadster Sold For $1,567,500
10. 1964 Shelby Cobra 289 R&P Roadster Sold For $1,155,000
10. 1970 Lamborghini Miura P400 S Coupe Sold For $1,155,000
Saturday total: $26.2M
58/62 lots sold: 94% sell-through rate
Average Sale Price: $451,735
Top 10 Saturday Sales:
1. 1962 Ferrari 400 Superamerica Cabriolet (closed headlight) Sold For $4,070,000
2. 1968 Ferrari 330 GTS Spyder Sold For $2,420,000
3. 1966 Porsche 906 Carrera 6 Coupe Sold For $1,980,000
4. 1988 Porsche 959 Sport Coupe Sold For $1,705,000
5. 1960 Mercedes-Benz 300SL Roadster Sold For $1,567,500
6. 1970 Lamborghini Miura P400 S Coupe Sold For $1,155,000
7. 1964 Shelby Cobra 289 R&P Roadster Sold For $979,000
8. 1936 Auburn 852 Supercharged Boattail Speedster Sold For $770,000
9. 1973 Ferrari 365 GTB/4 Daytona Coupe Sold For $698,500
10. 1968 Lamborghini 400 GT 2+2 Coupe Sold For $682,000
Overall 2014 Results for comparison
Total: $48.9M
109/117 lots sold: 93% sell-through rate
Average Sale Price: $448,730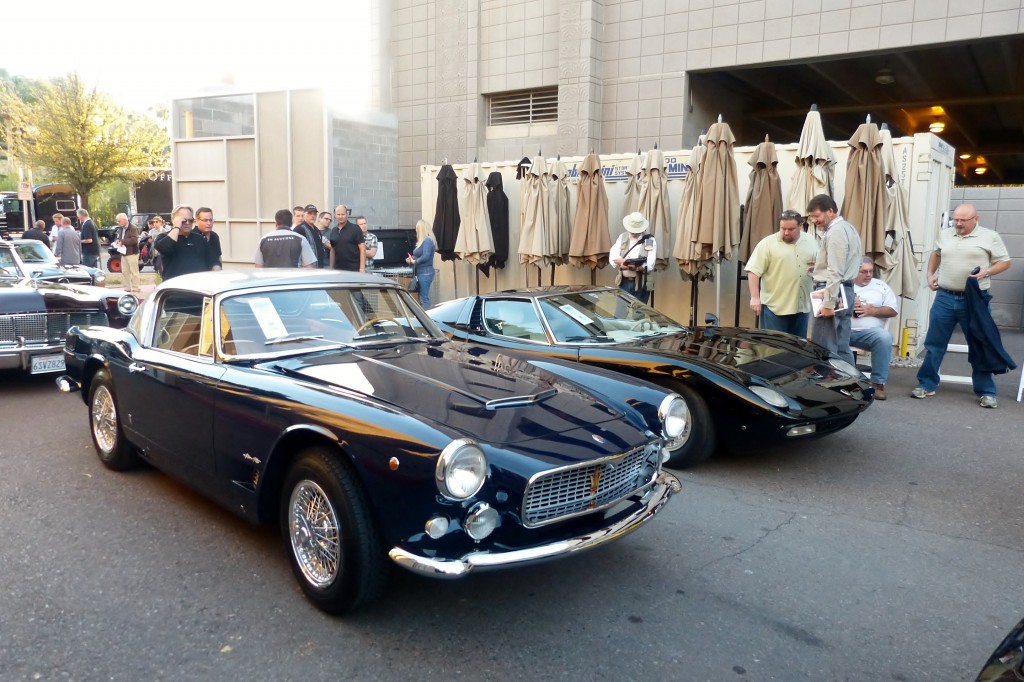 RM Auctions
Overall Total: $59.8M
104/123 lots sold: 86% sell-through rate
Average Sale Price: $574,863
Overall Top 10 Sales:
1. 1964 Ferrari 250 LM Coupe Sold For $9,625,000
2. 1967 Ferrari 275 GTB/4 Coupe Sold For $3,657,500
3. 1973 Ferrari 365 GTS/4 Daytona Spyder Sold For $3,300,000
4. 1966 Ferrari 275 GTB/2 Longnose Coupe Sold For $2,750,000
4. 1984 Ferrari 288 GTO Coupe Sold For $2,750,000
6. 1966 Ferrari 275 GTS Spyder Sold For $2,365,000
7. 1971 Lamborghini Miura P400 SVJ Coupe Sold For $1,897,500
8. 1962 Ferrari 250 SII Cabriolet Sold For $1,705,000
9. 1965 Porsche 904 Carrera GTS Coupe Sold For $1,650,000
10. 2005 Ferrari FXX Evoluzione Coupe Sold For $1,622,500
2014 Results for comparison
Total: $45.6M
108/126 lots sold: 86% sell-through rate
Average Sale Price: $421,884
RUSSO AND STEELE
Cumulative Total through Saturday: $16.1M
337/550 lots sold: 61% sell-through rate
Average Sale Price: $47,728
Overall Top 10 Sales:
1. 1957 Mercedes-Benz 300SL Roadster Sold For $1,430,000
2. 1969 Chevrolet Camaro COPO Sport Coupe Sold For $335,500
3. 1970 Ford Mustang Boss 429 Sportsroof Sold For $330,000
4. 1974 Porsche 911 Carrera 2.7 Coupe Sold For $302,500
5. 1957 Porsche 356 Speedster Sold For $286,000
6. 1970 Plymouth Cuda Hemi Hardtop Coupe Sold For $247,500
7. 2001 Prevost XL Sold For $206,250
8. 1959 Echidna Chassis #2 Roadster Sold For $162,800
9. 1937 Cord 812 Sportsman Cabriolet Sold For $151,250
10. 1953 Jaguar XK120 Roadster Sold For $143,000
Saturday total: $8.4M
99/171 lots sold: 58%
Average Sale Price: $85,275
Top 10 Saturday Sales:
1. 1957 Mercedes-Benz 300SL Roadster Sold For $1,430,000
2. 1969 Chevrolet Camaro COPO Sport Coupe Sold For $335,500
3. 1970 Ford Mustang Boss 429 SportsRoof Sold For $330,000
4. 1974 Porsche 911 Carrera 2.7 Coupe Sold For $302,500
5. 1957 Porsche 356 Speedster Sold For $286,000
6. 1970 Plymouth Cuda Hemi Hardtop Coupe Sold For $247,500
7. 2001 Prevost XL Sold For $206,250
8. 1959 Echidna Chassis #2 Roadster Sold For $162,800
9. 1937 Cord 812 Sportsman Cabriolet Sold For $151,250
10. 1953 Jaguar XK120 Roadster Sold For $143,000
2014 Results through Saturday for comparison
Cumulative Total: $17.3M
348/580 lots sold: 60% sell-through rate
Average Sale Price: $49,829
SILVER
Cumulative Total through Saturday: $3.5M
218/324 lots sold: 67%
Average Sale Price: $16,039
Overall Top 10 Sales:
1. 1956 DeSoto Firedome Convertible Sold For $85,320
2. 1966 Chevrolet Corvette 427 Coupe Sold For $82,080
3. 1997 Lamborghini Diablo Sold For $71,280
4. 1931 Packard Standard 8 Convertible Sold For $64,800
5. 1969 Chevrolet Corvette Coupe Sold For $60,480
6. 1975 Porsche 911 Sold For $59,940
7. 1932 Ford Hi-Boy Roadster Sold For $56,160
8. 1967 Chevrolet Chevelle 396/325 Hardtop Coupe Sold For $52,380
9. 1969 Chevrolet Camaro Z/28 Sport Coupe Sold For $48,600
10. 1956 Chevrolet Bel Air Sport Coupe Sold For $44,280
Saturday total: $2.0M
110/160 lots sold: 69%
Average Sale Price: $17,994
Top 10 Saturday Sales:
1. 1956 DeSoto Firedome Convertible  Sold For $85,320
2. 1966 Chevrolet Corvette 427 Coupe Sold For $82,080
3. 1997 Lamborghini Diablo Sold For $71,280
4. 1931 Packard Standard 8 Convertible Sold For $64,800
5. 1969 Chevrolet Corvette Coupe Sold For $60,480
6. 1975 Porsche 911 Sold For $59,940
7. 1967 Chevrolet Chevelle 396/325 Hardtop Coupe Sold For $52,380
8. 1951 Chevrolet 3100 Pickup Sold For $43,200
9. 1952 Chevrolet Custom Sold For $38,880
10. 1955 Ford Fairlane Sunliner Convertible Sold For $35,100
2014 Results for comparison
Total: $3.1M
179/331 lots sold: 54%
Average Sale Price: $17,414