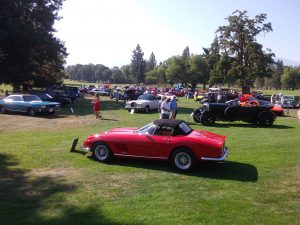 Photos by me and courtesy Kirk Gerbracht;
click any photo to see it full screen in high res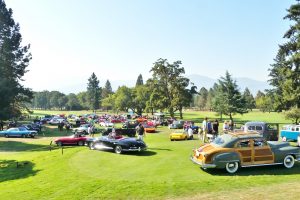 Now in its third year, the Gathering at the Oaks car show is becoming a meaningful force in the Southern Oregon classic and collector car scene.  It's a very egalitarian event, offering something of motoring interest to anyone attending; including heavy classics, big game Ferraris, rods, restomods, racers, motorcycles, and more, from the highest quality concours restorations to unrestored original survivors.  With something just under 100 entrants on display, the field ranged in age from the early 1900s to 2021.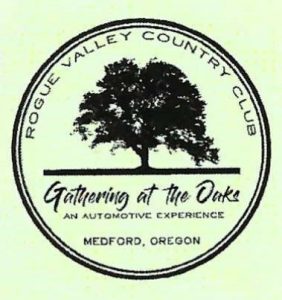 The Gathering at the Oaks is held at the sprawling, comfortably scenic Rogue Valley Country Club in Medford Oregon, just 30 or so miles north of the Oregon/Cali border.  It is somewhat amazing that last year's Gathering even took place: the nearly overwhelming confluence of pre-vaccine Covid and massive fires that burned several nearby suburbs to the ground came dangerously close to ruining, cancelling, or postponing the event.  Luckily, the smoke had largely died down; most attendees wore their masks, and Gathering 2020 happened last September.  The show and club charged no specific admission fee, and took no profits – instead passing the fireman's boots around to collect donations for fire victims' relief – class move, as something more than fifty grand was raised and donated.
For 2021, because of yet more fires in Northern California and in Oregon, there were tinges of smoke smell in the air, yet local impact was minimal, and the show was on from the Get Go.  The skies were clear and entrants and attendees were anxious to get out and enjoy each other, and their cars.  A few particularly meaningful entries included Medford Oregon's Joe Davis' 1922 torpedo tailed Ford Indy Racer which enjoyes a unique connection to the late great Sir Stirling Moss, in that the latter's father, Alfred, raced this car in the 1924 Indianapolis 500 – starting 20th and finishing 16th.  No museum piece this, Davis drives the Winfield equipped four-banger powered Ford actively and with vigor, and claims that it's participated in 25 vintage racing and rally events over the last eight years, clocking up more than 4000 miles.  Plus a pair of great Ferraris, one Daytona plus an elegant 275 Spider.
Happen to like Fords?  Sure, plenty of that on hand; a fabulously red, restored, and mildly rodded deTomaso Pantera with a claimed 600-plus horse stroker 408 inch Cleveland V-8.  Plus two nouveau Cobras, one a Shelby authorized alloy bodied continuation Big-block, the other a Superformance Mk III – not original, authentic period Cobras, but crowd pleasers no matter.  On the fast but subtle side was an uber rare '67 Cougar GT; crisp in Silver over black, running its original four-barrel 390 FE Big-block and rare bench seat.  Three other Mustangs, including a dazzlingly built supercharged Coyote power '67 Mustang restomod.  Speaking of subtle, the '59 Ford Galaxy Fairlane 500 2-door sedan was handsome and resplendent in its original and immaculate white and coral two-tone paint.
Interestingly, there were two Lincolns on the field this day, both with V-12 engines.  The eldest was a Judkins bodied 1935 Model K 6-passenger sedan in rich maroon; restored an amazing 35 years ago, still looking fresh.  The other a 1948 Continental coupe in a soothingly elegant light metallic green that shows modest signs of use and enjoyment, yet still looked sharp and in high quality driver condition.  Seeing this magnificent, virtually handbuilt Lincoln reminded us that Lincoln used to produce "cars" and not exclusively SUVs as is the case today – time, tastes, customer desires, and company leadership evolves, ebbs and flows with the years and generations.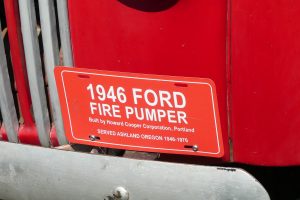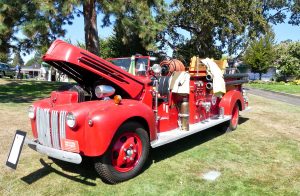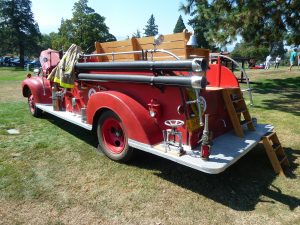 Favorite Ford?  Oh that's easy — entry #26, a 1946 Ford truck based fire engine.  This hardworking pumper spent its career in service of the nearby Ashland, Oregon Fire Department.  Due to an unfortunate bridge collapse, it spent considerable time underwater in a local river; it was ultimately rescued and resuscitated back to life.  Much of the original paint and bodywork remains, as the restoration was sensitive in what was fixed, redone or replaced with the intent of preserving as much originality as possible.   In the 70s, the previously forlorn and retired Howard Cooper Corp bodied machine was temporarily pressed back in to service, when the local department found itself a bit shy on equipment resources.  Given the potential mass and devastation of a modern blaze, it's hard to imagine its 100 gallon tank could handle too much more than a campfire; no matter, the big red rider looked great, replete with ladders, helmets and firesuits, and kids of all ages were encouraged to hop into the driver's seat test out the siren.  Charming, and good fun.
Judging is a pretty low key aspect of this event – this year limited to a People's choice prize, and a Best of Show as selected by a small committee among the organizers.
Plans are already underway for Gathering at the Oaks V4.0 and if you plan to be travelling in Southern Oregon next fall, it's a hit, not a miss.
Please don't leave — more photos below…