LOST DETOMASO ZONDA CONCEPT POWERED BY FORD – WITH A TWIST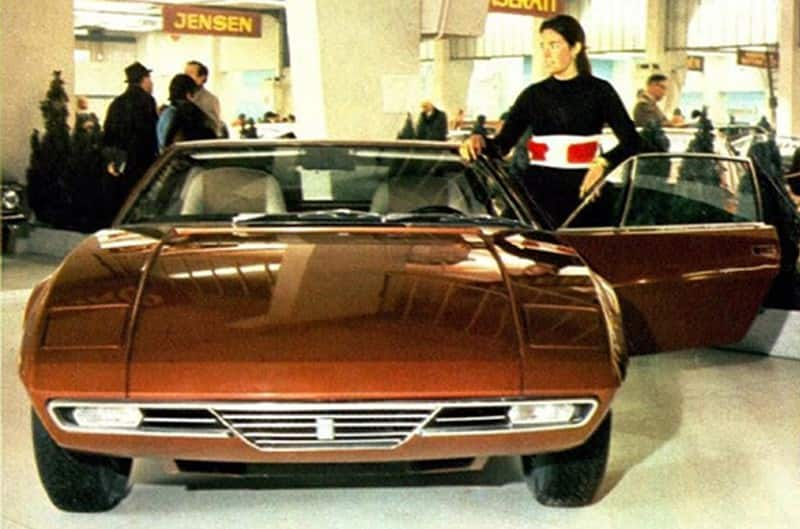 Most enthusiasts will remember Italy's deTomaso Automobili (later deTomaso Modena) as producer of the Pantera in joint venture with Ford from 1971-74. This relatively small specialty carmaker had other models too, relying mostly on Ford engines for power. Even though Alejandro (Italianized as Allessandro) deTomaso tried to develop a wide variety of his own powerplants, both for deTomaso racing cars and street exotics, all production deTomasos ran relatively conventional versions of familiar Ford engines. Even deTomaso's first production model, the jewel like, mid-engined Vallelunga (named after an Italian race track) was powered by a Ford 1600cc Kent I-4, as was the brand's handsome and successful F3 racer of 1964.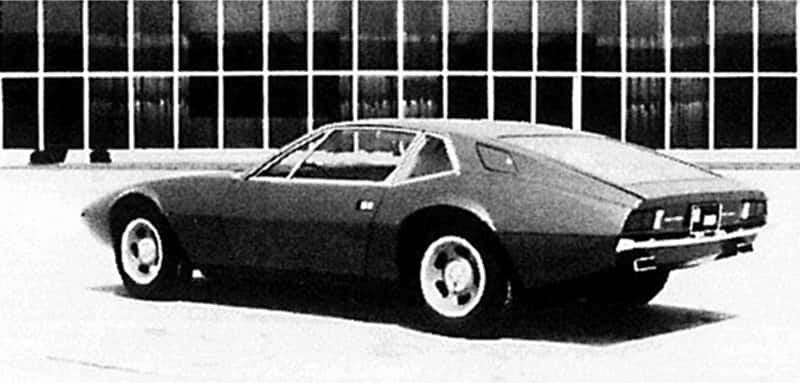 During the early 70s, it was difficult for any brand to survive, much less prosper and grow, producing only one model. So Mr. deTomaso set Ghia designer Tom Tjaarda (who penned the Pantera) loose on a variety of models. They were the Longchamp V-8 luxury sport coupe, the Deauville luxury sport sedan (which strongly resembles a first-generation Jaguar XJ6), plus one concept that never made it to production, called Zonda. All of these are front-engined, V-8 powered designs.
Look at the other exotic marques from around Italy, and you'll notice that all of them produced one or more front-engined luxury gran turismo models. Ferrari had a variety of them, the star in the early '70s being the 365 GTB/4 "Daytona;" Lamborghini had the Jarama and Islero; and Maserati the gorgeous Ghibli. It's pretty clear that the latter was the inspiration for the Zonda, even though they were designed by two different men about five years apart. The Ghibli's overall size, packaging and shapes strongly recall this magnificent Maser. Hideaway headlights were very much in vogue at the time, thus both cars had them, plus a "fast" roofline ending in a neat, sloping tail. Both had lots of glass, and neat chrome bumpers and detailing. The Zonda rode on a 99.5-inch wheelbase, and was 176 inches long. The rear deck was a hatchback, and the car appears to be a pure two-seater like the Daytona, although it might have had some very tiny 2+2 seats in back.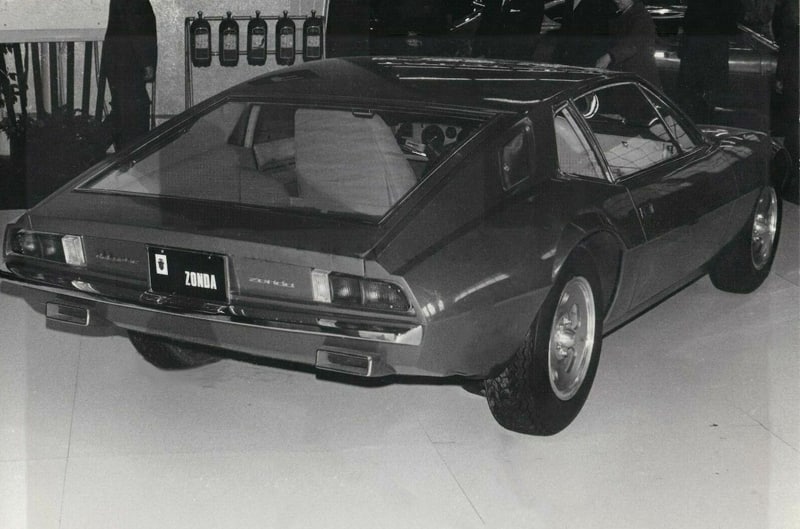 A single concept Zonda was hand-built in late 1970 and it premiered at the Geneva Motor Show in early 1971. Like the Pantera and Mangusta before it, wears a small Ghia badge; this is because deTomaso owned Ghia at the time, and Tjaarda worked there. It's likely the Zonda prototype was built at Ghia's Turin, Italy, studios as well.
Given deTomaso's consistent and near across-the-board use of the Ford 351 Cleveland V-8, most expected the Zonda to be powered accordingly, which is somewhat true — yet there was more to it. Most deTomaso models were often and wrongly criticized for running "production" all cast-iron, overhead-valve V-8s, when most of its competing carmakers designed and built their own high-winding, all or mostly aluminum, DOHC V-8s and V-12s. So deTomaso devised a way to compete, without having to develop an all-new engine from the crankcase up, which took the form of a single-overhead-camshaft head design for the Cleveland that would be seen as more exotic and potentially be a bit revvier than the standard OHV models. It's said that Lotus helped engineer this new upper-engine design, and that the still 5.7-liter engine was to be rated at 350 horsepower. It's likely that if deTomaso could have finished developing, and productionized the engine's design, it would have also found its way into the Pantera and other deTomaso production models.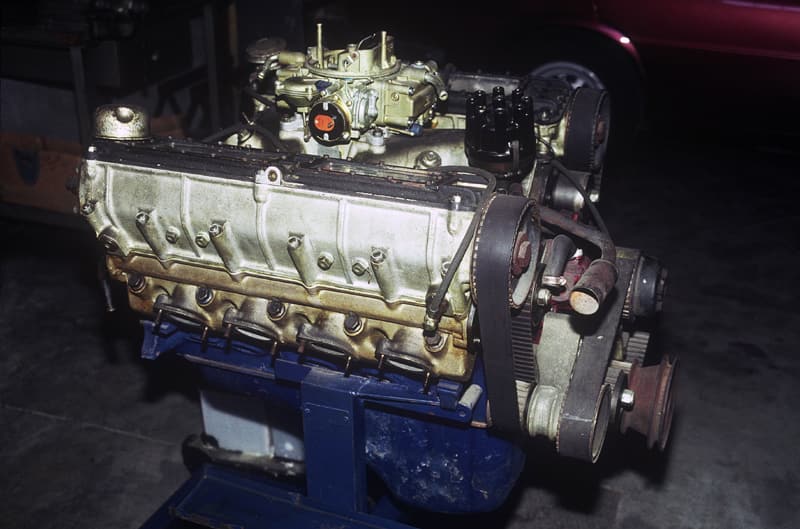 For reasons unknown, the engine, like the Zonda, never won approval for production development. This is a pity in that this elegant coupe would have been a worthy competitor for the Ferrari, Maserati and Lamborghini models mentioned above. It wasn't until many decades later that Ford got into the SOHC V-8 swing of things, when the 4.6-liter and 5.4-liter Ford "Modular" engine line came about in 1990.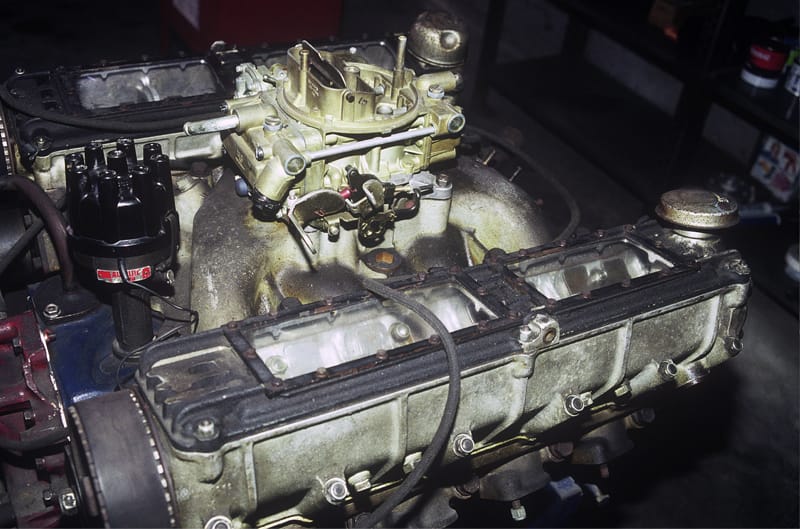 One thing is for certain is that Ford executives and designers took a good long, hard look at the Zonda, perhaps while evaluating its production viability or future. The car appeared and was photographed at the Ford Design Studio courtyard on July 14, 1971. One should take note of the cars surrounding it there, which may have had something to do with the design review, or not, as they could have simply been parked there for other reasons. Among them are a '65 Mustang GT, a Ford Pinto, and a Datsun 240Z.  Hmmm . . . one can only wonder.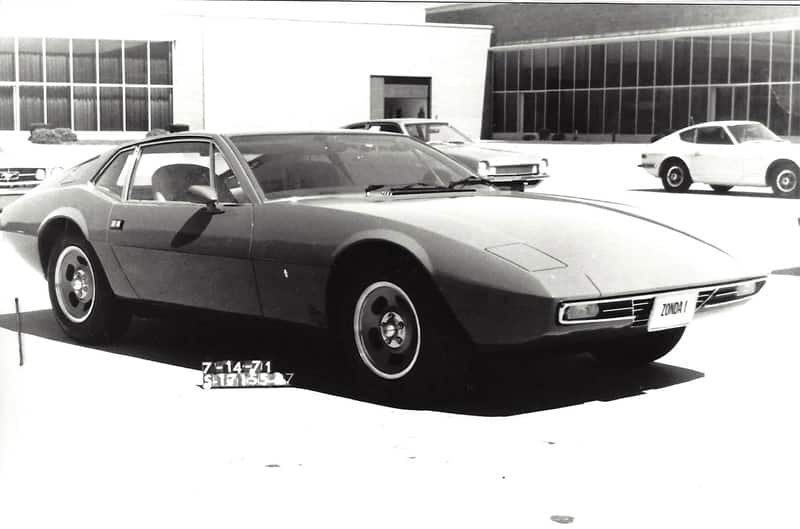 So whatever happened to the Zonda prototype? That remains a mystery; several visits to deTomaso in search of it came up empty. We also queried Ford Design department public relations representatives as to the possibility that it was retained by Ford, which also proved negative.
Was it crushed? That's possible, although we can't imagine why it would have been. Did it return to Italy and just disappear? Also possible. Or was it marooned in Dearborn, and end up under a tarp in one of Ford's warehouses of concept cars and design studies that had lived their lives and became no longer viable for the show circuit? Highly doubtful.
No matter, we hope it's hiding in quiet repose, yet to be "barn-found" and someday reappear. For now it joins such obtuse searches as "Where is the Holy Grail?," "Where are the real Dead Sea Scrolls?" and "Has anyone seen Jimmy Hoffa lately?" In the case of the deTomaso Zonda and deTomaso/Ford SOHC 351 Cleveland – they were both the "shapes of things to come" that, unfortunately, never did.