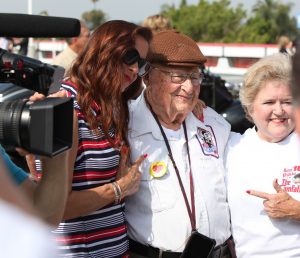 Isky Celebrates 100 at the Petersen Automotive Museum
photos courtesy Dave Banks, and the Petersen Automotive Museum
Click on any photo to see it full screen in high res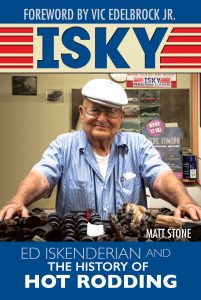 If you follow hot rodding, drag racing, or the musclecar scene, you know of Ed Iskenderian – AKA Isky.  Certainly among the high priests of hot rodding, who built the foundation of the aftermarket parts and accessories industry, Ed and his Isky Racing Cams has been in the game for more than 70 years.  He was just a young, WWII vet when he launched his iconic business; it's not hard to fathom now that the Camfather, still going quite strong, and in the office and shop most days, is now a centurion.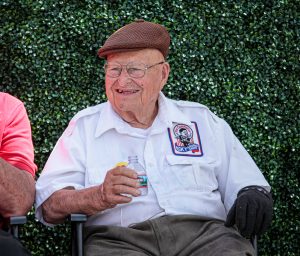 Edward Iskenderian was born July 10, (1921) in Tulare County's Cutler, California, making him 100 as of the same date this year.  He always demonstrated particular curiosity in anything electrical or mechanical (serving as his neighborhood's de facto radio repairman) which led him to cars, which led him to hot rods, which led him to a life of making all of the above go faster.  Iskenderian Racing Cams has sponsored or provided equipment for many big game drag racers and Bonneville runners, including guys like Mickey Thompson and Big Daddy Don Garlits.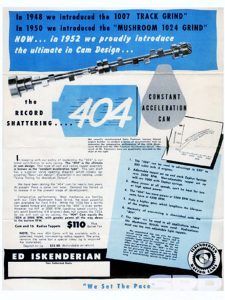 His earliest hot cams were for the day's engine of choice, of course the Ford flathead V-8, although he ultimately had his cams in '60s and '70s Ford-powered Indy 500 winners.  His quite famous hot rod is based on a '23 Ford Model T roadster, running a flathead V-8, a three carburator intake, a set of Maxi overhead valve conversion heads, and his own special cam grind.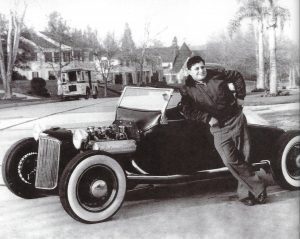 Ed was the founding president of SEMA, today's Special Equipment Market Association, and his company remains a legit force in the performance aftermarket.  At the same time he's become a somewhat legendary personality in the game, known for his quick wit, ready handshake, strong clear deep voice, and ever present cigar.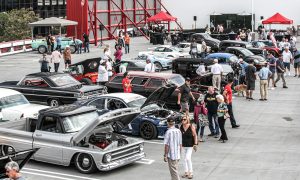 In recognition of Isky @ 100, centenary birthday celebrations have been occurring all around California for most of the summer.  LA's prestigious Petersen Automotive Museum also staged a special daylong birthday party for him on July 25, with mega enthusiast/collector Bruce Meyer's All American Cruise In serving as the foundation for same.  The day included a first rate CarsNCoffee gathering of hot rods, muscle, supercars, and drag racers, many of them Ford powered or badged.  It was then this writer's privilege to emcee a panel discussion of Isky related storytelling, including hot rodder supreme Don Prieto, the aforementioned Mr. Meyer, legendary engine builder Ed Pink, drag racer "The Hawaiian" Roland Leong, "Gentleman Joe" Schubeck, Isky, and Don The Snake Prudhomme.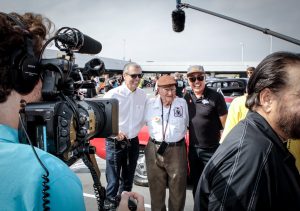 All of them have known Ed for decades, and had lots of (often humorous) memories to share.  In spite of the long hot day, Isky was in good spirits, fist bumping, posing for every selfie, and filling in the blanks with a few stories of his own.  It was a worthy party for a worthy individual.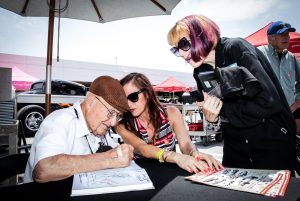 Most amazing are Ed's recall and memory, plus his never ending curiosity and desire to "come up with something new."  Over the years he's pioneered a variety of valve train innovations, and as most rodders and racers will tell you, "his stuff works."  It's fair to say that he's "old school" but don't interpret that to mean he's a Luddite or anti modern technology – twin cam, four valve heads, variable valve timing, metallurgy, and such technology fascinates him no end.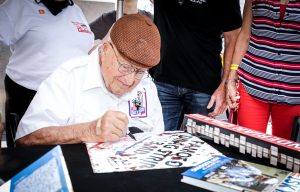 What does a hundred year old guy do every day?  He wakes up early, yet his day away from home begins with lunch at the burger joint near his Gardena, California shop.  Post burger, he heads to the office; checks up on the day's production and sales figures, then sits down to his daily pile of mail – photos and other things sent to him for autograph and such.  You know the same stuff he's done every day since around 1950.  Why change, or stop now?
Please don't leave – lots more photos just below…