Europe's huge and uber successful indoor classic car events, like France's RetroMobile and Techno Classic Essen in Germany, are marvelous gatherings, and I often wonder why we don't have any such things in the U.S.  So now it's happening, as a group has assembled to present the Classic Auto Show, very much along those lines, in Los Angeles next month, and I'll be there to see it and report on it for you.  My fingers are crossed that it could be as hot as the other big shows in Europe, with the potential to grow and continue for many years — Let you know. Just below is the news release on the event, and I hope I see you there.– MS
The Los Angeles Classic Auto Show Will Showcase Classic Auto Celebrities and the Finest Classic, Collector and Vintage Automobiles
(Los Angeles, CA) –Angelenos have long demonstrated an appreciation for the finer side of the world of automotive beauty and innovation, and now one of the UK's most successful classic car shows is gearing up to take Los Angeles on the ultimate trip down automotive memory lane at the Classic Auto Show, presented by Autogeek.com & McKee's 37 and powered by Velocity, January 27-29, 2017 at the Los Angeles Convention Center.
The 2017 Classic Auto Show is set to be the ultimate experience for any auto enthusiast. There is something for everyone, including a Celebrity Theater featuring the classic auto industry's biggest names, the nostalgic Grand Boulevard – a 'catwalk' of the finest and rarest classic, muscle and historic cars in the world – and the extensive auto swap meet where you'll find rare old parts, books, manuals and a variety of other impossible-to-find items. Whether one's interest is in the exciting celebrity theater, the Grand Blvd or the auto swap meet, there is something for every gearhead or even casual admirer of vintage automobiles.
At the Celebrity Theater, some of the biggest names in auto will hold court over three days, providing behind-the-scene insights on how their shows are produced and expert advice on restoration and motoring, as well as photograph/autosigning sessions. Celebrity guests include Velocity TV's own Chip Foose and Chris Jacobs of Overhaulin', Dave Kindig of Bitchin' Rides, Mike Brewer of Wheeler Dealers, Wayne Carini of Chasing Classic Cars and Mike Phillips of Competition Ready. Plus, Bruce Meyer, the show's Grand Marshall and iconic classic car collector will lead ribbon cutting ceremony and feature cars from his private collection.
On display will be restored vehicles representing all decades of automotive history including cars presented by Private Collectors and some of Southern California's best car clubs and vintage auto dealers. Representatives from Austin Healey Club of Southern California, International Thunderbird Club, Jaguar Owner's Club of Los Angeles, Orange County Mustang Club, Road Kings of Burbank, and San Fernando Valley Model "A" Ford Club, plus hundreds more will be on hand to answer fan's most complex questions about their favorite automotive brands.
A vibrant exhibit floor will showcase all makes and models of classic cars, plus car enthusiasts will be able to explore the latest products and services needed to keep on motoring. Exhibitors include: Autogeek.com; McKee's 37; Hagerty; BBK Performance; Odyssey Battery; Shell X; Borla Exhaust; Masterson's Auto Care; Tub O' Towels; Akzo Performance Industries, Inc.; Sikkens; Thread Wizard; Kicker; GREX; Reelcraft; Heacock Classic; Castle Country RV; MetroVac; Chequered Flag; Bernal Auto Style and Hillbank Motor Corporation, plus many more.
The Classic Auto Show is supported by media sponsors including: DuPont Registry; Historic Vehicle Association; Old Cars Weekly; Vintage Road Car; Vintage Race Car; ClassicCars.com; Auto Round-Up; SoCal Car Culture and Los Angeles Magazine among others.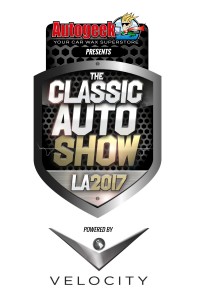 ABOUT THE CLASSIC AUTO SHOW
Presented by Autogeek.com & McKee's 37 and the Velocity Network in tandem with Urban Expositions and Clarion Events, The Classic Auto Show will take place on January 27-29, 2017 at the Los Angeles Convention Center: South Hall. Tickets are available online. Adult tickets start at $25 pre-sale and $30 at the door. Children ages 3-12 are $10 pre-sale and $12 at the door. Children 2 and under are free. Enter promo code: CASPR to save $5 on tickets. For more information please visit www.theclassicautoshow.com.