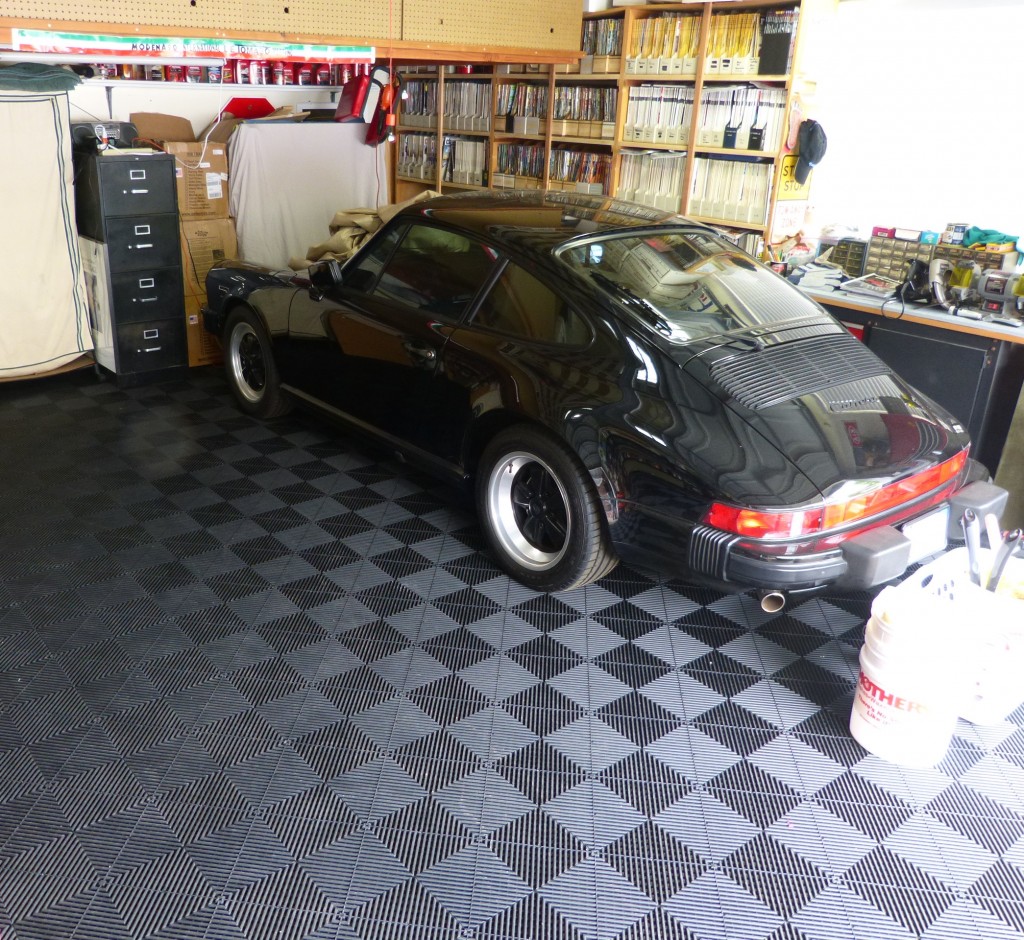 Nearly every garage I've owned has had a lousy, or at best, very average floor. I once bought a new house that had clean, pristine, uncracked concrete, and I covered it with a giant piece of tight loop commercial carpeting that a contractor friend of mine pulled out of an office building remodel job he was doing. The carpet wasn't awful, but was difficult to keep clean, absorbed moisture too easily, and stained whenever I spilled a little during an oil change. And the garage floor in my current, built-in-1954 single fam res, was as you'd expect: cracked, and deep stained from the leaking wagons and compacts of long ago previous owners. I kept this battered cement clean, but it was sure ugly in comparison with the rest of the space, which isn't fancy but nice, with large built-in bookcases, insulation, plenty of doored storage, good lighting, drywall, lots of electrical outlets and decent tool boxes and workbench.
Something had to be done.
Yet I struggled over what would be the best solution. We've all lusted over the immaculate polished and cleared concrete we've seen in race shops and top notch carbarns. Or the tile, and even marble, used to floor the garages of the best custom built homes. All great – and all far beyond my need and budget. I seriously considered the shiny gray epoxy coating rolled onto many garage floors; often with some texture or little colored flecks of material intended to give the surface some grip. I've known many people who've rolled this stuff onto their floors, and everyone seemed to love it the day it went down, but weren't as happy with it over time. One told me "it's as slick as ice when it's wet" and another warned me that car tires can tear it up and that it'll ultimately lift off the cement. I wanted to do this job once, and only.
While recently working a television gig at a major collector car auction, I found the solution, literally and figuratively, right at my feet. Several vendor booths, including our studio stage, were neatly covered in square composite tiles engineered and made by Swisstrax. As our set was sponsored by Craftsman Tools, the tiles were in their corporate red and black motif. A couple of guys from Swisstrax came over to look at the stage and check out how their product was performing for us. The answer was "perfectly" so I asked the guys for a lesson in this stuff. The tiles are about 15-inches square, and snap together much like Legos. If you need to cut or trim it, you do so with a fine tooth hacksaw blade in a jigsaw. Lots of colors available, and they can be mixed and matched in most any fashion. The stuff can handle just about any liquid, and up to 240 degrees temp. It can be recycled, and contains a certain amount of recycled content. If I move, I can take the floor apart and take it with me. Mop it with warm water and a little Simple Green to clean. Plus the price made sense. I said "sign me up."
I whipped out my VISA card and a few weeks later, several boxes of Swisstrax appeared on my door, along with complete instructions, nice finisher panels for the edges, and such. I elected to go with all black, as the Ribtrax material already has a checkered flag pattern to it and I didn't want to make the floor vibrate visually, or look overdone. Floor prep was limited to emptying out the entire garage, and a good scrubbing with dish soap, grease remover and hot water.
This all may sound like a big plug for Swisstrax, and it is in a sense, because I'm thrilled with the result; please be assured that they didn't give me this stuff for free just to say nice things about it. If I had a basement, poolroom or other mancave, I'd also Swisstrax it. I'm thinking you may like it too; learn more at www. Swisstrax.com. I'm not saying this is the only solution to this problem, but for goodness sakes: do something with that cruddy garage floor.