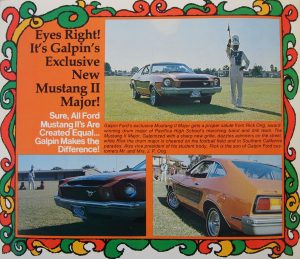 GALPIN'S MUSTANG II MAJOR: A NOSE JOB THAT WAS MEANT TO TURN HEADS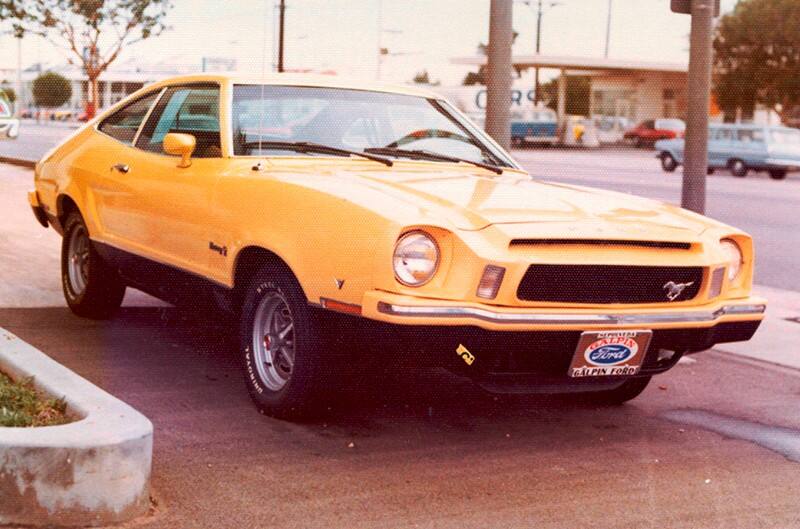 VAN NUYS, Calif. – Herbert F. "Bert" Boeckmann, II, didn't lead Galpin Ford to the position of the #1 Ford Dealership in the World by accident, nor by not having an eye — or nose — for cars. He grimaced when he got his first glimpse of the new-for-1958 Edsel. When the Mustang came out a half-decade later, he knew it was Ford's next winner. He was one of the first Ford dealers to take on Carroll Shelby's new GT350 and Cobras. Galpin owned and operated a four-time NASCAR West-series championship racing team, right out of the dealership's service shop. Today, he'll still tell you that his favorite Mustang is a 1965 GT convertible, red with a red interior, thank you.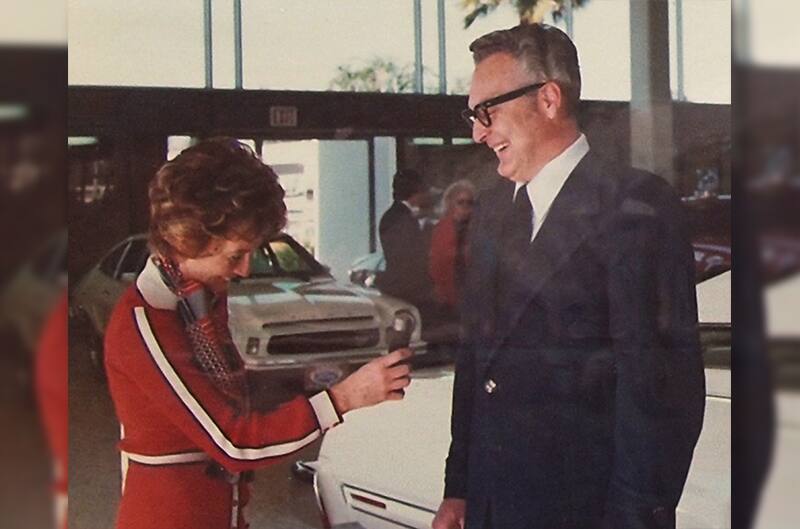 He also wasn't initially impressed when Ford brought out the Mustang II for 1974. Fortunately, Bert's instincts were off about the new smart-sized Mustang, since the II turned out to be the right car for the time, as lighter, better-handling and more fuel-efficient imported models were really beginning to gain a foothold in the American market. And that's not to mention the growing importance of increased fuel economy, reduced exhaust emissions and improved vehicle safety. As we know, this new type of Mustang was a sales success from the get-go, earning the title of Motor Trend Car of the Year for '74.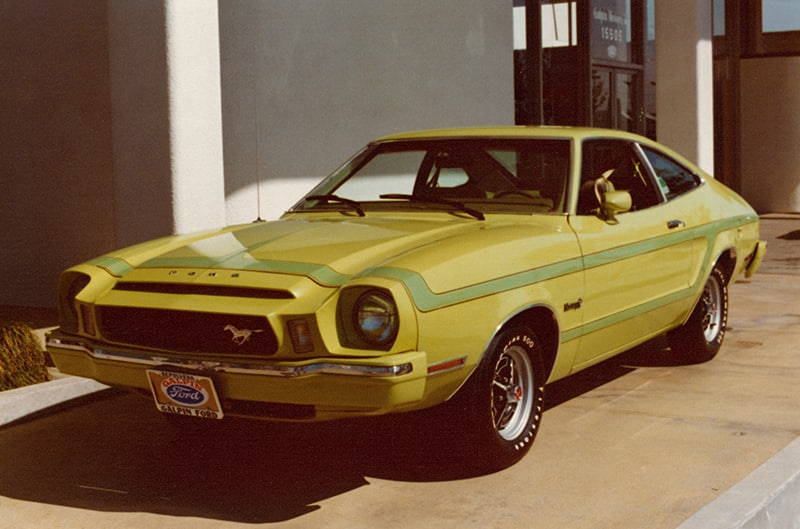 Boeckmann and his innovative staff and sales teams didn't invent the notion of dealer-level personalization and customizing, but they certainly crystalized if not perfected it. They called it "Galpinizing." Galpin virtually launched the custom surfer-van movement in Southern California, and had a big hand in pushing Ford trucks, Broncos and vans to the forefront of the ever-growing off-road, 4×4 and recreational vehicle movements, too. So even though Mr. Boeckmann wasn't immediately in love with the new Mustang II — if Ford produced it, he would Galpinize it.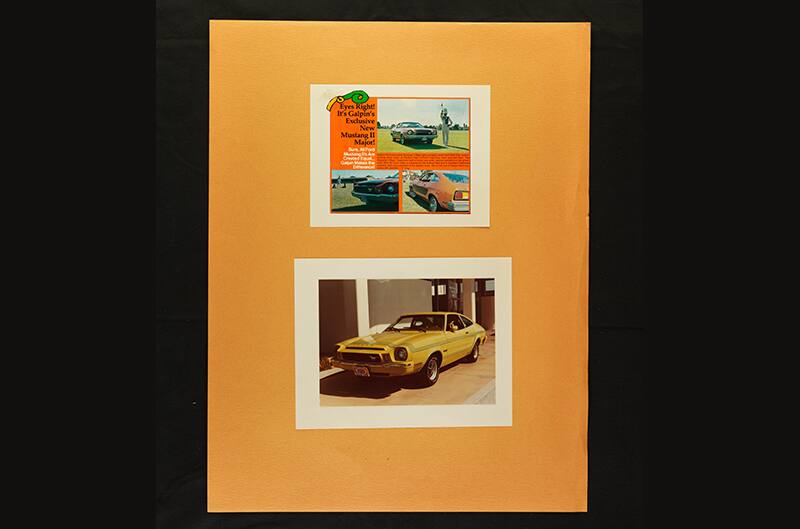 The idea behind the Mustang II "Major" was a relatively simple, primarily front-end styling kit. Southern California was brimming with boat and dune-buggy body producers that were able to turn out custom fiberglass body piece kits with relative ease and at moderate cost. In the case of the Galpinized Mustang II, the mods were limited to a bespoke nose-cap piece which encompassed a revised grille shape, with a thin, faux intake scoop running laterally just above the grille and in front of the hoodline. The factory hood and bumper were unchanged. The turn signals were somewhat repositioned, and the galloping horse badge was relocated to the driver's side of the blacked out grille.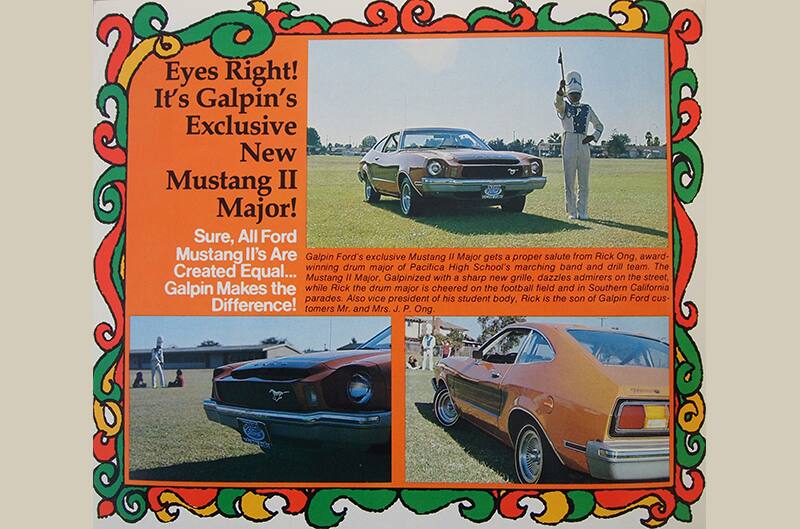 The rest of any customization efforts were left to the Galpin crew to create in terms of two-tone paint jobs, contrasting-color paint panels, blacked-out trim (it was not uncommon to find all of the bodywork below the beltline fully blacked-out on Major models) and other Ford or aftermarket wheel swaps, even performance upgrades if an owner so desired. The look was effective for the time, giving the Galpinized Mustang II a more aggressive face, and of course allowing owners to have a Mustang II tailored just to their tastes. The quality of the fiberglass pieces appears to be somewhat inconsistent. Photos of some Majors show the nose piece to be a bit wavy above the grille area, while others appear flatter and smooth. This was most likely indicative of which employees did the paint and bodywork, and how quickly it needed to be done and delivered to the customer.
Unfortunately, Galpin doesn't have any records as to how many Majors it produced during the 1974-75 model years. It's likely certain that the Major pieces were never sold in kit form, with Galpin choosing to keep the production and marketing of this design to its own shops and showrooms. Additionally, company archives don't contain information as to the cost of the package, either. We believe all Major conversions were built upon the hatchback model, as no photos of any notchback Majors appear to exist. Ditto any four-cylinder Majors, as all of Galpin's photos of record show V-6 or V-8 cars. There is equally no record of any particular suspension or engine performance modifications included with the basic Mustang II Major upgrade package.
And when it came to small Fords, is what's good for the Mustang II also good for the Pinto? Boeckmann thought so, as the company went fully bonkers Galpinizing Pintos. There were paint jobs, stripe jobs, wheel and tire upgrades, performance upgrades, surfer-van inspired builds — even one hatchback converted to a fully functional aquarium. And as with the Mustang II, Galpin developed its own "nose job" remodel of Ford's compelling and popular subcompact. It was, for better or worse, called the Pinto Pacer, and came out in 1974. You don't have to look at it very hard to notice that the slightly smoother and racier-looking front end strongly resembles Ford's own Pinto restyle of 1977. Are we saying that Ford copied Galpin? No, that would be an assumptive overstatement.  But its certain that the Ford design teams of the time had at least seen and noticed the Galpin Pinto Pacer, and it's at least possible that they liked the shapes, and may have been at least modestly influenced by it. It wouldn't be the first time a large dealer group impacted a future Ford product line.

The Galpin Major represents an interesting bit of Mustang and Mustang II history, long before any notion of the Mustang II Stallion, Cobra II and King Cobra models. We all know that the incomparable Farah Fawcett famously drove a Mustang II Cobra II in the original Charlie's Angels television series. We can only wonder if the series had been produced a few years earlier, prior to Cobra II production, if Mrs. Farah Fawcett (married name) Majors would have driven a Galpin Mustang II Major?
PHOTOS / COURTESY GALPIN MOTORS ARCHIVE