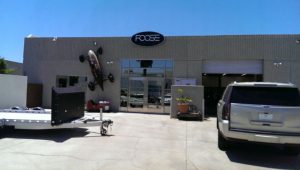 If you're visiting this site, you likely know who Chip Foose is. His build a car in a week television show, Overhaulin, is a staple on automotive TV, at the moment with a healthy reruns schedule on the Velocity network.
He also has a serious hot rod and custom build and design shop in Huntington Beach, California, and anyone who calls themselves a motorhead must visit. The good news is that the tour is free, and its easy — with no tickets or advance reservations required.
Visiting the Foose Design shop is NOT the Overhaulin set; that shop is at a different location, and the show is not currently in production, so nothing and nobody to see. What you will see at Foose Design is some of the incredible hot rod and uber custom builds currently in process or recently completed. Chip and his team of designers, hot rodders, and craftsmen, do incredible world class work. They have won four Autorama Riddler awards, which in the hot rod and car building universe is the best picture Oscar. Winning it once is only huge; winning it four times says your the best.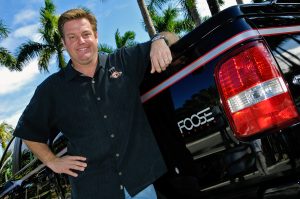 Chip is a classically and formally educated designer, having gone through the transportation design program at Art Center. He later worked for the late Boyd Coddington, arguably among the premier hot rod builders of his day, or any day. Chip's father Sam was also a highly credible rod and custom builder. After his stint at Boyd's, Chip hung his own shingle, where his otherworldly talent could really shine. His designs pay great respect to the original ethos of any car, yet are often entirely custom, tasteful, and dazzling yet classy. He has the gifts of eye, color, line, proportion, and taste. And he's a really nice man.
Anyway, tour information is up on his website, offered most weekdays at noon, as you face the main shop line up at the gate on the far right by noon and they'll welcome you in and show you around. You'll see some fabulous very high dollar builds in process, and many of Chip's own cars.
Don't come anywhere near Orange County, California, without spending an hour at Foose Design, and of course there's a great gift shop there for your t-shirts, hats and stickers. Chip is usually around, and will often come out and greet the tour groups (which are usually small, my visit yesterday was only about a dozen people) and sign an autograph or two and pose for the proverbial selfie.
Neat shop, talented people who can build anything, and miles of great hot rod and custom style.
Foose Design
17811 Sampson Lane
Huntington Beach, CA 92647
714/842-0880
www.foosedesign.com