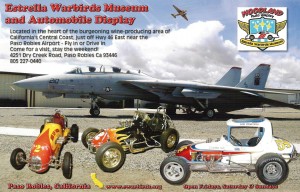 I've been driving east and west on California's Highway 46 for years and years, and was getting really tired of driving by the sign that said "Airplane and car Museum" with an arrow pointing North at Airport Road. So last week I was buzzing by there and decided it was finally time to buzz through there and see what what. So I did. And I was blown away by how cool this little place is. Actually not so little; the cars, serious military aircraft display, ephemera, automobilia, and militariana galleries are spread over a half dozen buildings and several acres.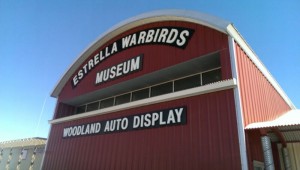 And Paso is a wonderful and historic town; home to one of California's original historic missions, and now a viable wine producing, golf and resort region. So it's either a great destination for a weekend getaway, or worth a stop if you are just passing through. Some of the planes were bought and donated, and it looks like most of the car collection belongs to a family named Woodland. No matter, its ten bucks to get it and worth double that. You can drive there from Southern or Central Cali, or fly into the Paso Robles airport if you have private wings.
No matter, go there, and stop there. I'll let the photos do the rest of the talking. Honestly don't miss this spot, it's a hidden jewel, and among the coolest little museums you've never heard of.  www.ewarbirds.org or 805/2238-9317.  Not open every day, so check the calendar and hours on the website.
Lots of photos below, please enjoy.