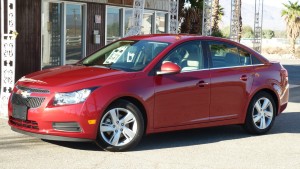 Modern automotive diesel engines are fabulous. Put aside for the moment all the noise about VW scamming the emissions testing process; today's oilburners perform marvelously and get fabulous mileage. I had a trip from LA to Vegas planned, so a car with great mileage running on less costly fuel seemed like a good idea. And I'd not done any serious time in a Cruze, which is a top selling model.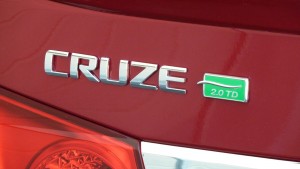 Also forget all you knew about the previous Chevy Cavalier and Cobalt models. Those were price leader cars with all the low price and cheap plastic you could stand. GM promised the Cruze would be a high quality small sedan, and needed to deliver on that promise since the Cruze costs a lot more than those now defunct compact Chevys. My tester came about as loaded as you can build one of these cars, had everything I'd want, and costs $26,500. It wasn't so long ago that you could have bought two Cavaliers for this money. Not that you'd want two Cavaliers, but the Cruze is larger, better built and finished by miles, and offers up to date technology and creature feature levels.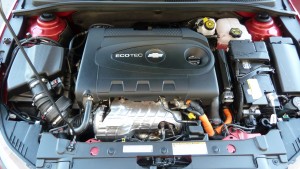 The real news here is of course under the hood. GM's Turbodiesel engine is a 2.0-liter I-4, with specs not unlike VW's competing model, in my car backed by a 6-speed automatic transmission.  The key numbers here are 151 horsepower, 264 pounds-feet of torque, and EPA 27/46 mpg ratings.  The horsepower number may not impress you, but the torque rating — the stuff that actually moves the car — is huge.  In fact it's very little less torque output than my 1991 5.0-liter Ford Mustang LX V-8 had.  And of course who wouldn't like to get 46 mpg on the highway.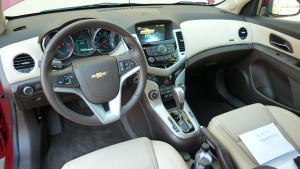 As you can see from the window sticker down below a bit, this car had everything you could want in a modern automobile.  It was beautifully built and finished, roomy inside, and borderline handsome.  Things you wouldn't say about a Cobalt.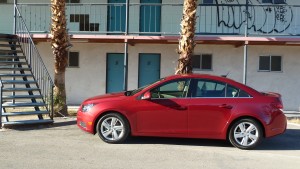 The engine fires easily and settles into the familiar modern turbodiesel "rattle/purr".  It's not noisy or harsh, and doesn't shake the whole car like old tech diesels do.  It actually sounded powerful to my ear, with a certain reassuring quiet throb.  And its not quick, its actually fast.  Great fun to punch around at mid-throttle and just surf that fabulous torque curve.  Passing is also a snap, sometimes the transmission downshifts to sneak by someone, sometimes not.  This trans is a perfect partner for this engine, smooth and quiet, and it shifts responsively.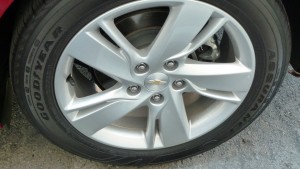 The rest of the car does everything you ask of it.  It's quiet, the steering is responsive, great brakes, good solid handling, smooth ride, and such.  The connectivity hardware works well, and the nav is a snap to program and use.  Most people wouldn't consider this a sport sedan, but it actually felt pretty sporty on mountain roads.  An RS or SS version of this car would be a lot of fun.
And of course the big question is: does it deliver the mileage?  Well, yes, it absolutely does.  As you can see from the on board readout, I put a little over 500 miles on this car, a combination of around town, mountain roads, and a lot of freeway, and it nearly meet the EPA freeway rating as an average.  So I've no complaints with the mileage.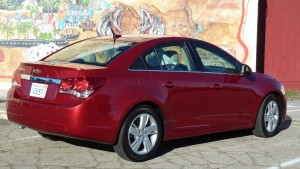 All in, the Cruze Turbo Diesel does everything well, nothing poorly, and gets outstanding real world fuel mileage.  If my driving patterns involved car pooling with a long daily commute, I'd buy this car with my own money.  Probably equipped about like this one, may with one or two less options to save a buck or two.  But all in, a fine automobile, and proof that the diesel's day has come.  Window sticker just below.